| | | |
| --- | --- | --- |
| S | | 60% |
| P | | 70% |
| U | | 66.875% |
| R | | 66.875% |
| S | | 52.5% |
| = | | 63.25% |
Form Guide August 2005


P  W  D  L  F - A  GD  Pts
4  2  1  1  4 - 2  2   7
 
Pos:- 6TH
· May 2005 figures
· Last year's figures
August 2004

In relation to their early league position, Spurs performance figures are a little disappointing really. Once again they have been let down by poor scoring ratio, drawing blanks at Blackburn and at home against Chelsea
Statistically then, it has been a steady, not spectacular start for Spurs, with Edgar Davids being classy and inspirational, and Jermain Defoe scoring two really good goals in the first two winning games.
Michael Dawson has impressed at centre-back, and we are yet to see Ledley King or Nourredine Naybet in League action
Spurs were one of the busier teams on the closing day of the Transfer window, and the failure to improve the strike potential of the squad, after letting Fredi Kanoute go to Seville may prove costly. We all thought we were going to get Dirk Kuyt from Feyenoord, but he decided to stay put, and at ten minutes to midnight on Wednesday night, Polish striker Grzegorz Rasiak was signed from Derby. Rasiak has a good strike rate, but is an unknown quantity at Premiership level.
The signings of Jermaine Jenas and Yeong-Pyo Lee were telegraphed, and Lee will be an improvement at left back over the departed Erik Edman - scorer of a sensational goal at Anfield last season, but conceder of too much space in the penalty area too often. Lee has blistering pace, and whilst I cannot find the quote in my archives, I seem to recall Stewart Houston describing Jenas as the best passer in the game, at the time of his transfer to Newcastle from Forest. Spurs fans wondered then why Houston's boss did not sanction Jenas's signing then.
Jenas then joins something like a 10 man battle for 4 or 5 midfield places in the new Spurs line-up. Allowing for his preference to be in the centre of midfield, and the news that Edgar Davids is likely to now play wide on the left, a first choice 4 man midfield may read Tainio, Jenas, Carrick, Davids, with Routledge or Reid battling for a berth in the event of a 5 man midfield and one man up front.
That just leaves the likes of Mendes, Davis, Brown, Lennon and perhaps Huddlestone looking for any vacancies! Huddlestone at least has the possibility of playing at the back.
September offers a difficult first game at home to Liverpool, the absence of Mido for three, probably four games, winnable games against Fulham and Villa, and the chance of seeing Spurs field a genuine "League Cup Side" at Grimsby.
The goals of Jermain (no E) and the influence of Jermaine (with an E) will certainly be germaine to Spurs success in this and the ensuing months of a season that all Spurs fans should enjoy immensely.
...if you want to remind yourself of the matches played during this month, then See the Fixtures page here. By working your way back through the previous month's figures, you can review the performances over the last 5 years!
Key:
S Skill levels
P Pluck (ie effort)
U Unforced errors*
R Resolve (defensive ability)
S Score ratio (goals to shots)
= Overall mark Total Percentage
Percentages given for each category.

* less errors equals a higher mark

The Spursometer was brought to you by Spurs Odyssey in association with My Eyes Have Seen The Glory.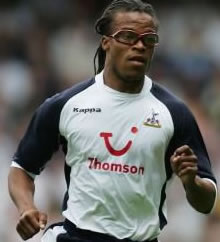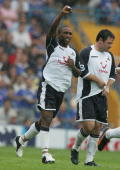 >
Fancy a bet on Spurs, or any sport? Why not go to Betfair, quoting this referral code 49FTCV6HK, and you will find details of a possible free bet and generous offers to follow.