| | | |
| --- | --- | --- |
| S | | 55% |
| P | | 62.5% |
| U | | 55% |
| R | | 55% |
| S | | 60.83% |
| = | | 57.66% |
Form Guide December 2005


P  W  D  L  F - A  GD  Pts
6  4  1  1  13- 8   5   13 
 
Pos:- 4th
· November 2005 figures
· Last year's figures
December 2004

Spurs have had a good December, results wise, winning four, and drawing and losing one game. I asked for goals in last month's review, and we got those aplenty, scoring three goals in three games (Sunderland, Portsmouth and Middlesbrough). The defeat and performance at The Hawthorns was a real blot on the landscape, but the overall performance figure of 57.66% for the month tells no lie, as even Paul Robinson admitted that the West Brom result had been coming for a while, bearing in mind our unconvincing victories over other relegation candidates.
Mido has scored four of the thirteen goals in this month, and although he will be available for Man City and Liverpool, we will then miss him due to the African Nations Cup. We will also miss Nourredine Naybet, but he seems to be a non-playing Spurs professional these days. Other teams - especially Bolton - will miss more players, and perhaps suffer more telling results. We wait to see whether Martin Jol will settle on using Rasiak, or whether Spurs will be adventurous in the transfer window.
Spurs had a good December last year, winning four and drawing two of those six games, but at the end of 2004, we were still only 8th with 29 points. It took us till the end of February to break through the 37 point margin last season. The previous year, we had also played 28 games, and it was mid-March before we had 37 points on the board. Funnily enough that occasion followed a 1-0 home win against Newcastle, against whom we have now kept four consecutive Premiership clean sheets - and won all four games too!
Robbie Keane has chipped in with three goals, and the midfield have at last started to make a decent contribution to the goal tally, as Carrick, Jenas and Tainio got on the sheet.
We can genuinely state that 2005 was a year of great progress, and look forward to the new year with justified optimism, as we ought to break through the 40 point barrier soon. Forget about the "R" word, and the bottom half of the table, Spurs are on the up and up, and should achieve their highest ever Premiership position, with the reward that ought to come with that status.
Happy New Year, indeed!
...if you want to remind yourself of the matches played during this month, then See the Fixtures page here. By working your way back through the previous month's figures, you can review the performances over the last 5 years!
Key:
S Skill levels
P Pluck (ie effort)
U Unforced errors*
R Resolve (defensive ability)
S Score ratio (goals to shots)
= Overall mark Total Percentage
Percentages given for each category.

* less errors equals a higher mark

The Spursometer was brought to you by Spurs Odyssey in association with My Eyes Have Seen The Glory.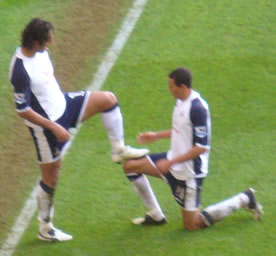 >
Fancy a bet on Spurs, or any sport? Why not go to Betfair, quoting this referral code 49FTCV6HK, and you will find details of a possible free bet and generous offers to follow.