| | | |
| --- | --- | --- |
| S | | 50% |
| P | | 56.66% |
| U | | 55% |
| R | | 65% |
| S | | 45% |
| = | | 54.33% |
Form Guide November 2005


P  W  D  L  F - A  GD  Pts
3  1  1  1  3 - 3   0   4 
 
Pos:- 6th
· October 2005 figures
· Last year's figures
November 2004

After such a good month in October, when we were unbeaten and finished the month in third position, November has been a disappointment, as Spurs failed to assert themselves as Champions' League contenders. Indeed, Liverpool beat Sunderland on Wednesday night and are now in fourth place. This match is not one of Liverpool's games in hand, but is a fixture brought forward from Saturday 17th December. As Liverpool play Wigan this week-end, we will hopefully put the promoted side below us, and at least regain fifth place.
We started the month at Bolton on a windswept Monday night, and were unlucky to lose 1-0, as Jermain Defoe had a perfectly good goal disallowed for offside. Even Bolton fans I have spoken to have accepted that Spurs deserved something out of the game. Then, through our own neglect, we surrendered two points at home to West Ham with that last second goal by Anton Ferdinand.
Edgar Davids (pictured right) has continued to inspire Spurs, and scored a handsome first goal at Wigan, when he ran from his own half to drill home a left footed shot from the inside of the penalty area. I am told that Edgar commutes regularly (sometimes even twice a day) to Amsterdam, and we have heard that he has been encouraging Dirk Kuyt to sign for the club in January. That may will ease our persistent inability to put the ball in the net enough times to secure games in future.
Spurs now have a run of five games (three of them at home), where four of our opponents are holding up the table. Our next three home games are against the bottom three. Surely it is time to start banging in the goals, and to see us established in the top five by the time New Year arrives?
COME ON YOU SPURS!
...if you want to remind yourself of the matches played during this month, then See the Fixtures page here. By working your way back through the previous month's figures, you can review the performances over the last 5 years!
Key:
S Skill levels
P Pluck (ie effort)
U Unforced errors*
R Resolve (defensive ability)
S Score ratio (goals to shots)
= Overall mark Total Percentage
Percentages given for each category.

* less errors equals a higher mark

The Spursometer was brought to you by Spurs Odyssey in association with My Eyes Have Seen The Glory.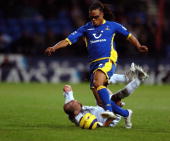 >
Fancy a bet on Spurs, or any sport? Why not go to Betfair, quoting this referral code 49FTCV6HK, and you will find details of a possible free bet and generous offers to follow.