| | | |
| --- | --- | --- |
| S | | 67.5% |
| P | | 71.2% |
| U | | 62.5% |
| R | | 67.5% |
| S | | 71.25% |
| = | | 68% |
Form Guide October 2005


P  W  D  L  F - A  GD  Pts
4  2  2  0  7 - 4  3   8
 
Pos:- 3rd
· September 2005 figures
· Last year's figures
October 2004

This has been Spurs' best month, according to our exclusive form guide, since August last year, when we graded their performance at 71%.
This month has also seen a dramatic improvement over September, but that figure was deflated by the shock result at Grimsby.
Last month I wrote about Jermaine Jenas's shaky start, and the difficulty we would face in October. It is therefore pleasing to be able to focus upon Jenas as Spurs' star player of the month, with his match-winning contributions in the Everton game, his astounding free kick at Old Trafford, and a dazzling first half show next to Michael Carrick against Arsenal.
Carrick too deserves more than a mention, as this month, I have finally been convinced of his great worth. Here I have been slower than many Spurs fans, I know, but plenty more have waited to be persuaded. He's even looked like scoring a few times!
It is more than pleasing to report that we remain unbeaten in the Premiership, with one notable exception (against the Premiership winners-to-be). The next month sees us facing just three games. Firstly we have a challenging task at Bolton, who have won their last five Premiership games against us, before winnable games against The Hammers and at Wigan.
Personally, I think Martin Jol just needs to light the blue touch paper and watch us fly!
COME ON YOU SPURS!
...if you want to remind yourself of the matches played during this month, then See the Fixtures page here. By working your way back through the previous month's figures, you can review the performances over the last 5 years!
Key:
S Skill levels
P Pluck (ie effort)
U Unforced errors*
R Resolve (defensive ability)
S Score ratio (goals to shots)
= Overall mark Total Percentage
Percentages given for each category.

* less errors equals a higher mark

The Spursometer was brought to you by Spurs Odyssey in association with My Eyes Have Seen The Glory.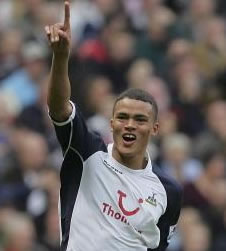 >
Fancy a bet on Spurs, or any sport? Why not go to Betfair, quoting this referral code 49FTCV6HK, and you will find details of a possible free bet and generous offers to follow.