| | | |
| --- | --- | --- |
| S | | 60% |
| P | | 69% |
| U | | 52.5% |
| R | | 58% |
| S | | 47.75% |
| = | | 57.45% |

 P  W  D  L  F-A  GD  Pts
 4  1  1  2  5-7  -2   1

Position:- 
4th

2 Cup matches Mauricio Pochettino
| | |
| --- | --- |
| Team Selection | 6.72 |
| Tactics | 6.45 |
| Substitutions | 6.42 |
| Overall | 6.53 |
· April 2019 figures
· Last Year's figures
May 2018


Glory was agonisingly beyond us

I wrote in April 2019 that history was still possible for Spurs, and so it was as we quite miraculously forged a path all the way to our first Champions League Final with that marvellous comeback in Amsterdam against an exciting and youthful Ajax team, who had previously disposed of both Real Madrid and Juventus. Ultimately though the glory we hoped for was agonisingly beyond us and the events in the Atletico Madrid stadium are all too painful to linger upon here.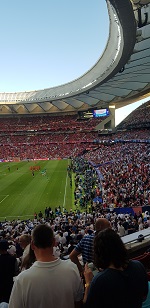 The blessing is that we went into the final in the knowledge that we would be playing our fourth consecutive season of Champions League Football (and fifth in all), whilst Arsenal, who finished fifth in the league and lost the Europa League Final to Chelsea, have to play another season of Europa League Football. We have now finished above them for the third consecutive season.
The truth though is that we stumbled over the line for Champions League qualification, losing a league game for the first time to Bournemouth and having two players (Son and Foyth) sent off in the process. They will have to sit out the first two games of next season.
By the time we played Everton on the last day of the league season, we did know that Champions League football was ours barring a home defeat against Everton and a win for Arsenal at Burnley with an 8 goal swing in the goal difference. We were briefly behind against Everton, but Christian Eriksen's equaliser secured us a point.
You might expect Lucas Moura to win the player of the month vote for his superb second half hat-trick in Amsterdam, where our comeback and away goals win was the highlight of the month, and one of the highlights of the season, but Lucas had the misfortune to take part in all four of our games under review in this report, with less impressive performances in his other three games. Jan Vertonghen, who only played in the two Champions League games has secured the final player of the month award of this season.
There is the Nations League competition to be finlaised this weekend, a Womens' World Cup just starting and the 2019 Copa America starting next week. Find your matchbook bonus code if you are interested in following these tournaments to their conclusion.
I shall be posting my review of the 2018/19 season in the coming days.
· Review the 2018-19 Premier League season here
Don't forget to check out the players' current figures re. appearances, cards, goals scored and accumulated ratings to date at the bottom of this page.
...if you want to read reports of the matches played during this season, then links are on the Spurs Odyssey Fixtures/Reports page here. By working your way back through the previous month's figures, you can review the performances over more than 18 years!