UEFA CHAMPIONS LEAGUE FINAL
SATURDAY 1ST JUNE, 2019
(9pm C.E.T – at Estadio Metropolitano, Madrid)
TOTTENHAM HOTSPUR 0(0) LIVERPOOL 2(1)
Liverpool scorers:-
Salah (pen), 2
Origi, 87
Attendance:- 63,272
Referee:- Damir Skomina (Slovenia)
Assistants:- Jure Praprotnik, Robert Vukan (both from Slovenia)
Fourth official:- Antonio Mateu Lahoz (Spain)
Video Assistant Referee:- Danny Makkelie (Netherlands)
VAR Assistants:- Pol van Boekel (Netherlands), Felix Zwayer (Germany)
Offside VAR:- Mark Borsch (Germany)
Teams:-
Spurs (4-2-3-1):- Lloris (Capt.); Trippier, Alderweireld, Vertonghen, Rose; Sissoko (sub Dier, 74), Winks (sub Lucas Moura, 66); Son, Dele (sub Llorente, 82), Eriksen; Kane
Subs not used:- Gazzaniga, Vorm; Aurier, Sanchez, Foyth, Walker-Peters, Davies; Lamela, Wanyama
No bookings
Liverpool (4-3-3-):- Alisson; Alexander-Arnold, Matip, Van Dijk, Robertson; Henderson (Capt.) Fabinho, Wijnaldum (sub Milner, 62); Salah, Firmino (sub Origi, 58), Mane (sub Gomez, 90)
Subs not used:- Mignolet, Kelleher; Lovren, Moreno; Lallana, Oxlade-Chamberlain, Shaqiri; Sturridge, Brewster
No bookings
Spurs fail to reach their pinnacle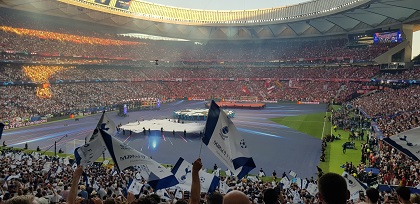 16,500 Spurs fans in the Estadio Metropolitano were joined by a line of Spurs legends such as Cliff Jones, who played in the historic 1963 European Cup Winners Cup Final against our hosts tonight - Atletico Madrid. Thousands more had made the trip to Madrid, just to "be there". A full house had attended the live screening at New White Hart Lane. Millions more ardent Spurs fans around the world tuned in with the hope that their beloved Spurs could reach their pinnacle of becoming Champions of Europe.
This current Spurs side failed in their quest. Overall, they probably did not do themselves justice although they tried valiantly in the second half to level a second minute penalty goal awarded when Mane kicked the ball into Sissoko's arm after a matter of only 22 seconds. It even got to the stage where I was comforting myself with the thought that we would only be beaten by a penalty which whilst correct in the rules of the game, was so harsh against Sissoko, who was only pointing to his team-mates regarding the direction of the ball. My comforting thought was ruined by Liverpool substitute Origi's 87th minute goal, which put the game beyond Spurs, even though Alisson was required to make three last saves in the five minutes of added time.
In fact, Alisson had made several very good saves in the second half, two of which were in quick succession. Liverpool always looked dangerous at corners, and with their quick counter-attacking breaks, and Spurs were required to defend bravely at times. Those 16,500 fans did their team proud with their support, before, during and even at the end of the game when defeat was inevitable.
The game was played in the stifling heat of 33 degree Madrid. It was preceded by a musical extravaganza acting as an opening ceremony, and finally a moment's reflection for the sad death of Spanish International (and former Arsenal player) Jose Antonio Reyes, who had died in a road accident earlier in the day.
That early goal came after Mane chased a lofted goal towards the left of the area. He tried to chip a pass and my view is that he aimed the ball at Sissoko's outstretched arm. The referee did not hesitate to point to the spot and Salah beat Lloris to his left.
A lot of us were hoping for a positive Sissoko moment such as a winning goal in this game. He did get a chance after 9 minutes following ardent work by Son on the left, but Moussa fired over from just outside the box. The Spurs fans chanted his name enthusiastically.
Harry Kane was being targeted by Liverpool, and sometimes the referee never punished them. Mr. Skomina never found it necessary to show anybody a card, and perhaps Liverpool got away with a few hefty challenges. Surprisingly, the "Reds" were also deliberately running down the clock from an early stage, taking their time over throws, corners, and goal-kicks. Those corners were an early problem for the Spurs defence with a tendency for Liverpool to crowd the 6 yard box and to put Lloris under great pressure. Sometimes Hugo could only flap the ball away. Other than that, and one other Lloris save, neither goalkeeper was sorely tested in a disappointing first half.
Dele Alli lost a midfield battle for the ball after 16 minutes and it ran to Alexander-Arnold who did worry Lloris with his shot which arrowed past his right post. This was followed by a pitch invasion by a scantily clad female, who seemed determined to become even less clothed, but she was quickly escorted off the pitch.
Eriksen released Son with a great ball, but as happened to often in the game Son failed to make best use of the ball. It also has to be said that Van Dijk was immense in the Liverpool defence, along with his partner Matip.
Salah had a goal-bound shot blocked for a corner. After a heavy challenge by Robertson upon Trippier, Mauricio Pochettino was drawn to have words with the referee, not for the last time, and got no change or sympathy.
After 37 minutes, Liverpool had a man over on the left flank. That man was Robertson, who advanced and hit a powerful shot which was tipped over the bar by Hugo Lloris. Spurs defended another threat by Salah well, with Toby Alderweireld and Lloris involved before Danny Rose sent a great ball down the line for Dele Alli, but unfortunately Dele could not get the better of the red shirted defenders.
In added time Son and Dele combined with quick passes to give Eriksen a chance. Christian hit a left footed shot over the target.
Spurs came out for the second half with more determination. Kane was fouled again after 50 minutes. The free kick was lofted to Son. He couldn't get a shot in. Dele also tried and failed, before Kane too had an effort. All were thwarted. Dele was onto another good ball by Eriksen, but only a corner resulted, which was cleared by Liverpool.
Spurs had two corners in succession from right and left, taken by the respective full backs. The second was best with Jan Vertonghen heading over.
Firmino had his recent injury problems, and was not having much impact on the game and he was replaced by Origi after 58 minutes. Wijnaldum was replaced by Milner. Pochettino was keeping his powder dry, but eventually Harry Winks was replaced by the unfortunate Lucas Moura who had had to make way for Harry Kane, who got the nod to start. Lucas tried hard to make an impact on the game. Eriksen fell back to support Sissoko.
Alexander-Arnold had a good shot blocked for a corner. Mane advanced down the right channel and gave Milner a very good chance which was pulled just wide of the post. A Trippier cross failed and Liverpool countered quickly with the ball sent to Salah, but Spurs managed to clear the threat.
Kane, Son and Dele advanced upon the Liverpool goal, but Dele couldn't quite get the killer touch and the ball ran to Alisson. Now Sissoko was replaced by Dier. Van Dijk won a crucial battle with Son, who looked as if he was going to pull the trigger but the £75 million man got the better of him. Harry Kane sent a good cross field ball to Trippier who crossed, but Dele headed over.
Son had another shot well saved by Alisson. In the follow-up play, Dele passed inside to Lucas Moura, whose shot required an even better save by Alisson. Another shot by Son was not strong enough and was an easy pick up for the Liverpool keeper.
Time was running out and now Dele was replaced by Fernando Llorente. Danny Rose was fouled as he ran into the area, but a free kick and not a penalty was the result. Eriksen took this kick and again Alisson pulled off a great save to push the ball out for a corner. After the corner there was a chance at the back post for Son, which he put wide anyway, but he was also offside.
The second goal came from a corner, which in truth, I felt that Danny Rose did not need to concede. There was a delay as Toby Alderweireld had to replace his shirt, due to bloodstains. Toby had to rush back to the area before the kick was taken, and that must have unsettled the defence. After the corner, Origi was clear at the back of the area, as he beat Lloris with a shot across his goal and into the net in front of the exuberant Liverpool fans. Now they were crowing.
There were five minutes of added time. Klopp took off Mane for another defender - Gomez. In those five minutes Danny Rose had a right footed shot saved, Son had a left foot shot saved, and Alisson also saved from Harry Kane.
It was significant at the final whistle that many Liverpool players raced to crowd Alisson for his contribution in preserving their lead and their sixth European Cup/Champions League victory. The BBC report gave Alisson their man of the match vote.
Spurs have to fight another day. Hopefully the "project" will continue with Pochettino at the helm, and some fresh blood added in the summer.
This match was a personal pinnacle for me in my Spurs-supporting lifetime, certainly with regard to physically being at the game. I have physically attended every single one of this season's competitive matches. European away games can be arduous and incredibly trying with regard to gaining entry to the ground. The Wanda Estadio Metropolitano is a very good stadium, but it lacks facilities both with regard to toilets and sufficient refreshment stalls. Accessible drinking water would have been a blessing.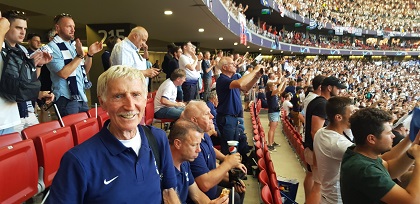 I personally met Cliff Jones who looks marvellous and very fit at 84. Other legends present included Ossie Ardiles, Ricky Villa, Pat Jennings, Phil Beal, Martin Chivers, Clive Allen, John Pratt and Graham Roberts. Justin Edinburgh also attended, and I was saddened to learn that he fell ill on Monday morning.
I also met many friends and familiar faces. I have spent the weekend in the company of my son Greg and regular travelling companions. I cherish their love and friendship and of course the communal love for our beloved Spurs - who will go marching on!
Many of the players involved in this game will be taking part in the Nations league matches this week. Visit newbettingoffers.co.uk for more information.
· See the exclusive "Spursometer" and have your say regarding the performances of the team, individual players, manager and officials.
· Squad numbers,appearances,bookings & goalscorers
· Read the preview for this game.
· All the Spurs Stats you could hope for here! THFC6061 Sports Stats