10-4 ...Bill Nick's astonishing introduction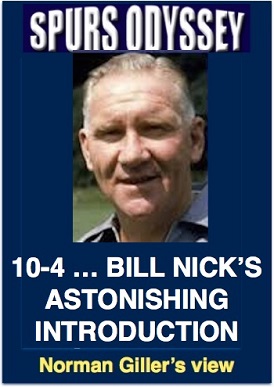 On Thursday October 11 2018 an anniversary passed quietly that deserved to be shouted from the rooftop of the new stadium dominating the N17 skyline. It was sixty years to the day that Bill Nicholson launched his career as Tottenham s greatest manager with an extraordinary 10-4 victory over Everton at the old (always much-loved) White Hart Lane.
As Spurs prepare to move (at last!) to their new state-of-the-art stadium there are those of us who will be clinging to magical memories of the Lane-that-was; the ground that for 118 years featured some of the finest club football ever witnessed (Here in our Spurs Odyssey home we are allowed to feast on hyperbole). While waiting for the Tottenham first-team squad to hopefully get through the international break without injury, I am taking time out to revisit what was arguably the most astonishing of all the games that graced the Lane............
See Norman Giller's article in full.
The "Giller Index" - listing all Norman's articles for Spurs Odyssey
---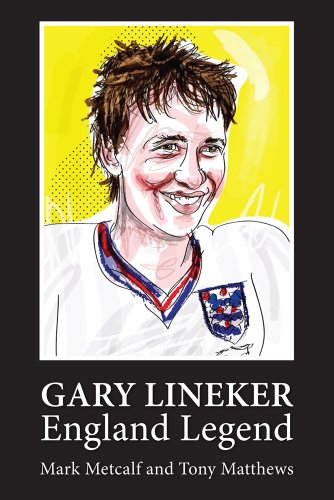 GARY LINEKER - Spurs 1989 - 1992
---
On This Matchday
Information featuring programme notes, and/or points of interest regarding a match of a similar ilk to the game being played "on this day". This occasional series has been updated with a very special report on a match played on 4th April, 1983, when Spurs beat Arsenal 5-0!
---
Premier League Match report - Spurs v Manchester United, 14.05.17 (White Hart Lane Finale)
Spurs 2 Man Utd 1 - Football came second at The Lane today, and so have Spurs!
Spurs v Man Utd preview - The end of an era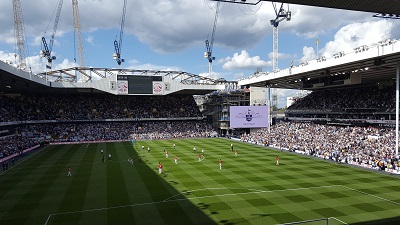 On the pitch Spurs achieved their one remaining footballing objective for the season (to finish runners-up to Chelsea) by beating Jose Mourinho's Manchester United, thanks to fine goals by Victor Wanyama and Harry Kane. After the game, following what was essentially a good natured pitch invasion, Spurs gave their 118 year old home as fine a send off as you could wish for. There was a film introduced by "Spurs fan" Sir Kenneth Branagh, before a parade of many playing legends from the Double season onward. A choir, band and tenor gave us a haunting, then rousing rendition of "Mine eyes have seen the Glory", and "Glory, Glory Allejuhah" to ensure there was hardly a dry eye in the house. I certainly shed a tear or two today. It was emotional..........
---
Norman Giller's unique insight on Bill Nicholson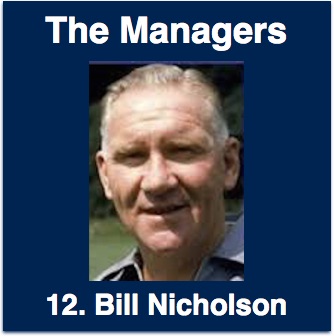 Norman Giller concludes his brilliant series on Spurs' managers with a unique insight on the greatest of them all - Bill Nicholson......
Arthur Rowe - Push and run coaching master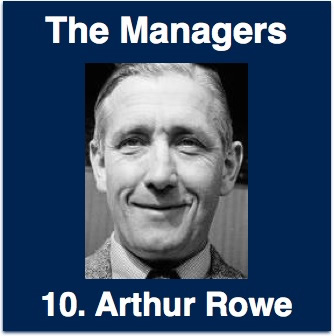 Norman gives us yet another great history lesson, writing a detailed account of Spurs' "Push and run" hero - Arthur Rowe, who led us to the Second Division and First Division Championship titles in successive years. (Updated - 25/07/16)
Giller's Weekly (30.05.16) - The John Cameron Story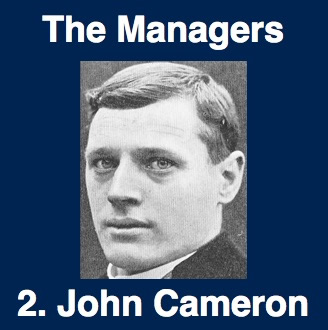 Regular columnist, and accomplished journalist Norman Giller has updated his history of one of the earliest Spurs heroes. Full details here
---
Peter McWilliam - The second man to win Spurs the FA Cup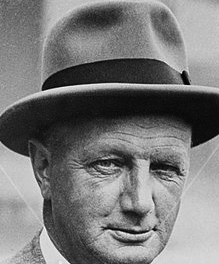 Norman Giller truly excelled with this detailed account of Peter McWilliam, who led us to FA Cup victory in 1921. Norman also found space to detail the scandal of Arsenal securing a First Division place when the Football League resumed after the Great War. You might not have read this tale in such detail before!
---
R.I.P Dave Mackay - A true Spurs legend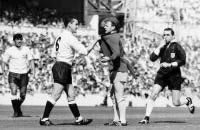 Click on the image to reveal a larger version
The picture adorns my wall, signed by the great man himself. I was in the south-east corner of the lower terraces at White Hart Lane and had the privilege of seeing the scene of Mackay lifting Bremner from the same angle as the iconic photograph, but from a greater distance.
It was and remains a truly memorable football photograph. It is one that will be seen many times over today and tomorrow as the national, Tottenham, Derby, Scottish and Edibnburgh press reports the sad passing yesterday (02.03.15) of David Craig Mackay, born on 14th November, 1934 at Musselburgh, Scotland.......
---
Sixtieth anniversary of 1963 European Cup Winners' Cup win

The story of Spurs 1963 European Cup-Winners' Cup win - Introduction.
Round One - Spurs beat Glasgow Rangers 8-4 on aggregate.
Round Two - Spurs beat Slovan Bratislava 6-2 on aggregate.
Semi-Final - Spurs beat OFK Belgrade 5-2 on aggregate.
The Final - Spurs beat Athletico Madrid 5-1.
---
Spurs' European Cup Campaign, 1961-62
Spurs v Gornik Zabreze, European Cup - September 1961
Spurs v Feyenoord, European Cup - November 1961
Spurs v Dukla Prague, European Cup - February, 1962
Spurs v Benfica, European Cup - March/April, 1962
---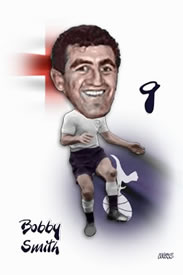 Like everyone else I was very saddened to hear of the passing of one of the Spurs Legends, Bobby Smith, on Saturday 18th September, 2010. Read the full item here
Extract from "The Golden Boot" - Bobby Smith
---
The passing of another Spurs Legend - Eddie Baily
Eddie Baily was not just a former player for Spurs, but he was an integral member of our Championship winning side in 1950-51, managed by Arthur Rowe. Eddie made 40 appearances in our 1950-51 season, missing just two games, and scoring 12 goals. Eddie was an inside forward, or in modern-day terms an attacking midfielder, wearing the number 10 shirt.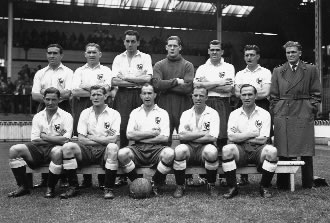 Eddie Baily is pictured here amongst the 1950-51 League Champions. Left to right (back) - Ramsey, Nicholson, Clarke, Ditchburn, Duquemin, Willis, Walters - (front) - Castle, Bennett, Burgess (Capt.), Baily, Medley....Read the full article
See also Norman Giller's article about Eddie Baily
---
John Ripsher Dedication Service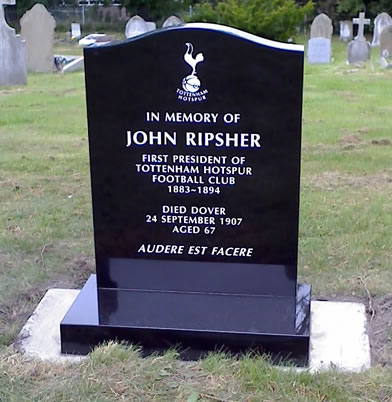 Spurs Odyssey was represented at the service held at St. Mary's Cemetery, Dover to dedicate the headstone placed at the grave of John Ripsher, the very first President of Tottenham Hotspur Football Club.
---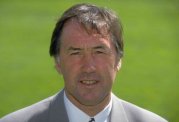 The Burkinshaw Years
Brian Judson details the career of the second most successful Spurs manager ever.
Keith Burkinshaw installed into the Spurs Hall of Fame
Exclusive report and pictures
---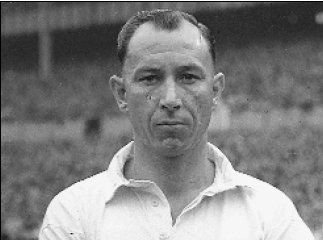 Spurs Odyssey was saddened to hear of the passing of another Spurs Legend - Ron Burgess - yesterday on February 14th 2005. On this date in 1958, Spurs signed the great Cliff Jones from Swansea, when Ron Burgess was the manager. Ron Burgess died at the great age of 87 years, and Captained the great Championship winning sides from 1949-51, when Spurs won the old Second and First Divisions in successive seasons. He can also claim the credit for discovering Pat Jennings, as regular correspondent Brian Judson writes:-
See also this piece written in July 2015 by Norman Giller
---
Spurs Odyssey has heard the sad news of the passing of yet another legend of the 1950-51 Championship-winning side. The goalkeeper from that era, Ted Ditchburn, passed away yesterday (26th December, 2005) at the great age of 84, and joins the likes of Ramsey, Nicholson, Duquemin and Burgess in the great stadium in the sky.
---
The Spurs Odyssey tribute to len Duquemin was published in April, 2003. Most of the article was written by Brian Judson.
---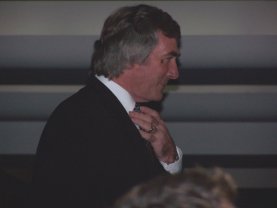 Pat Jennings installed into the Spurs Hall of Fame
Exclusive report and pictures
---

Heroes of Tottenham - Glenn Hoddle
Brian Judson provides his usual detailed insight into the career of one of the Lane's all time favourites.
---

Spurs Odyssey was proud when it was chosen to exclusively offer you the chance to purchase this beautiful bone china plate, commemorating the marvellous first modern Double victory in 1960-61 by Tottenham Hotspur football club. The plate is no longer available
---
Do you recognise the young goalkeeper in the middle of this picture (below), taken in 1988? Have a look at this feature article, where all will be revealed!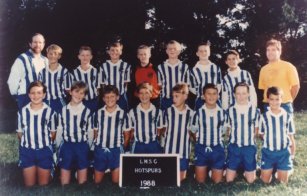 ---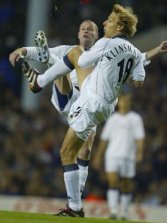 Spurs 0 DC United 1 - West Stand in Mexican Wave shock!
Last night's Tottenham Tribute match was never supposed to be about the football, was it? A generous crowd (estimated by THFC at 27,000) came to White Hart lane for the pleasure of seeing two or three candidates for their all-time dream team wearing the lilywhite shirt again, and playing together. Their wish was granted, as Spurs played in an all white strip against a DC United team, dressed in black, and who had clearly not read the script for such occasions, when they scored a late winner, after applying themselves fully to the game throughout proceedings.
---
The Worthington Cup Final 1999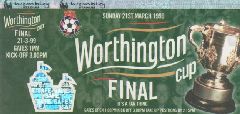 Re-live the last touch of glory for Spurs at the old Wembley. On that day we even cheered George Graham!
There are five accounts from:-
Paul Smith
Ivan Cohen
Brian Judson
Dave Gallagher
Les Wilson

---

Remembering Cyril Knowles
Spurs recent Worthington Cup clash with Torquay evoked memories of the late Cyril Knowles, who graced White Hart lane for so many years, but who also had a spell at Torquay as manager before his tragic and early passing in 1991.