How they got to the 2019 Champions League Final - Tottenham Hotspur

Spurs quaified for this season's Champions League by finishing third in last year's Premier League, 4 points behind Manchester United and two points above Liverpool.
This has been Spurs' fourth Champions League campaign and their third in succession. Before this year's semi-final the furthest we had gone in the old European Cup was the 1962 European cup semi-final against Benfica.
Here are the details of Spurs' path to the Champions League Final, 2019. Note that both Liverpool and Spurs played on the same dates throughout the Group phase.

Group B Table
                P  W  D  L  F-A  GD   PTS
1. Barcelona    6  4  2  0 14-5   9   14
2. Spurs        6  2  2  2  9-10 -1    8 
3. Inter        6  2  2  2  6-7  -1    8 
4. PSV          6  0  2  4  6-13 -7    2

Matchday 1 - 18/09/2018
Spurs opened their programme with a 2-1 defeat in the San Siro, which made it three consecutive 2-1 defeats for Mauricio's men. The preceding match had been a 2-1 defeat at Wembley to Liverpool. In the San Siro, Christian Eriksen gave us a 53rd minute lead, and it looked as if we would hold on, but we succummbed to two late goals by Inter's captain Icardi and an added time winner by Vecino. In the other Group B game, Barcelona beat PSV 4-0 in the Camp Nou. Messi scored a hat-trick.
Spurs man of the match - Lucas Moura.
---
Matchday 2 - 03/10/2018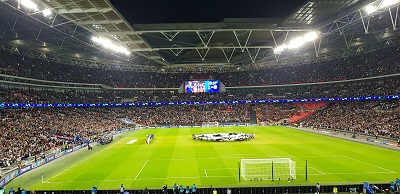 Maestro Messi was in the goals again, scoring Barca's third and fourth goals. This was always going to be a tough game, but it got harder when Coutinho gave the Wembley visitors a second minute lead, and Rakitic made it 2-0 after 28 minutes. Harry Kane got one back before Messi's first goal, and Erik Lamela made it 3-2, but Lionel had the final word in front of 82,137 people. Inter won 2-1 in Eindhoven, and both Spurs and PSV were stuck on zero points.
Spurs man of the match - Erik Lamela.
---
Matchday 3 - 24/10/2018
Spurs were seemingly in dire straits with just one point from their first three games, and once again they conceded a late goal when De Jong levelled the scores with three minutes of normal time remaining. Lozano had opened the scoring before Lucas Moura and Harry Kane put us ahead. Hugo Lloris was sent off for a professional foul and would have to sit out the return leg. Barcelona beat Inter, and Spurs fans had their calculators out to work out the mathematical possibilities of still finishing in the top two!
Spurs man of the match - Lucas Moura.
---
Matchday 4 - 06/11/2018
De Jong gave PSV an early lead, but Harry Kane's brace, the second of which came in the 89th minute put us three points behind Inter, with a home game to come against the Italians on Matchday 5. Inter drew at home to Barcelona. Only 46,588 bothered to make the trip across London as Wembley apathy began to set in. Paolo Gazzaniga had a very good game, and Kane's winner went in off not one, but two PSV defenders!
Spurs man of the match - Harry Kane.
---
Matchday 5 - 28/11/2018
A bigger crowd (57,132) turned up to see Spurs get this crucial win, with Eriksen the scoring hero in the 80th minute. Spurs had the same number of points as Inter (7), but head-to-head results come first in the calculations of group positions and our goal in that 2-1 defeat in the San Siro put us into second place with one game - in the Camp Nou - remaining. Barcelona beat PSV, who were confirmed as the bottom team, but could Spurs match or better Inter's result in the last game?
Spurs man of the match - Moussa Sissoko.
---
Matchday 6 - 11/12/2018
I personally had a horrible trip to Barcelona, and Spurs fans had a torrid time getting into the stadium. Spurs suffered an early setback but knowing we had only to match Interís result against PSV (and it soon emerged that they too were losing), spirits did not drop. Certainly Spursí heads did not drop, and they adopted a truly attacking policy, proved by the nature of our substitutions. We had so many chances, it was a wonder we did not score before Lucas Mouraís wonderful moment when he equalised five minutes from the end. Inter ultimately also drew, and we were through to the Round of 16!
Spurs man of the match - Moussa Sissoko.
---
Round of 16 (1st leg) - 13/02/2019
We had hoped at the beginning of the season that we would be playing all of our Champions League matches in the new stadium, and indeed Spurs looked like being embarrassed about those posters depicting the new stadium with a caption of "The only stadium in London where you can see Champions League Football this season".
Ultimately all would be well though, as over 71,000 turned up to see what was our last Champions League game at Wembley royally treated to a 3-0 win with a team missing Kane, Dele, Rose, Davies and Dier! Spurs played a back three, but "Super" Jan Vertonghen was our super left wing-back, who scored a super goal, and also won the man of the match vote!
Manager Mauricio Pochettino produced a masterclass of team selection and strategy, neutralising the threat of England starlet Jadon Sancho, matching the visitors in the first half, and simply overwhelming them in the second. All the goals came in the second half, with Son's 47th minute goal laid on by Vertonghen, whose 83rd minute goal made it 2-0. Fernando Llorente provided the icing on the cake with a third goal.
Spurs man of the match - Jan Vertonghen.
---
Round of 16 (2nd leg) - 13/02/2019
It truly was another of those great European nights for Tottenham Hotspur and their fans. The fans offered a great atmosphere. The team offered a stalwart defensive performance, with a string of great saves by Hugo Lloris, and of course "King Harry" (much revered and genuinely feared by the German press) scored a truly thunderous goal which put the final nail in the BVB coffin, deflating the German team and its fans for the remainder of the game. Kane's goal made him Spurs' leading goalscorer in European football.
Spurs man of the match - Hugo Lloris.
---
Quarter-Final (1st leg) - 09/04/2019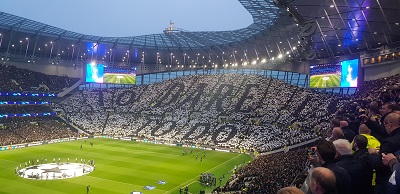 Finally, we got that Champions League game in our brand spanking new stadium! Spurs lived up to the anglicised club motto displayed by the South Stand before the start of the game. We dared and we did! We took a slender one goal advantage to The Etihad, courtesy of the talismanic Son Heung-min scoring his second goal in two games at our new and magnificent stadium, and also his second goal in front of ďThe White WallĒ. Once again, the stadium looked wonderful under the lights, in its Champions League livery, which we will see next season too. Even more people crammed into the arena too.
The win came despite the loss of Harry Kane through a recurrence of his ankle injury after 58 minutes. This cheered the City fans, of whom not much was heard all night thanks to the noise generated by the Spurs crowd of over 60,000. Lucas Moura came on; Spurs buckled down to their task, and were rewarded with Sonís goal. The win also came despite the high drama of an early penalty awarded for handball by Danny Rose after a VAR review. Aguero, that masterful striker, stepped up, but our hero and captain Hugo Lloris dived low to his left and saved his third consecutive penalty. (One of the other penalty saves had been against Aubameyang in the closing stages of our 1-1 draw at Wembley, which ultimately preserved our place above Arsenal in this season's Premier League.)
Spurs man of the match - Son Heung-min.
---
Quarter-Final (2nd leg) - 17/04/2019
Manchester City 4 Spurs 3
Aggregate score 4-4 - Spurs won on away goals!
This is one of those games etched in the memory banks for all time and you don't need me to do anything but to remind you of "Sonny"'s two early away goals, Llorente's crucial third (off his hip) and the joys of VAR in added time!
Spurs man of the match - Son Heung-min.
---
Semi-Final (1st leg) - 30/04/2019
The biggest crowd seen so far at the new stadium watched the biggest game seen in the stadiumís short history. Most of those present were disappointed by their teamís performance and of course by the result, but they all knew that this tie was not over yet!
Semi-Final (2nd leg) - 30/04/2019
Ajax 2 Spurs 3
Aggregate score 3-3 - Spurs won on away goals!
Here are two words and three sets of numbers:- Lucas Moura, 55, 59, 90 (+6)! Say no more!
Spurs man of the match - Lucas Moura.
---
So we come to what we all hope will be a wonderful finale to our season. Have a look again at those who won our man of the match votes in this run. Lucas Moura has three such votes, whilst Son and Sissoko have two each. Harry Kane has just one man of the match vote. Essentially we got through the quarter-final and semi-final without Harry, although he did give a rousing dressing room speech at half time in Amsterdam.
Have a look too at our achievements away from home in the toughest of games, Barcelona, Dortmund, The Etihad (home of the domestic treble winners), and finally at the Johann Cruyff Stadium, Amsterdam. There is no reason we cannot perform to such a high level once more at the Wanda Metropolitano, Madrid on June 1st!
Spurs Odyssey will publish a final preview of the Champions League Final next week.
∑ Spurs Odyssey's Champions League Final Preview!
∑ Tottenham Motivation can Overpower Liverpool Skill in CL Final
∑ The five defining moments that shaped Spursí quest for Champions League glory
∑ Tottenham Hotspur: A history of winning European cup finals
∑ How they reached the 2019 Champions League Final - Liverpool