Many thanks to Declan Mulcahy for this excellent and detailed report.
Tuesday 18 September 2018
6:55pm local time, 5:55pm BST
UEFA Champions League, Group Stage, Group B, Match 1
Internazionale Milan (0) 2 Tottenham Hotspur (0) 1
Inter scorers:-
Icardi 86
Vecino 90+2
Spurs scorer:-
Eriksen 53
Internazionale Milan: (4-2-3-1) Luciano Spalletti
1 S Handanovic; 37 M Škriniar, 6 S de Vrij, 23 Miranda, 18 K Asamoah; 8 M Vecino, 77 M Brozovic; 16 M Politano (11 K Baldé 72), 14 R Nainggolan (20 B Valero 89), 44 I Perišic (87 A Candreva 64); 9 M Icardi (c)
Subs Not Used: 27 D Padelli, 46 T Berni, 13 A Ranocchia, 33 D D'Ambrosio
Booked: Škriniar (21 foul on Son), Perišic (43 foul on Eriksen)
Tottenham Hotspur (4-3-1-2):
13 M Vorm; 24 S Aurier, 6 D Sánchez, 5 J Vertonghen, 33 B Davies; 19 M Dembélé, 15 E Dier, 23 C Eriksen; 11 E Lamela (8 H Winks 77); 10 H Kane (c) (3 D Rose 90), 7 H-M Son (27 Lucas Moura 64)
Subs Not Used: 22 P Gazzaniga, 12 V Wanyama, 16 K Walker-Peters, 18 F Llorente
Booked: Sánchez (38 foul on Nainggolan), Vertonghen (51 foul on Politano), Vorm (82 time wasting)
Captains Armband: Kane (Vertonghen 90)
Stadio San Siro, Attendance: 64,123
Referee: Clément Turpin, Assistant Referees: Nicolas Danos, Cyril Gringore, Fourth Official: Guillaume Debart, Additional Assistant Referees: Ruddy Buquet, Nicolas Rainville (all officials from France)
TH White shirts, shorts and stockings IM Dark blue and black striped shirts, black shorts and stockings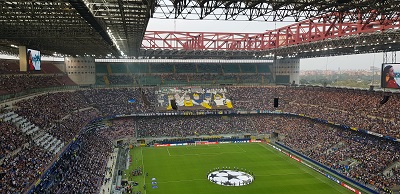 Disappointment for Spurs after Late Inter-vention
Spurs opened their 2018-2019 Champions League campaign at the San Siro Stadium Milan the home of two world famous clubs AC Milan and Internazionale. Spurs have played four European competitive matches here previously with very different outcomes. They haven't lost in either of the two matches against AC Milan whereas the two against Internazionale have both ended in defeat.
Spurs arrived in Milan on the back of two defeats in the Premier League and needing to turn their fortunes around. Two first team squad members Kieran Trippier and Toby Alderweireld had not travelled to Milan for what Mauricio Pochettino described as 'technical reasons' which left the media a little perplexed.
Pochettino made five changes from the team that lost to Liverpool. He replaced three of the back four with Aurier and Sanchez replacing the absent Trippier and Alderweireld. Rose dropped to the bench with Davies replacing him. Vertonghen was the only survivor from Saturday's back four. Lamella and Son replaced Lucas and Winks both of whom were on the bench.
Inter included two goalkeepers Padelli and Berni among their seven substitutes. I haven't been able to discover the reason why.
Inter were the more dominant team in the early stages. They had clearly been instructed that as Spurs play out from the back that they should press hard to close them down at the Spurs end of the pitch and were quite effective at this tactic in the opening minutes.
An early Inter attack resulted in Sanchez clearing the ball from the box with an overhead kick - an unusual manoeuvre for a defender. Spurs' first attack at the other end came from an Eriksen free kick which Handanovic saved.
After 20 minutes Škriniar was the first player to be booked for a foul on Son but nothing came of the free kick. A few minutes later an Inter attack resulted in a cross from the left. Sanchez headed the ball goalwards and Vorm had to make a diving save. Brozovic then played a pass over the Spurs defence but thankfully Politano was ruled offside.
Another Inter attack saw Vertonghen fumble a clearance but Sanchez bailed him out.
Around the 36th minute Eriksen played a nice pass into the box to Kane. However the goalkeeper Handanovic forced him wide on Kane's left and he was unable to unleash a meaningful shot. This was the only real opportunity Kane had during the match.
Spurs were the stronger team towards the end of the half without creating any opportunities. Each team received a booking before the interval Sanchez for a foul on Nainggolan and Perisic for a foul on Eriksen.
Shortly after the interval Perisic was well positioned in the box but Aurier made a timely interception. Vertonghen was then booked for a foul on Politano.
In the 53rd minute Eriksen made a run from outside the box and shot from the edge of the box. Handanovic made a good save but the ball rebounded to Eriksen. His second shot hit Miranda and looped into the top left corner. The goal was credited to Eriksen's since his shot was on target.
Shortly afterwards Lamela hit a nice shot which was goal bound until it deflected off a defender. This was followed by an Inter attack where Vorm made a diving save from a Perisic header.
Shortly after the hour mark Aurier made a nice run towards the Inter box. The move ended with Lamela putting the ball in the net but it was ruled out for offside.
The substitutions began with Lucas replacing Son. He looked quite lively when he came on. The game had become quite open now with both teams prepared to attack. After 66 minutes Vorm was caught in possession of the ball in the box by Icardi but was saved by the referee awarding a free kick.
Winks replaced Lamela after 72 minutes suggesting that Pochettino wanted to hang on to the one goal lead.
With nine minutes remaining Vorm was booked for time wasting.
In the 86th minute Asamoah the Inter full back attempted a cross from the left which deflected off a Spurs defender. It landed on the edge of the box where Icardi hit a superb volley to level the score. It was a shot of the highest quality and no blame was attached to the Spurs defenders. There was an element of luck in the ball landing at Icardi's feet.
Inter now had their tails up and attacked remorselessly in search of an equaliser. In the 90th minute Icardi had a goal bound effort but Vertonghen came to the rescue heading the ball over. Inter had at least two corners in succession. The last one came from the left. De Vrij on the near side headed it on and Vecino close to the far post headed it home to give Inter the victory.
The same player had provided an equally dramatic headed goal in May 2018 which was the winning goal against Lazio on the last day of the Italian season. The victory meant that Inter leap-frogged Lazio and qualified for the Champions League instead of them.
The late goal was a bitter pill. It was the first time since Mauricio Pochettino became manager that Spurs have lost three consecutive matches. However for the first eighty minutes of the game Spurs played much better than they had in the two previous defeats and this provides grounds for hoping that the situation will improve shortly.
One area where Spurs really need to improve quickly is in their aerial defending. They have conceded eight goals to date this season and six have come from headers!
With respect to the Champions League group Barcelona served notice that they are a force to be reckoned with beating PSV Eindhoven 4-0. At this point Spurs and Inter appear to be the likely candidates to contest second place. Finishing second in this very strong group would be a satisfactory achievement,
Spurs face Brighton & Hove Albion in a very late game on Saturday. Brighton are not to be taken lightly at home. There is ample time for Spurs to recover from their trip to Milan and we must hope for a good result at the AMEX Community Stadium.
· See the exclusive "Spursometer" and have your say regarding the performances of the team, individual players, manager and officials.
· Squad numbers,appearances,bookings & goalscorers
· Read the preview for this game.
· All the Spurs Stats you could hope for here! THFC6061 Sports Stats