Spurs Odyssey was created in December, 1998, when I finally had access to what you might call an authentic PC. Having been "online" since about 1996, and having since that time been a member of the Spurs List (See spurs-list on Google Groups), I gradually contributed more and more comments and reports upon what I was seeing in my capacity as a season ticket holder at White Hart Lane.
From the archive material that I had accumulated, and with my new found "skill" as a match reporter(!), I decided that it would be nice to create a home for my reports. Therefore the site contained material going back to the beginning of the 1997-98 season, and you could track the progress of the side from the bad old days of Gerry Francis, the difficulties of Christian Gross, and the gradual improvement, then sterility, under George Graham. (and beyond to the present day!)
You will also see some progress (I hope!) in my success or otherwise in conveying events to the reader. Some of the older pages are very sketchy, whilst I have now adopted a regular formal style.
Thanks to my eldest son Brad, we have now adopted a new simple look for the site, which is of course more in accordance with the Lilywhite and Blue colours of the mighty Spurs.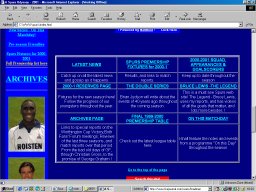 Above: How the original Spurs Odyssey Site looked [December 1998 - August 2000]