Main Page
News and views from Paul Smith, and links to the interactive features of the Spurs Odyssey Site. [more..]
Features
Articles, reports, views, opinions, comments and other features all related to Spurs. [more..]
News
Match Reports

End of summer transfer window report
· Harry Kane was the biggest story - and he stays!
· Are Spurs being significantly quiet regarding Harry Kane?
· 1. Paratici arrives and departing players listed
· 2. Nuno says, "We are going to make you proud!"
· 3. Further transfer news
· 4. Farewell to a favourite


The fact that you can find six Spurs Odyssey articles relating to the various changes of personnel at Tottenham Hotspur Football Club surely confirms that this has been a busy, and in my view successful, window. Each of the previous articles is listed below, with the first feature about the arrival of "Managing Director, Football" Fabio Paratici, who can be seen at most games, keeping very busy on his phone.

Next, we reported the appointment of head coach Nuno Espirito Santo, and the various arrivals and departures including those of Cristian Romero and Bryan Gil. Now as the summer transfer window has finally closed, we can report the acquisition of right back Emerson Aparecido Leite de Souza Junior, otherwise known as "Emerson Royal" (pronounced "Royale"). Emerson will wear the number 12 shirt, and if he keeps to his current routine, his shirt will be identified by E. ROYALE.
Spurs Odyssey Obituary
R.I.P Ray Lo – Spurs Odyssey Obituary
On Thursday 24th June, 2021 I learned of the passing of Raymond Lo on 6th June this year. Ray turned 70 last year having been born on 14th September, 1950. Ray was my very good friend and Spurs Odyssey colleague.
This obituary can only serve as one related to my friendship with Ray and will hopefully illustrate to his family the degree of Ray's involvement with the game and team he loved. Indeed, it seems that such was Ray's modesty that his family were largely unaware of the depth of his commitment.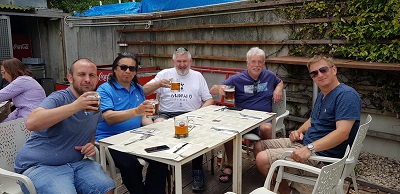 On our way back from The Champions League Final in June 2019. On this occasion Ray seems to be having more than his customary half-pint! (Left to right, my son Greg, Ray, me, Andy Park, Curtis Harman)
· Read the Spurs Odyssey Obituary in full here
Spurs Odyssey commends the following Spurs sites
In no particular order
· Campaign for a blue plaque for Bobby Buckle - The first Spurs Captain
Spurs Odyssey especially recommends the following football statistics sites:-
· The English National Football Archive
· Soccerassociation.com
· 11v11.com - Home of football statistics and history
Other recommended links below
· See the current injury list for all Premier League Teams!
· Images of White Hart Lane down the years
· Mail Online Tottenham Hotspur page
· The latest Tottenham Hotspur Supporters' Trust Home page
· Every FA Cup Giant Killing since 1888
· Soccerway Spurs page
· Tottenham on my mind
· Every Spurs Statistic you could ever need!
· The Lust Doctor (Spurs blog)
· Ozspurs
· Quality Spurs t-shirts & hoodies, or design your own
· "Memories Never Die - Living with MND by Del Deanus
· Read Del's Blog here
· Link to The Bill Nicholson Way
· Official Tottenham Hotspur Site
· Soccer Bars - Where to watch the game throughout the world!
· My Eyes Have Seen The Glory
· Jim Duggan's THFC page

Search Spurs Odyssey &/or The Web!
Spurs Odyssey ...also on Facebook here
Other Spurs Odyssey Recommendations

---
Statistics
Fixtures, appearances, current league table, form guide, reserves fixtures, and Spurs Honours. [more..]
Archives
Find match reports, appearances, goalscorers and features from previous seasons. [more..]
Pick of the Week
Every week we select a Spurs related site from the whole world wide web and highlight it in this section. [more..]
Links
View a comprehensive list of links to other Spurs related sites. (With a few extras) [more..]
About this site
· Overview
· History
· Contributors

Contacts
Site Owner
· Paul Smith