UEFA CHAMPIONS LEAGUE
GROUP B
MATCHDAY THREE
WEDNESDAY 24TH OCTOBER, 2018
(6.55pm C.E.T.)
PSV EINDHOVEN 2 (1) TOTTENHAM HOTSPUR 2(1)
PSV scorers:-
Lozano, 29
De Jong, 87
Spurs scorers:-
Lucas Moura, 39
Kane, 54
Attendance:- 35,000
Referee:- Slavko Vincic
Assistants:- Tomaz Klancnik & Andraz Kovacic
Additional Assistants:- Rade Obrenovic & Roberto Ponis
Fourth Official:- Matej Zunic
(All officials from Slovenia)
Teams:-
PSV (4-4-2):- Zoet; Dumfries, Schwaab, Viergever, Angelino; Rosario, Hendrix, Pereiro (sub Gakpo, 83), Malen; Lozano, De Jong (Capt.)
Subs not used:- Room; Isimat-Merin, Behich, Sainsbury, Ramselaar, Gutierrez
Booked:- Angelino (foul on Lucas Moura), Dumfries (foul on Dier), Rosario (foul on Kane)
Spurs (4-2-3-1):- Lloris; Trippier, Sanchez, Alderweireld, Davies; Dier, Dembele (sub Winks, 74); Lucas Moura (sub Lamela, 64), Eriksen, Son (sub Vorm, 81); Kane
Subs not used:- Aurier; Wanyama, Sissoko; Llorente
Booked:- Dembele (foul on Lozano)
Sent off (79):- Lloris (Professional foul on Lozano)
(Armband to Kane)
Some zippy football, but bungles cost Spurs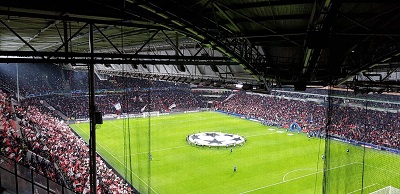 With about three quarters of the game completed, and Spurs sitting 2-1 up; dominating possession and in control of this game, I said to my fellow travellers that I'd seen Spurs play some of the best (zippy) football of the season to date, but I was worried that we had not managed to kill off the game. My fears were proven. Our problems might have started with the substitution of Mousa Dembele, who had been so impressive in both his holding and passing role, giving us midfield control. Dembele however, had taken a first half booking and the substitution was very much required as he was attracting more and more of the referee's attention. I felt that Spurs' control on the game suffered after that, and things got worse when firstly Hugo Lloris was sent off for a professional foul (outside his area) on an advancing and threatening Hirving Lozano. Finally, for all their efforts; not a little wizardry, and plenty of chances, Spurs succumbed to a late equaliser by PSV captain Luuk de Jong. That Lloris incident followed an error by Eriksen, and Lozano's opener resulted from an error by Toby Alderweireld of all people. Spurs' bungles cost them dear.
This was a game played in a cup-tie atmosphere and in cup-tie fashion, with both teams on the attack, desperate for the win that would give them a chance of qualification for the knock-out phase of the Champions League. The atmosphere had been ramped up by PSV with a light show that tried to emulate that of Juventus (I look forward to such an event in the new Tottenham Hotspur Stadium), and plenty of noise from both sets of fans. The Spurs fans numbered some 1600 plus, but the noise they made inside and outside the ground could have been made by many more. It was some performance by the travelling fans, especially bearing in mind the hoops they were forced to go through to a) obtain their tickets (£55 each including fees), b) get into the ground, c) get out of the ground where we were held longer than I can recall at any away European venue and herded step by step back into town where we were given restricted access. Such oppression could almost be intended to deter fans from travelling across Europe to follow their team. Children and people older than me were treated in the same fashion.
It was difficult for me to see what I was writing in my notebook, as we were also deprived of any light in our lofty position behind double net protection. Hence my account of the game may feature inaccuracies or lack of detail. Lucas Moura had an early pop at goal, which passed well over the target. Spurs then won corner after Kane put a ball out to Trippier, who crossed low to the near post whose shot was blocked. Nothing came from the corner. After a foul by Ben Davies, Pereiro's free kick was wide and no threat, which was the case with a number of PSV chances during the game, not that they had as many shots as did Spurs.
Eric Dier sent aa lovely ball to Trippier on the right and this time his ball intended for Lucas Moura also won a corner, but again nothing was forthcoming for Spurs. After a good deal of build up play by Spurs, Dembele hit a sharp ball to Kane, who came inside and hit a right foot shot, only parried by keeper Zoet, but cleared. After a corner won by Son and taken by Trippier, Harry Kane had a shot deflected over the bar for another corner. This corner was taken from the right by Trippier, but headed against the top right corner of the frame of the goal by Kane.
Dembele's booking was for preventing Lozano breaking clear after a Spurs attack had broken down. Dembele was targeted by the home crowd thereafter (he used to play in Holland of course for AZ Alkmaar), who sought to pressurise the Slovenian referee for any subsequent misdemeanour. After another foul by Dembele, and a free kick by Lozano from the right, De Jong headed over, under pressure from Sanchez. Spurs responded with good work down the right by Lucas Moura and Trippier with the ball being worked over to Son on the left. Son cut in but his right footed shot was held by the goalkeeper. That Lozano goal started from an attacking Spurs throw which they worked back. Alderweireld lost his control over the situation and had the ball snatched off his feet by Lozano. Toby made a stout recovery to the degree that I applauded his efforts, but the ball looped over Lloris into the Spurs net. It was a poor goal to concede, and whilst Spurs did often recycle the ball, this was a game where they did play plenty of bright attacking football.
Minutes later, It looked as if Spurs were on terms, but they were denied through a debatable offside decision. Investigation reveals the sequence of events as follows:- Trippier's corner was headed goalward by Alderweireld and saved by Zoet with the ball rebounding to the feet of Sanchez, who fires the ball home. At this point Kane is in front of the goal-line and one defender, but leaps back away from the ball, seemingly not interfering with play. Many times such goals are given. This time it wasn't. C'est la vie when it comes to Spurs sometimes.
After 35 minutes, Kane pushed a ball out to Son, who ran it into the box and hit a shot which was blocked. Spurs did go level a few minutes later after some good build-up play involving almost the whole team. The move finished with a threaded ball by Eriksen; a quick low ball by Trippier, and a shot by Lucas Moura, which also took a deflection before hitting the net!
Just before the interval, Pereiro hot the top of Lloris's bar with a rising shot after Lozano's had fed him the ball from the right.
The home side did not have much of a look-in for prolonged periods of the second half, such was the degree of Spurs' control, possession and indeed shots on goal. Ultimately, all this would count for no more than a point, but there was one spell when PSV just could not get a touch of the ball and the Oles rang out from Spurs fans. Three minutes after the break, both Son and Kane appeared to be fouled as they approached the area. The free kick was given for the infringement on Kane. Trippier's free kick went straight into the wall. After 52 minutes, Trippier passed inside to Eriksen who let the ball run across him before hitting a left footed shot which was saved by Zoet. You can argue that Eriksen should have had better aim.
Spurs did take the lead after some more lovely football, which ended with Son feeding Eriksen on the left, whose immediate cross was headed home by Kane in front of the travelling army! Spurs had further shots by Dembele (blocked) and Son (over). Son had another shot – this one on target, but held – after Dembele's pass. Spurs' first substitution was Lamela for Lucas Moura. Spurs had a free kick after 65 minutes, taken from the left by Trippier and headed downward by Kane, only to see the goalkeeper save with his legs. After 72 minutes, Son took the ball down the left after a lovely turn. He passed inside to Kane, who spread the ball to Lamela inside the area on the right. Lamela's shot crashed against the top of the bar.
It seemed like only a matter of time before Spurs would score a third goal and secure the game, but events took a downward turn. Dembele went off, and after that Son seemed to tee up Kane in a good scoring position. Somehow Kane did not get a shot, but presumably he got the last touch on the defender's clearance to lead to a goal kick decision. Then came the Lloris sending-off after a bad touch in the middle of the field by Eriksen and a quick ball forward to Lozano who was Lloris's victim. Michel Vorm's first touch was to dive to his left to push De Jong's free kick around the corner.
Spurs' domination of the game had ended though, as their focus became one of how to just hold onto their one-goal lead. They couldn't do that though and after a free kick from the left and a touch by Rosario, the PSV skipper scored with an almost nonchalant touch. Now Spurs did try to regain their lead with 5 minutes of time being added on. Such was the pressure that PSV took two bookings in this spell. Kane had one header into the goalkeeper's arms and had an even better chance when the ball seemed to fall at his feet in front of goal. He just could not get a shot in. Kane again was on the ball inside the area, but could not manage a shot. Another time, he was just offside.
At the end of a game with a result that benefits neither team, all the Spurs players applauded their fans. It was noticeable that Toby Alderweireld did not, and left the pitch seemingly upset with his error which had led to the first goal. There are mathematical scenarios which could yet lead to Spurs finishing in the top two, one of which would require beating Barcelona away! Certainly we must win the return against PSV and then beat Inter at home, but realistically we are fighting for third place and a path to the dreaded Europa League.

Group B Table
 	    	      P  W  D  L  F-A  GD   PTS
1. Barcelona    3  3  0  0 10-2   8    9
2. Inter        3  2  0  1  4-4   0    6
3. Spurs        3  0  1  2  5-8  -3    1  
4. PSV          3  0  1  2  3-8  -5    1

· See the exclusive "Spursometer" and have your say regarding the performances of the team, individual players, manager and officials.
· Squad numbers,appearances,bookings & goalscorers
· Read the preview for this game.
· All the Spurs Stats you could hope for here! THFC6061 Sports Stats