UEFA CHAMPIONS LEAGUE GROUP B
MATCHDAY SIX
TUESDAY 11TH DECEMBER, 2018
(9pm C.E.T)
BARCELONA 1(1) TOTTENHAM HOTSPUR 1(0)
Barcelona scorer:-
Dembele, 7
Spurs scorer:-
Lucas Moura, 85
Attendance:- 69,691
Referee:- Milorad Mažic (SRB)
Assistants:- Milovan Ristic (SRB) & Dalibor Djurdjevic (SRB)
Additional assistants:- Nenad Djokic (SRB) & Danilo Grujic (SRB)
Fourth official:- Nemanja Petrovic (SRB)
Teams:-
Barcelona (4-3-3):- Cillessen; Semedo, Lenglet, Vermaelen, Miranda; Arthur, Alena, Rakitic (Capt.) (sub Busquets, 46); Dembele (sub D. Suarez, 76), Munir El Haddadi (sub Messi, 63), Coutinho
Subs not used:- Ter Stegen; Pique, Alba; Vidal
(Armband to Busquets, then Messi)
Booked:- Semedo (foul on Rose)
Spurs (4-2-3-1):- Lloris (Capt.); Walker-Peters (sub Lamela, 61), Alderweireld, Vertonghen, Rose; Sissoko, Winks (sub Llorente, 83); Eriksen, Dele, Son (sub Lucas Moura); Kane
Subs not used:- Gazzaniga; Davies; Dier, Skipp
Booked:- Walker-Peters (foul on Miranda)
Spurs in the pink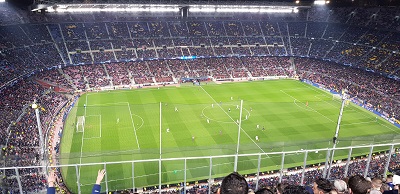 My personal experience of what will be remembered as one of the historic nights and results for Spurs was severely tainted by having had my pocket picked, and passport stolen en route to the game. Luckily for me, passport checks at the gate were not made, as had been expected, so I got in, but my mind was not on the events being played out before me.
We were up in "the gods", but side-on to the pitch and with a better overview of the game than we get at Newcastle.
That personal experience had also been marred by the terrible experience of those trying to get in, having to suffer ridiculous and dangerously narrow pinch points imposed by the local police and stewards, many of whom wore their scarves around their faces to disguise their identities. It was certainly not cold in Barcelona. Police batons came out and were used indiscriminately upon Spurs fans trying to squeeze through. Many fans (me included) held their hands high as they passed the hordes of police and marshalls, hoping to prevent assault.
The full official away attendance was supplemented by another thousand or two Spurs fans who had got tickets in home sections, many of whom were actually in a block directly beneath the official away support.
Spurs suffered an early setback but knowing we had only to match Inter's result against PSV (and it soon emerged that they too were losing), spirits did not drop. Certainly Spurs' heads did not drop, and they adopted a truly attacking policy, proved by the nature of our substitutions. We had so many chances, it was a wonder we did not score before Lucas Moura's wonderful moment when he equalised five minutes from the end.
Barcelona often wear pink for their away games (as they did at the weekend when beating Mauricio Pochettino's old team Espanyol), but it was Spurs who were in the pink at the end of this game, and their fans were truly ecstatic as we qualified for the last 16. My return home was delayed due to the need to obtain emergency passport and new flights, and I need to review my recording of the game.
My Facebook friend John Ellis has kindly allowed me to use his words to describe the events of the game here:-
"After the shambles of getting in, the night took a further turn for the worse... From a Spurs attacking position, an Eriksen free kick, Barca broke through Dembele who with the aid of a Walker-Peters slip, scored a quite wonderful solo goal.
The night suddenly took a surprising turn for the better when news filtered through of PSV taking the lead in Milan!
Spurs took until the half hour mark to create an opening but Rose put too much pace on his cross. Spurs gained in confidence and really should have levelled in the 38th minute when Son broke clear. With just the keeper to beat, he steadied himself before shooting straight at the keeper. A gilt edged chance missed...
Kane then brought a near post save. Spurs could actually do this but could they?
Right on half time the contest could have been over when a Messi-like dribble (by El Haddadi) and a shot by Coutinho hit the post and went wide.
There have been a number of times in this campaign when Spurs' Champions League future which was already hanging by a thread could have been laid to rest... and yet when the half time whistle blew, Spurs were within 45 minutes of qualifying for the knock out stages....
Spurs bossed the opening exchanges of the second half. Sissoko, free on the right, lacked composure and regarded the ball as a hot potato in hurrying his cross when he had all the time in the world to find the right pass..
Kane then held the ball up well for Eriksen to bring a diving save. Kane was then put through and uncharacteristically blazed over.
Four good chances had gone begging...
Barca looked dangerous on the break but Spurs ripped them apart time and again at the back... almost at will. Rose broke into the box but was wayward with his cross from a really good position. Son then shot into the keeper's arms. That elusive equaliser just kept being that....elusive...
Then Messi came on....the feeling was that if Spurs couldn't get in front with Messi being on the pitch a much greater reliance was now on PSV to hold on to their slender advantage.
In the 70th minute Rose laid it on a plate for Eriksen but the keeper saved although in any event the referee called a foul against Kane. Spurs continued to lack the killer instinct.
With 17 minutes to go the expected dreaded news of an Inter equaliser came through... Spurs had only themselves to blame. With 15 minutes to go Moura looked to have headed the equaliser but the keeper produced a fine save. Moura then curled the follow up beyond the far post.
Eleven minutes to go and Sissoko's hard driven cross was just about blocked. Seven minutes to go and Barca hit the woodwork again. Spurs were certainly using the cat's proverbial nine lives.
With just five minutes to go, Kane foraged down the left wing, crossed to perfection for Moura to stab the ball over the line - 1-1!!!
With two minutes to go a wonderful move including an exquisite pass from Eriksen let in Rose to... oh Danny boy...his shot went over and he hugged the post in desperate need of a cuddle...
The tension of four minutes added time. A goal at either game at either end would have had such dramatic consequences....
The final whistle blew at the Camp Nou but was a draw enough? The answer came quickly enough when an almighty roar came up in the Spurs end!
Spurs had done it! Oh my! 50/1 outsiders after the PSV away game on one point from three games with Inter on seven points.... Even the most optimistic of Spurs fans including Pochettino thought we were out. Three late goals in the last three games brought seven points and the Spurs go marching on!!!"
There had been a short period of hesitation and concern before the PSV result came through, before the Spurs fans; the players and the officials celebrated the result like any massive league or cup win. Mauricio Pochettino came out to applaud the fans (and take their acclaim too) a couple of minutes later. We were, of course held in, and by the time we were allowed out of the stadium, transport links were closed, and it was a long trek back to town for most.
I tend to say this about every away game in Europe these days, but the way we are treated is enough to put you off doing it again, but my replacement passport application is under way! I don't know if I will make the Round of 16 though. The draw is on Monday.

Group B Table
                P  W  D  L  F-A  GD   PTS
1. Barcelona    6  4  2  0 14-5   9   14
2. Spurs        6  2  2  2  9-10 -1    8 
3. Inter        6  2  2  2  6-7  -1    8 
4. PSV          6  0  2  4  6-13 -7    2


· See the exclusive "Spursometer" and have your say regarding the performances of the team, individual players, manager and officials.
· Squad numbers,appearances,bookings & goalscorers
· Read the preview for this game.
· All the Spurs Stats you could hope for here! THFC6061 Sports Stats