How they got to the 2019 Champions League Final - Liverpool

Liverpool qualified for this season's Champions league by finishing fourth in last year's Premier League. They finished two points behind Spurs and five points ahead of Chelsea. They were also last year's losing Champions League Finalists, beaten 3-1 by Real Madrid in Kiev.
Liverpool have a fine European pedigree, having previously won the European Cup/Champions League five times. The most recent win was a famous Champions League comeback in 2005 in Istanbul against A.C. Milan, when Liverpool came back from 3-0 down at half-time to level the scores and win the penalty shoot-out after extra time. Liverpool have also finished runners-up in the elite European club competition three times including last year's defeat against Real Madrid, when Gareth Bale scored twice.
Here are the details of Liverpool's path to the Champions League Final, 2019. Note that both Liverpool and Spurs played on the same dates throughout the Group phase.


Group C Table
                  P  W  D  L  F-A  GD   PTS
1. PSG            6  3  2  1 17-9   8   11
2. Liverpool      6  3  0  3  9-7   2    9 
3. Napoli         6  2  3  1  7-5   2    9 
4. Crvena Zvezda  6  1  1  4  5-17 -12   4 

Like Spurs, Liverpool finished level on points with the third placed team. Unlike Spurs, they did not qualify for the Round of 16 on their head to head record with Napoli because both the games finished 1-0 in favour of the home side. Goal differences were identical, but the "Reds" had scored two more goals in their 6 group games, the results of which were:-

Matchday 1 - 18/09/2018

Liverpool got off to a sensastional start with this 3-2 home win against one of the tournament favourites PSG. Sturridge and Milner (penalty) gave the home side a 2-0 lead before Meunier and Mbappe made it 2-2. Mbappe's goal came in the 83rd minute, but Firmino scored an added time winner.

Matchday 2 - 03/10/2018

Insigne scored the only goal in the 90th minute to give the "Reds" a setback, while PSG thrashed Crvena Zvedzda (Red Star Belgrade) 6-1. Liverpool were in third place after two games.

Matchday 3 - 24/10/2018

This was an easy win over Group C's fall guys. Firmino set Liverpool on their way before Salah scored his first two goals of the campaign, the second from the penalty spot. Mane added a fourth goal, and Liverpool went to the top of their group after PSG and Napoli drew 2-2.

Matchday 4 - 06/11/2018

Liverpool suffered a shock defeat in Belgrade, but stayed top of their group as Napoli and PSG drew again (1-1). Pavkov scored both of the goals in the first half. This was Crvena Zvedzda's only win of the Group phase.

Matchday 5 - 28/11/2018

The tension mounted regarding Liverpool's chances of qualification following this defeat. All the goals came in the first half with Bernat and Neymar putting the home side two up before James Milner scored a penalty just before half-time. Liverpool fell to third in the table after Napoli beat Crvena Zvedzda 3-1 to go top of the group with 9 points, three ahead of the "Reds". Matchday 6 would prove to be the decider!

Matchday 6 - 11/12/2018

Mo Salah's 34th minute goal clinched the game and qualification for Liverpool, finishing behind PSG who once again comfortably beat fourth placed Crvena Zvedzda. Jurgen Klopp's men got a tough Round of 16 draw against Bayern Munich, who as Group E winners (Ajax were in this group) would be at home in the second leg.

Round of 16 (1st leg) - 19/02/2019

Round of 16 (2nd leg) - 13/03/2019

This was a sensational result against the German side. Mane gave the "Reds" a 26th minute lead, before a Matip own goal gave Bayern an equaliser. Van Dijk and Mane scored second half goals to make the red half of Merseyside happy.

Quarter-Final (1st leg) - 09/04/2019

Liverpool got the draw that most fans of other teams would have preferred against Porto, who had won Group D and who beat Roma in the Round of 16, but only after extra time. First half goals by Keita and Firmino settled the home leg.

Quarter-Final (2nd leg) - 17/04/2019

Mane and Salah put the tie beyond the Portuguese side, before they got a goal back through Eder Militao. Firmino and Van Dijk added second half goals, and now Liverpool had to face the mighty Barcelona in the semi-final.

Semi-Final (1st leg) - 01/05/2019

It looked as if the tie was beyond Liverpool in the Camp Nou as old boy Suarez gave Barca the lead (and he celebrated his goal with gusto) before Messi added two more. Messi's second goal was a sensational and immaculate top corner free kick that is etched in the minds of all those who saw the ball beat Alisson's despairing dive to try to reach the ball.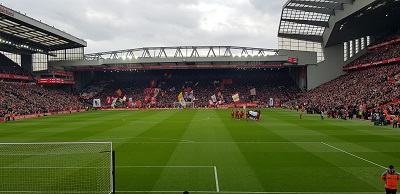 Semi-Final (2nd leg) - 07/05/2019
This of course was one of the great comebacks (there was another in Amsterdam the next night!) as Liverpool shocked Barcelona with a magnificent 4-0 win. Salah was injured but his replacement Origi was a two goal hero with the first and last goals. That last goal came as Alexander-Arnold tricked the Barcelona defence who stood stock still when the right back tricked them with a surprise corner which Origi slotted home. Wijnaldum scored two goals in the 54th and 56th minute and Anfield rejoiced at the prospect of a second successive Champions League Final. They probably thought they would be playing Ajax, but that's another story!
Mane, Salah and Firmino have each scored 4 goals so far in Liverpool's Champions League campaign. For Spurs, both Harry Kane and Lucas Moura have scored 5, whilst Son Heung-min has four to his name.
∑ Spurs Odyssey's Champions League Final Preview!
∑ How they reached the 2019 Champions League Final - Tottenham Hotspur ∑ Tottenham Motivation can Overpower Liverpool Skill in CL Final
∑ Tottenham Hotspur: A history of winning European cup finals
∑ The five defining moments that shaped Spursí quest for Champions League glory