· See the current injury list for all Premier League Teams
· All the Spurs Stats you could hope for here! THFC6061 Sports Stats


Spurs' record in Europe:-

U.E.F.A Champions League
 
 P  W   D   L   F - A
37 17   8  12  68 - 50
 
European Cup
P   W   D   L   F - A
8   4   1   3  21 - 13
 
(Semi-Finalists 1962)
 
European Cup Winners Cup
 
P   W   D   L   F - A
33  20  5   8  65 - 34
 
(Winners 1963)
 
UEFA Cup/Europa League
 P    W   D   L   F - A
140  78  36  26  276-121 
 
(Winners 1972, 1984
 Finalists 1974)

Total
P    W   D   L   F - A
218 119 50  49  430-218

Seize the day Spurs!
This Champions League Final is officially "Matchday 13" in the UEFA list, following the Group phase, and the knock-out stages of the 2018-19 competition. Lucky for some, so they say.
Matchday 13 might be the first of several omens, most of which are well known to Spurs fans who have been waiting impatiently for three weeks now for this game. Just for the record, they include:-
1. Spurs won the Double in 1961. Reverse those numbers (in a fashion) and you get 1.6.19.
2. Spurs have prevented Manchester City from winning four trophies after their domestic treble. They might win the only trophy to evade City.
3. In 1999, we also prevented a team from winning four trophies. That was Manchester United who won the Premier League, FA Cup, and the Champions League. Spurs won the other trophy AND knocked out United in the quarter-finals of that competition. This year we knocked out Manchester City in the quarter-finals!
4. In 1984, when we last won a European Trophy (the UEFA Cup on penalties versus Anderlecht), Watford were last in the FA Cup Final. They were beaten then, as they were two weeks ago – not by such a large margin. Watford finished 11th in 1984, and this season.
5. Our first European Final was played against Atletico Madrid, in whose stadium we play on Saturday. That famous 1963 game was played in Rotterdam, when Spurs became the first British Club to win a European trophy. Cliff Jones played in that game and at a sprightly 84 years old, Cliff will be one of the Spurs legends in the Estadio Metropolitano this week.
Both teams have beaten highly favoured and fancied teams on their path to this final. Although they ultimately finished runners-up to PSG in Group C, the "Reds" did beat the French Champions at Anfield in their first Group game. In the knock-out phase they have eliminated giant clubs Bayern Munich and Barcelona – also Champions of their domestic leagues for at least the last two seasons.
Spurs have seen off Borussia Dortmund, Manchester City and Ajax in their 6 knock-out games this year. Two of those teams also won their domestic league this season.
Both Spurs and Liverpool finished runners-up in their group. Liverpool lost 3 games. Spurs lost 2.
Despite his absences through injuries, Harry Kane is the equal highest scorer in this year's Champions League from the two finalists, joining Lucas Moura on 5 goals . Both Harry and Lucas have started 8 games. Lucas came off the bench in three other games.
Liverpool's Sadio Mane, Mohamed Salah and Roberto Firmino each have 4 Champions League goals. Mane and Salah are level in this competition, as they were in the Premier League with 22 goals. Firmino scored 12 league goals. Incidentally, Lionel Messi finished head and shoulders above all in this season's Champions League with 12 goals.
Liverpool have had a wonderful league season, of course, and made history with the highest points total of any Premier League runners-up. It was also the third highest points total in the Premier League's 27-year history, behind only Manchester City who gained 98 points this year and 100 last season.
Liverpool have a fine European pedigree and are seeking their 6th Champions League/European Cup. They have won 5 of their 8 such finals to date and were the losing finalists last year. This is Liverpool's 21st UEFA Final. Spurs are the 40th club to reach the Champions League/European final and the first newcomers since Chelsea in 2008. We could become the 23rd side to win the trophy and the first new name on the Cup since 2012. (That was Chelsea again in a year we don't like to remember). This is just our fifth European Final.
Both clubs and their fans are naturally proud of their history. Liverpool must be favourites to win based on their recent form and because recent head to head meetings between the two clubs have gone in Liverpool's favour.
However, there has been a three-week hiatus since the Premier League season ended. Both clubs have had to manage that break. In Spurs' case it has enabled Kane, Vertonghen, Winks and others to regain fitness. Whether their level of fitness equals match fitness remains to be seen, and the manager will have a decision to make. Firmino has returned to training for Liverpool, whose only absentee will be Naby Keita.
Spurs have overcome favourites to reach this stage with massive results against Borussia Dortmund, Manchester City and Ajax. Both clubs are here on merit.
Once our hopes of a Premier League title disappeared (and that was late February really), I am convinced that Pochettino's focus has been primarily upon the Champions League, perhaps evidenced by his emotional reaction to the result in Amsterdam.
I trust in our manager regarding team selection with the major pre-match talking point being "Does Kane start?" I do wonder about Kieran Trippier at right back, and the challenge to be faced against Liverpool's left back Robertson. "Tripps" has had a severe blow this week with his omission from the England squad for next week's Nations League games. I personally would fancy the pace of a fit Serge Aurier at right back. With the news that Ben Davies will miss Wales' games next week due to a forthcoming hernia operation, I assume that Danny Rose will start. He will need help with Liverpool's other full back Trent Alexander-Arnold.
Most of the team will pick itself, of course, with one definite starter being Moussa Sissoko who this week was awarded the Spurs Legends' player of the season.
Morale is high in both camps. Every minute that ticks by towards Saturday's kick-off brings more and more nervousness to most fans, whether they are lucky enough, like me, to be travelling to Madrid, or perhaps one of the 60,000 plus who will watch in the new stadium. Whatever does happen in Madrid, I am proud of what my team, its manager and its executive has achieved this season and by reaching the final.
Last Sunday, I had the pleasure of meeting Spurs Legends Osvaldo Ardiles and Ricky Villa. Ricky expressed surprise at the fact that his 1981 FA Cup winning goal is still remembered nearly 40 years later. I told him that 100 years from now people will be quoting the famous John Motson commentary "…still Ricky Villa!"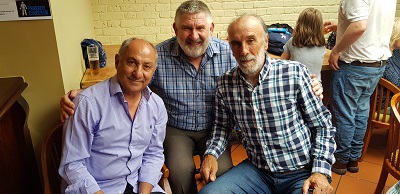 That is true in the same way as Spurs fans down the years will remember Lucas Moura's second half hat-trick in Amsterdam; Tony Parks' 1984 penalty save, and plenty of other iconic moments in our history. That "100 years from now" line is a quote from the film "Dead Poets' Society" in which Robin Williams' teacher character told his pupils to "Seize the Day".
This wonderful occasion for our club is not just about "Being there". It is an opportunity for one or more of our players to put their personal mark upon the game, and perhaps to be remembered for all time.
Both managers are seeking a first trophy with their respective clubs. This game is about what happens on the day. Liverpool have a recent record of coming second. I hope that happens again in Madrid. I say to Spurs "Seize the day!"
UEFA announced the match officials for the Final on May 14th. They are from various countries and will be led by referee Damir Skomina who is from Slovenia. Mr. Skomina is 42 and has been an International referee since 2002. He was in charge of the Europa Lague Final two years ago which was between Ajax and Man Utd. Over the last year Mr Skomina has refereed a number of International and European games, including England's World Cup Group game against Belgium, Liverpool v Napoli in Champions League Group C, and PSG v Manchester United in the Round of 16.
Spurs have been refereed by Mr Skomina twice before. Firstly in our first Champions League season in October 2010 when we lost 4-3 in the San Siro against Inter, when Gareth Bale scored a hat-trick. Secondly when we drew 2-2 away to Benfica in March 2014 in a Europa League Round of 16 game. We need to record a win with this referee in charge!
· The five defining moments that shaped Spurs' quest for Champions League glory
· How they reached the 2019 Champions League Final - Tottenham Hotspur
· How they reached the 2019 Champions League Final - Liverpool
· Tottenham Hotspur: A history of winning European cup finals
· Tottenham Motivation can Overpower Liverpool Skill in CL Final