UEFA CHAMPIONS LEAGUE
ROUND OF 16 (1st leg)
WEDNESDAY 13TH FEBRUARY, 2019
(8pm – at Wembley)
TOTTENHAM HOTSPUR 3(0) BORUSSIA DORTMUND 0(0)
Scorers:-
Son, 47
Vertonghen, 83
Llorente, 86
Attendance:- 71,214
Referee:- Antonio Mateu Lahoz (ESP)
Assistants:- Pau Cebrián Devís (ESP) & Roberto del Palomar (ESP)
Video Assistant Referee:- Alejandro Hernandez (ESP)
Assistant Video Assistant Referee:- Juan Martinez Munuera (ESP)
Fourth official:- Javier Estrada (ESP)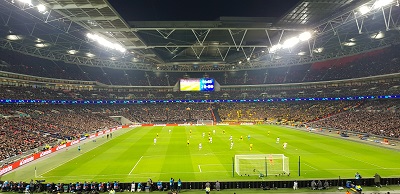 Teams:-
Spurs (3-4-3):- Lloris (Capt.); Foyth, Sanchez, Alderweireld; Aurier, Sissoko (sub Wanyama, 90+1), Winks, Vertonghen; Eriksen, Son (sub Lamela, 90), Lucas Moura (sub Llorente, 84)
Subs not used:- Gazzaniga; Trippier, Rose; Skipp
Booked:-Aurier (foul on Pulisic)
Dortmund (4-2-3-1):- Burki; Hakimi, Toprak, Zagadou (sub Schmelzer, 77), Diallo; Witsel, Delaney; Sancho (sub Guerreiro, 88), Dahoud, Pulisic (sub Bruun Larsen, 88); Gotze (Capt.)
Subs not used:- Hitz; Balerdi, Wolf; Philipp
Booked:- Delaney (foul on Son)
Super Jan leads blitz of Germans!
I didn't dare to dream of this. I had hoped for and predicted a close win for Spurs, in the knowledge that Bundesliga leaders Borussia Dortmund would be missing their two top scorers Marco Reus and Paco Alcacer, plus perhaps one or two other key players. Nobody could have foreseen the magnificent second half blitz upon the German side by a Spurs side, itself weakened by the absence of Harry Kane, Dele Alli, Danny Rose, Ben Davies and Eric Dier. Manager Mauricio Pochettino produced a masterclass of team selection and strategy, neutralising the threat of England starlet Jadon Sancho, matching the visitors in the first half, and simply overwhelming them in the second. Spurs go to Dortmund on March 5th with one foot already in the quarter-finals of the Champions League.
It was clear when the teams were announced that we would have a back three with Jan Vertonghen playing at left wing-back. I thought that Foyth's inclusion would mean his speed being used on the left of the three to back up "Super Jan", but Foyth was on the right with Davinson Sanchez in the middle and Toby Alderweireld on the left. Harry Winks played beside Jan, but the 31 year old Belgian spurs favourite managed Sancho very well, thank you very much, and even showed him how to effectively attack down the flank, particularly in the second half. With one marvellous assist and a superb goal, Jan was clearly our man of the match, but there were so many excellent performances here tonight. Sissoko's power and driving force was dominant. Apart from one Sissoko mark 1 pass, Moussa didn't put a foot wrong. Winks had a great game too, but in the second half Spurs pressed high and drove forward to such an extent that we were on our feet in anticipation more times than I can remember this season. Yes, I do generally sit in a section of the crowd behind the goal at the West End of Wembley Stadium that is generally quite restrained in nature.
The crowd looked bigger than 71,214, but it was one of the biggest this season, with an atmosphere to match. Somehow the away fans managed to squeeze in massive flags and some drums past the Wembley bag policy that turned away women with handbags bigger than their A4 template. Mind you, I also saw one Spurs fan trying to get the paper ticket reader to read his smart phone. Some of our occasional visitors don't read the multiple e-mails and announcements sent out by the club! The Dortmund fans were exuberant throughout the game.
The game was intended to be preceded by a minute's silence for England legend Gordon Banks (very appropriate with a German team in the house) and Emiliano Sala, but this turned into applause as the crowd was clearly uncomfortable or perhaps confused by the silence.
I thought the two teams generally matched each other in the first half, but the visitors did look sharper than us in the final third. Both had their moments. The first chance fell to Spurs as Eriksen fed Son down the left. His cross/shot was blocked and fell to Lucas Moura who fired well over the target. Three minutes later Harry Winks intercepted a Dortmund pass in their half and passed to Son, now on the right. A goal kick resulted from Son's cross. Eriksen was generally to be found behind Lucas and Son, but there was plenty of interchange of positions going on. Aurier took an early yellow card (the only one for Spurs) for a foul on Christian Pulisic, who has been signed by Chelsea for a massive £50 million+ fee and loaned back to Dortmund.
After the free kick, Spurs got caught out playing from the back – specifically Foyth – and Pulisic squeezed a shot towards Lloris's right post which the goalkeeper saved with his legs. Spurs cleared from the feet of Sancho after another loss by Foyth higher up the field. Foyth settled down after these early errors. Sissoko slid in for a foul outside the Spurs area on their left and the free kick was half cleared to Witsel, whose shot was held by Lloris. Sancho got the better of one race with Davinson Sanchez, but the Spurs defence held firm. Son had a shot blocked after Eriksen's ball with Lucas Moura on the periphery. Foyth got forward and had an exchange of passes with Aurier on the right before crossing to Eriksen, whose shot passed over the goal. At the other end, the Spurs defence was not convincing after Lloris saved from Delaney with Gotze also offering pressure.
Eriksen prompted Son's advance down the left flank. Son crossed and Eriksen had now come inside to proffer the ball to Harry Winks, whose shot passed wide. Just before the break there came the best chance of the half, and it was for the yellow shirted visitors. A corner on the right was taken short and crossed by Sancho with defender Zagadou arching high and heading goalward with Lloris saving brilliantly, before his team-mates cleared. Do the German fans sing "Agadoo" at Zagadou, I wonder?
Spurs started the second half with a bang! The ball was fed to Vertonghen deep on the left and he crossed brilliantly and quickly to the middle where Son met the ball with a perfect side-footed volley to beat Burki in the Dortmund goal. What a start! Remember how Super Jan had crossed so well and so often against Newcastle only 11 days ago. This cross was of supreme quality.
After 53 minutes, Eriksen was left of Son and passed when Son was fouled by Danish midfielder Delaney, who got his side's one yellow card of the night. Eriksen hit his free kick into the wall. Five minutes later Vertonghen intercepted a Dortmund ball in his own half and surged forward on a powerful run hitting a right footed shot just wide. Spurs advanced again after a quick free kick and won a corner, taken from the left by Eriksen and met at the near post by Alderweireld, whose header was held by the goalkeeper. The German side were hardly getting a look-in as Spurs pressed high and dominated second half possession and territory. Sissoko put a good ball out to Vertonghen who crossed yet again for Son, with a corner resulting.
It was a while now before significant action but fifteen minutes before the end after Eriksen's corner on the right Lucas Moura had a shot blocked and another corner resulted. Dortmund manager Lucien Favre replaced Zagadou with Schmelzer.
Spurs increased their lead in the 83rd minute and it was the wing-backs who provided the goal. Aurier crossed deep from the right and Super Jan was in the middle to meet the ball perfectly with another volleyed shot past Burki. That was Jan's first goal since the opening day of the season at Newcastle, but the important thing was that Spurs had a precious two goal lead. Things got supremely better after Fernando Llorente replaced Lucas Moura and scored within three minutes. The goal came from a corner won by super play by Vertonghen, Sissoko and Eriksen. Eriksen took the kick from the left and Llorente rose to meet it in front of the near post to glance home a great header. That was Fernando's first Champions League goal for Spurs and his sixth goal since January. The goal was celebrated with great joy in the south-west corner.
There was one Dortmund shot of note in the closing stages by substitute Guerreiro, but this passed safely wide of Lloris's right post, and Spurs saw out the two minutes of added time comfortably with a three goal lead in their pockets. I am so much looking forward to our third trip to Dortmund in recent years. There is a bar there we use regularly which sells shot bottles which have predicted scorelines on the back of the label. Last time we eventually found one which correctly predicted 2-1 to Spurs. I'll take a draw this time!
Thank you Spurs for a fantastic night!
· John Ellis's "third-eye" report
· See the exclusive "Spursometer" and have your say regarding the performances of the team, individual players, manager and officials.
· Squad numbers,appearances,bookings & goalscorers
· Read the preview for this game.
· All the Spurs Stats you could hope for here! THFC6061 Sports Stats