UEFA CHAMPIONS LEAGUE
QUARTER-FINAL (1st leg)
TUESDAY 9TH APRIL, 2019
(8pm)
TOTTENHAM HOTSPUR 1(0) MANCHESTER CITY 0(0)
Scorer:-
Son, 78
Attendance:- 60,044
Referee:- Bjorn Kuipers (NED)
Assistants:- Sander van Roekel & Erwin Zeinstra(NED)
Video Assistant Referee:- Danny Makkelie(NED)
VAR Assistant:- Pol van Boekel (NED)
Fourth Official:- William Collum (SCO)
Teams:-
Spurs (4-2-3-1):- Lloris (Capt.); Trippier, Alderweireld, Vertonghen, Rose; Sissoko, Winks (sub Wanyama, 81); Eriksen, Dele (sub Llorente, 87), Son; Kane (sub Lucas Moura, 58)
Subs not used:- Gazzaniga; Sanchez, Foyth, Davies
Booked:- Rose (Handball)
Man City (4-2-3-1):- Ederson; Walker, Otamendi, Laporte, Delph; Fernandinho, Gundogan; Mahrez (sub Sane, 89), David Silva (Capt.) (sub De Bruyne, 89), Sterling; Aguero (sub Gabriel Jesus, 71)
(Armband to Fernandinho)
Subs not used:- Muric; Kompany, Stones; Foden
Booked:- Laporte (foul on Dele), Mahrez (foul on Lucas Moura)
We dared and we did!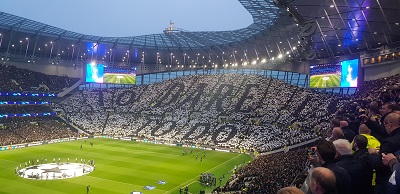 This tie is not over by a long chalk yet, but Spurs lived up to the anglicised club motto displayed by the South Stand before the start of the game. We dared and we did! We take a slender one goal advantage to The Etihad next Wednesday, courtesy of the talismanic Son Heung-min scoring his second goal in two games at our new and magnificent stadium, and also his second goal in front of "The White Wall". Once again, the stadium looked wonderful under the lights, in its Champions League livery, which we so crave to see next season too. Even more people crammed into the arena too.
The win comes despite the loss of Harry Kane through a recurrence of his ankle injury after 58 minutes. This cheered the City fans, of whom not much was heard all night thanks to the noise generated by the Spurs crowd of over 60,000. Lucas Moura came on; Spurs buckled down to their task, and were rewarded with Son's goal. The win also came despite the high drama of an early penalty awarded for handball by Danny Rose after a VAR review. Aguero, that masterful striker, stepped up, but our hero and captain Hugo Lloris dived low to his left and saved his third consecutive penalty. That save was as important as Son's goal, as it preserved a clean sheet and if we can get one goal next week, City will need three. We all know that is not beyond the realms of possibility, but we must enjoy this result for what it was – a magnificent and well-deserved win at "New White Hart Lane"!
Mauricio Pochettino went with a traditional 4-2-3-1, and his team was as predicted. Every member of the team was a hero. Every member of the team gave his all. Every member of the team deserves the high marks being awarded in the Spurs Odyssey post-match poll as I write. Sissoko and Winks were superb in the midfield engine room. Sissoko was the powerhouse we have grown to love. Winks was tigerish in his pursuit of opponents, and accurate as ever with his passing. Every defender played well, and I include the much criticised Kieran Trippier in that comment. Eriksen, the exciting Dele Alli and Son pushed forward at every opportunity and of course Harry Kane led the line as well as ever. Dele was at his best in his favoured advance midfield role.
Pep Guardiola sprang one or two surprises in his team selection with Fabian Delph playing at left back. Delph has made just 8 Premier League starts this season, and does not often get the nod in City's high profile games. Son Heung-min would ultimately make the City manager pay for the selection with his 78uth minute goal. Gundogan played a withdrawn role next to Fernandinho, who is such an integral part of any City success. Playmaker De Bruyne, who in fairness has yet to fully regain his powers after his early season injury, was left on the bench until one minute from the end. City might have been a little under par, but no matter, Spurs did a job on them. They played with positivity, with desire and with guile.
City kicked off, playing away from their fans and towards the massive South Stand. After 7 minutes, Dele pushed the ball out to Sissoko on the left and got a return pass, before hitting a right footed shot over the target. That early penalty (and the referee's review of the video took place in front of the East Stand) followed Raheem Sterling's run in from the left and a shot which was blocked by the hand of Rose. Replays suggested that Rose was falling and the handball was harsh, but not only was it given, but Rose was also carded to aggravate his pain. The stadium breathed in. Aguero took his place. He fired left of Lloris and Hugo had gone the right way and saved well. The stadium roared its approval!
At the other end after 14 minutes, Kane, Dele and Eriksen combined before Dele went down inside the area, but there was no VAR for Spurs here. Kane had a shot saved by Ederson to his left after more Dele – Eriksen combination. Laporte was booked for his foul on Dele and Eriksen's free kick was blocked. Trippier returned the ball but Harry Winks' shot was over the goal. City had a free kick on the right. Otamendi headed goalward, but Lloris saved and the offside flag was up anyway.
After 33 minutes, Eriksen put the ball out to Trippier on the right. He crossed and Kane delivered to Danny Rose, whose cross was collected easily by Ederson. Kane was fouled some 28 yards out and Eriksen's free kick was blocked. A second ball was sent to Son, but he was offside. Son was fouled after 41 minutes just outside the City area on the right side. Danny rose took this kick, but Ederson saved comfortably. Trippier received an Eriksen ball, but failed with his cross towards the end of the half.
City started the second half brightly with Aguero on the right side of the Spurs area, passing to Sterling, whose shot was well saved by Hugo and cleared by the defence. Eriksen and Kane advanced, and fed the ball to Dele, who just couldn't quite get the right touch. Son then had a chance, receiving from Trippier and hitting a left footed shot which Ederson met in good position. There was good play in the middle from Kane and Winks with Dele hitting a shot which was cosy for Ederson as he moved to his right. Ederson then needed a treatment before the game continued.
Then came the sad sight of Harry Kane literally hopping off, trying to protect his injured ankle as much as possible, but having to be replaced by Lucas Moura. Kane had been in collision with Delph. Lucas attracted early attention from Riyad Mahrez which led to a booking for the former Leicester man – a £60 million signing for Guardiola, who has often seemed to be peripheral for the Sky Blues.
Aguero went off with 20 minutes to go. The Argentinean had been suffering a muscle injury and had been left out of the last two games, but now he was replaced by Gabriel Jesus. Mahrez did succeed against Danny Rose though after 73 minutes, before David Silva fed the ball to Delph, whose shot was harmlessly wide. City were now pressing. Son needed a little treatment but then he became the second Spurs hero of the night with his goal. He received the ball to the right of goal from Eriksen and it had looked as if he might have taken it over the bye-line (perhaps this was what the subsequent VAR review was about). However, he retrieved the ball and cut back before hitting a low left foot shot that squeezed under the usually infallible City keeper to bring the incredible roar of the home crowd! That was "Sonny"'s 18th club goal of the season, and with Kane out injured – possibly beyond the end of the season – Son could yet finish the season as our top scorer.
Harry Winks went off to a marvellous reception and was replaced by Wanyama, who continued stalwart defensive midfield duties. Llorente came on later for Dele, who also received deserved acclaim. Llorente was immediately involved, winning a ball on the left, feeding it to Eriksen who gave Son another chance on goal, but this shot was too high. Guardiola at last introduced De Bruyne and also Sane (for David Silva and Mahrez respectively) Despite the 6 minutes of added time it was all too late. Son received from Rose, and had a shot held by Ederson. Lloris held a cross by de Bruyne shortly before the final whistle brought roars of delight from the masses.
The result was as much as any of us could truly hope for, and it gives us real hope of grabbing a Champions League semi-final place. After all, to dare really is to do, isn't it?
PS:- There was a one-man pitch invasion just before added time. The offender surprisingly entered from the lower West stand, but was soon ejected. We must hope this does not bring retribution upon Tottenham Hotspur.
· See the exclusive "Spursometer" and have your say regarding the performances of the team, individual players, manager and officials.
· Squad numbers,appearances,bookings & goalscorers
· Read the preview for this game.
· All the Spurs Stats you could hope for here! THFC6061 Sports Stats