On this day this week (w/e 22nd March)
Article published 22nd March, 2020
We live in unprecedented times. Even after the outbreak of the First World War football continued and the 1914-15 season was played to a finish. The 1939-40 season was abandoned after three games at the outbreak of the Second World War. On Saturday 2nd September, 1939 Spurs won 4-3 at The Hawthorns in a game that featured two hat-tricks. One was by West Brom's Eric Jones. The other was scored by Tottenham's Johnny Morrison. Four of the goals came in the first 10 minutes by which time Spurs were 3-1 up as Morrison scored in the first and second minutes and Ronnie Dix scored our other goal in the tenth minute. Jones had scored his first goal after three minutes. The Spurs side included future manager Bill Nicholson and future Championship-winning captain Ron Burgess.
The big freeze in the winter of 1962/63 led to only three Spurs games being played after Boxing Day and during the whole of January and February. Now, it already seems an age since we played our last game away to Leipzig on March 10th. Coronavirus Covid-19 is with us and football (along with all sport) falls way down a list of priorities when the pandemic has already claimed thousands of lives around the world. We are told the worst is yet to come for Britain, and we are all still getting used to this new way of life where "social distancing" and "social isolation" have become a common part of the language and culture.
The Premier League announced on Friday 13th March that elite football would be postponed until at least 3rd April, and that has already been followed by an announcement that states no football will be played before May. Realistically even a June resumption for football seems optimistic, although that is what the football powers are hoping for. Euro 2020 has been postponed for a year and the hope is that the domestic season can be played to a finish in time for a normal 2020-21 season.
As and when football does resume, Spurs can look forward to Kane, Son, Sissoko, Davies and possibly even Bergwijn being fit. Their availability would give us hope of finishing in a European qualifying place. Bear in mind that I understand the Premier League is also considering forsaking a Europa League qualifying place for a seventh placed side.
The first Spurs game which fell victim to the enforced hiatus was last Sunday's home game against Manchester United, who last came to Tottenham in May 2017. Spurs Odyssey recalled that game and also the Premier League Review for that week, before embarking upon an "On this day" project via social media. Here are the stories and links to our archives with which we have been seeking to fill the void:-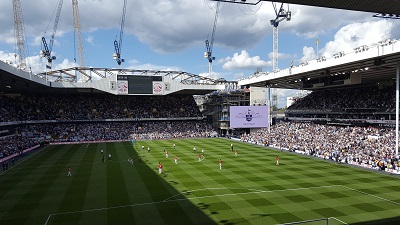 ...On the pitch Spurs achieved their one remaining footballing objective for the season (to finish runners-up to Chelsea) by beating Jose Mourinho's Manchester United, thanks to fine goals by Victor Wanyama and Harry Kane. After the game, following what was essentially a good natured pitch invasion, Spurs gave their 118 year old home as fine a send off as you could wish for. There was a film introduced by "Spurs fan" Sir Kenneth Branagh, before a parade of many playing legends from the Double season onward. A choir, band and tenor gave us a haunting, then rousing rendition of "Mine eyes have seen the Glory", and "Glory, Glory Allejuhah" to ensure there was hardly a dry eye in the house. I certainly shed a tear or two today. It was emotional..........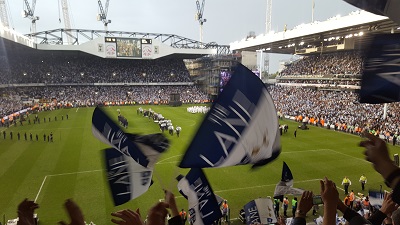 Our "On this day" items so far have been as follows:-
14th March 2007 - a record breaking 8th win in Europe in the 2006-07 season.
Spurs 3 Braga 2
15th March 2009 - a heroic win on the Ides of March
Aston Villa 1 Spurs 2
16th March 2009 - Check out the Spurs reserve team that beat Chelsea 4-0 on this day 2009!
Spurs Reserves 4 Chelsea Reserves 0
17th March 2001 - A 3-0 home win against Coventry which came the day after George Graham was sacked. A certain centre-half played one of his last games for the club. David Pleat looked after the side and Glenn Hoddle would be in the stand two weeks later at Highbury.
Spurs 3 Coventry 0
18th March, 2006 - Whatever happens to this season, we have already played 43 games in all competitions. The 2005-06 season remains our shortest ever season, because we were not in Europe, and we were knocked out of both domestic cup competitions at the first hurdle AND by lower league opponents.
Today's "On this day" is from that season. It was a 2-0 away win against Birmingham which featured Aaron Lennon's first club goal. Remember that Lennon record where if he scored, we never lost a Premier League game? It started here:-
Birmingham 0 Spurs 2
Regarding 18th March, my very good friend Declan Mulcahy offers this memory:-
The most memorable 18 March of the post war era was 1961.
On Saturday 18 March 1961 Spurs beat Burnley 3-0 at Villa Park in the FA Cup semi final. It was the first time that Spurs had reached the FA Cup final since 1921. It also ended a dismal sequence of three semi final defeats at Villa Park in 1948, 1953 (both Blackpool) and 1956 (Manchester City).
Spurs went on to beat Leicester City in the final and complete the double. It was the club's first appearance at Wembley.
19th March 2008 - Chelsea sought revenge for the League Cup Final defeat. A late Robbie Keane goal ensured they didn't get it! (YouTube video link included)
Spurs 4 Chelsea 4
20th March 2010 - Today's entry is both an "On this day" and a "10 years after" link. Eidur Gudjohnsen (whilst on loan from Monaco) scored his one and only Premier League goal for Spurs. Niko Kranjcar scored our other goal, and an ex-Spur (Matty Etherington) scored for Stoke
Stoke City 1 Spurs 2
21st March, 1999 - On this day 1999 we won the Worthington Cup Final at the old Wembley stadium. Don't forget to read the associated articles and preview!
Leicester City 0 Spurs 1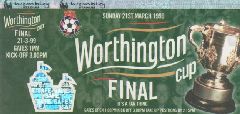 21st March, 2015 - A bonus "On this Day". Harry's game, in which our hero scored his first Premier League hat-trick
Spurs 4 Leicester 3
22nd March, 2008 - On this day in 2008 Darren Bent scored what was the 100th goal of the 2007-08 season at White Hart Lane in a 2-0 win over Portsmouth. Jamie O'Hara scored his first league goal for Spurs. Jamie spent much of the following season on loan with Pompey before he was finally loaned and sold to Wolves. He is currently player/manager at National League South side Billericay.
Spurs 2 Portsmouth 0
Most of the seasons in the Spurs Odyssey archive had an International break around this time of the year, so such links might be hard to find, but we will do our best to provide you with a football fix.
The most important thing for us all of course is to STAY SAFE. I wish you and your loved ones good health throughout this crisis.
· On this day - week ending 29th March
· On this day - week ending 5th April
· On this day - week ending 12th April
· On this day - week ending 19th April
· On this day - week ending 26th April
· On this day - week ending 3rd May
· On this day - week ending 10th May
· On this day - week ending 17th May
· On this day - week ending 24th May
· On this day - week ending 31st May