On this day this week (w/e 10th May)
Article published 10/05/2020
This is the eighth of this series of articles published since Premier League football was postponed with effect from the 14th March. The Premier League has not yet been curtailed and the next conference (no doubt via "ZOOM") is scheduled for 18th May by which time Lockdown conditions may have been eased in some respects. We await Prime Minister Boris Johnson's announcement being made this evening.
Today marks a full two calendar months since our last game (Leipzig), and this week we will mark the seventh week of lockdown in the UK. At the time of writing the Bundesliga is due to become the first European league to re-start next weekend, behind closed doors. However, one game has already been called off due to the whole of the Dynamo Dresden squad being put into isolation after two of their players tested positive for Covid-19.
Here is the latest selection of items chosen from the Spurs Odyssey archive relating to events "On this day":-
4th May
Gareth Bale scored a late winner on this day 7 years ago to keep us in the Champions League hunt.
5th May
Spurs Odyssey Headline - "Their finest hour (and a half)" - Man City 0 Spurs 1. On our way home to Chesterfield via Stockport, my son Greg and I managed to find an Indian restaurant open where I think we were the only customers, but the owner was very hospitable. Our celebrations were complete!
Also on the 5th May, 1962, Spurs retained the FA Cup with a 3-1 win over Burnley. Brian Judson summarised our 1962 Cup-winning run here - http://www.spursodyssey.com/articles/ecwcintro.html.
6th May
"10-man Spurs came back against defensive Villa".
This day was also the 59th anniversary of the famous day we completed our historic league and cup double.
7th May
The events of "Lasagne-Gate" 2006 have to be included as a significant day in the history of our club.
A happier tale was recorded the following year at The Valley when Dimitar Berbatov scored Spurs' 100th goal of the season in all competitions.
8th May
Well, there's only one place to go on this day, isn't there? That's Amsterdam last year. It was truly one of the very greatest experiences of my Spurs-supporting lifetime.
Oh my word! That magical Moura moment!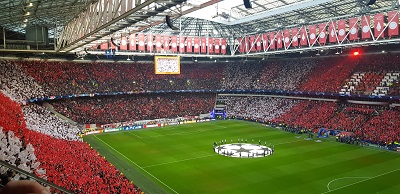 PS - Don't miss the marvellous BT SPORT No filter UCL embedded tweet on this page! This is worth a read too:-
John Ellis's Third-Eye report.
This was a significant away draw against Chelsea in 2013, and an interesting report. Ultimately though, we would suffer last day disappointment yet again in another quest for Champions League football.
9th May
I've chosen this game from 2018, played at Wembley. Harry Kane's goal secured a third consecutive Champions League season for Spurs with one game to spare.
10th May
Jurgen Klinsmann's last game was a special occasion. We had secured Premiership survival the week before at Selhurst Park, when he had scored 4 goals. He scored again in this game at the end of which we got the chance to say farewell to not only Jurgen, but also Gary Mabbutt and David Howells.
Today is also the 25th anniversary of "Nayim Day"!
I do hope you are enjoying this series. there is so much to read by following the links on this page, and I also recommend following the links from each story to interesting previews of each senior game referenced here. Look out for more archive material every day via the Spurs Odyssey Twitter and Facebook pages, and another article next week!
STAY SAFE!
· On this day - week ending 22nd March
· On this day - week ending 29th March
· On this day - week ending 5th April
· On this day - week ending 12th April
· On this day - week ending 19th April
· On this day - week ending 26th April
· On this day - week ending 3rd May
· On this day - week ending 17th May
· On this day - week ending 24th May
· On this day - week ending 31st May