On this day this week (w/e 5th April)
Article published 05/04/2020
During the Coronavirus Covid-19 pandemic crisis, with football and all live sport on hold, we continue our series of references to items in the Spurs Odyssey Archive (thousands of pages) "On this day":-
30th March
Today's choice is a 2-1 away win against Swansea. First half goals were scored by Jan Vertonghen and Gareth Bale. Jan scored at home and away against Swansea in this, his first season at Spurs, and six club goals in all that season.
31st March
#rockyremembered #spurs #coys #thfc - Spurs played (and lost) at Highbury on the day David Rocastle died, aged just 33. Spurs fans present (me included) observed the one minute's silence
1st April
There is only one place to go for our "On this day" today, and that is two years ago at Stamford Bridge when an Eriksen cracker and two goals by Dele Alli ensured that, at long last, the Stamford Bridge hoodoo was well and truly over!
2nd April
A 1-1 draw at Anfield on this day 4 yrs ago.
3rd April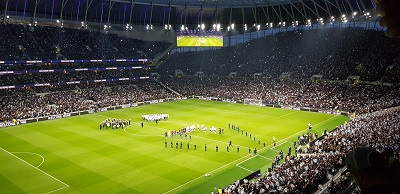 On this date last year Spurs ensured a happy opening night at "New White Hart Lane", and "it was Son Heung-min who carved his name in the history of this new stadium with the very first Premier League goal. 120 years ago in the first game at the old White Hart Lane stadium a member of one of the Football League founder member sides Notts County – Tommy McCairns – scored the first goal. The fact that tonight's goal was scored by a South Korean nicely demonstrates the international flavour of the modern day game. The Tottenham Hotspur Stadium is a landmark creation and sets a high standard for all future Sports Arenas."
4th April
On this day in 2013, we drew at home to Basel in the first leg of a Europa League quarter-final game. The Basel side included a certain Mo Salah, who scored against us in the away leg which was also drawn. We lost the tie in the penalty shoot-out. Salah would next play against us in 2015 whilst on loan from Chelsea to Fiorentina, for whom he also scored against Spurs in a second leg game, when we were again eliminated from the Europa League.
5th April
There was very late drama on this day 3 years ago when two added time goals by Son and Eriksen gave us a 3-1 win at Swansea.
The Spurs Odyssey Premier League review for that week is also worth a read.
· On this day - week ending 22nd March
· On this day - week ending 29th March
· On this day - week ending 12th April
· On this day - week ending 19th April
· On this day - week ending 26th April
· On this day - week ending 3rd May
· On this day - week ending 10th May
· On this day - week ending 17th May
· On this day - week ending 24th May
· On this day - week ending 31st May