Top of the 2017 Premier League table!
You've all seen the stat regarding Spurs having won more points in the Premier League this year than any other team. It goes without saying then that Spurs are top of the 2017 table after Wednesday night's game at The Liberty Stadium, Swansea. Here thanks to Paul Yarden's excellent THFC6061 Sports Stats site is the 2017 table for matches played so far this year:-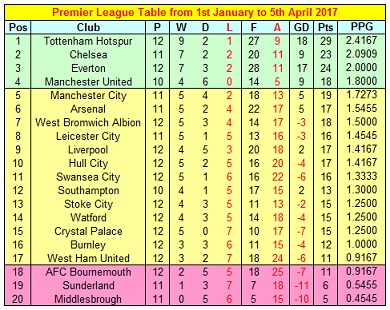 We all know that it is the table for the season as a whole that counts, but it is a nice picture, isn't it?
Vincent Janssen won the vote for man of the match on the Spurs Official site, but Spurs Odysssey voters have emphatically chosen Christian Eriksen above Dele Alli and Janssen, each of whom had a massive impact on the game. Janssen's clever and skilful turn and ball for Son's goal was a special moment, but so were Eriksen's pass leading up to that goal, and for Dele Alli's equaliser. Eriksen capped his performance with a great piece of skill and finishing for the third goal, having received an excellent infield pass by Dele.
· You can see the spursometer in full here.
Apparently, Spurs are the first team in Premier League history to be a goal down in the 88th minute and to win by two clear goals!
That is a remarkable statistic, and I asked our ace statistician Declan Mulcahy to research similar late goal feats by Spurs. Remember, this is not necessarily a complete record, nor is it necessarily a record of favourite turnaround results, but here are Declan's results so far working backwards in time:-
April 2013
Spurs 3 Man City 1
Dempsey 75, Defoe 79, Bale 82 (Nasri 5)
Sep 2010
Spurs 3 Wolves 1
Van der Vaart 77p, Pavlyuchenko 87, Hutton 90 (Fletcher 45)
Oct 2008
Arsenal 4 Spurs 4
Bentley 13, Bent 67, Jenas 89, Lennon 90 (Silvestre 37, Gallas 46, Adebayor 64, Van Persie 68)
March 2007
WHU 3 Spurs 4
Defoe 51p, Tainio 63, Berbatov 89, Stalteri 90 (Noble 16, Tevez 41, Zamora 85))
November 2006
Port Vale 3-1 aet
Huddlestone 80, 99 Defoe 107 (Constantine 64)
April 1999
Charlton 1 Spurs 4
Iversen 57, Campbell 79, Dominguez 89, Ginola 90, (Stuart 5)
There were two Everton games in the 90s in quick succession with late winning goals by Andy Turner on a Saturday in September 1992 and Darren Caskey on a Sunday in October 1993.
Sat Sep 5, 1992
Prem Everton (h) 2-1 W
Allen 79, Turner 90, (Beardsley 42)
Sun Oct 3, 1993
Prem Everton (h) 3-2
Sheringham 58, Anderton 88, Caskey 90, (Rideout 15, Cottee 67p)
November 1970
Chelsea 0 Spurs 2
Mullery 89, Pearce 90
Note 90 may mean extra time in a lot of these games.
There are reports on all of the games as far back as 1999 on the Spurs Odyssey web site. Just follow the relevant highlighted links.



Premier League results 04-05.04.17

Burnley     1-0   Stoke
Leicester   2-0   S'derland
Watford     2-0   West Brom
Man Utd     1-1   Everton
Arsenal     3-0   West Ham
Hull        4-2   M'brough
S'hampton   3-1   C. Palace
Swansea     1-3   Spurs
Chelsea     2-1   Man City
Liverpool   2-2   B'mouth

            Premier League Table

               P  W  D  L   F-A   GD   Pts

 1. Chelsea   30 23  3  4  62-24  38   72 
 2. Spurs     30 19  8  3  60-22  38   65
 3. Liverpool 31 17  9  5  66-39  27   60  
 4. Man City  30 17  7  6  57-34  23   58 
=========================================
 5. Arsenal   29 16  6  7  61-36  25   54
========================================= 
 6. Man Utd   29 14 12  3  43-24  19   54
 7. Everton   31 14  9  8  53-34  19   51
 8. West Brom 31 12  8 11  39-40  -1   44
 9. S'hampton 29 10  7 12  36-37  -1   37
10. Watford   30 10  7 13  36-48 -12   37
11. Leicester 30 10  6 14  37-47 -10   36
12. Stoke     31  9  9 13  33-46 -13   36
13. B'mouth   31  9  8 14  44-56 -12   35
14. Burnley   31 10  5 16  32-44 -12   35
15. West Ham  31  9  6 16  41-57 -16   33
16. C. Palace 30  9  4 17  39-50 -11   31
17. Hull      31  8  6 17  32-61 -29   30
=========================================
18. Swansea   31  8  4 19  37-66 -29   28
19. M'brough  30  4 11 15  22-37 -15   23
20. S'derland 30  5  5 20  24-53 -29   20

· All the Spurs Stats you could hope for here! THFC6061 Sports Stats