On this day this week (w/e 19th April)
Article published 19/04/2020
The lockdown continues and this week we in the UK were advised that we are subject to lockdown rules for at least another three weeks. Yesterday (18th April) many stars from around the globe put together an 8 hour performance under the title "One world together at home". I am sure everyone will find a song and/or a performance which will strike a personal chord.
It is still not possible to forsee with any accuracy when we might see live football. The latest meeting of the Premier League indicated a desire to start the 2020/21 season by September, which means that if the 2019/20 season is to be completed, that will have to be done in June and July, and most probably behind closed doors. Even now there are offers available, such as the new customers bonus for bet365 which do not necessarily relate to sports betting.
Here is a summary of items we chose for our glimpse into the Spurs Odyssey archive on this day this week:-
13th April
Firstly there was the true "Moura, Moura, Moura!" headline from this day last year when we beat Huddersfield 4-0, largely thanks to a Lucas Moura hat-trick. Of course that would not be his only hat-trick of the season, and I am sure we will remind you of the other (more dramatic) occasion later in this lockdown period!
Most of you know I live in Chesterfield. The 1997 FA Cup Semi-Final took place 11 years before I moved up here, but they had a memorable meeting with Middlesbrough on this day in 1997. The Chesterfield manager was former Spur John Duncan and their captain was Sean Dyche. Referee David Elleray (who did not allow a seemingly good goal by the "Spireites") is not fondly remembered in these parts!
14th April
All Spurs fans know this is "St. Hotspur Day" of course, and it is 29 years since that magical "Gazza" free kick against Seaman at Wembley, and the semi-final win.
Suitably, Spurs celebrated the date in style 10 years ago when Danny Rose scored on his debut - also against Arsenal, of course!
15th April
This was a very special day for our family three years ago as our eldest son Brad was married. Hence I missed the game, but I did manage to see our first two goals before leaving for the church ceremony. Mousa Dembele scored the first of our four goals against Bournemouth. It was his last goal for Spurs. Declan Mulcahy kindly wrote the match report.
16th April
On this day 15 years ago at Anfield we saw THAT goal by Erik Edman. Michael Dawson made his Spurs debut and played beside captain Ledley King, whose first team debut had also been at Anfield 6 years earlier.
17th April
We go back to 2010 for this episode of our archive memories. Having beaten Arsenal at home on Wednesday 14th April, we completed a great brace of London Derby wins with a 2-1 home win against Chelsea in a Saturday tea-time game. Jermain Defoe (penalty) and Gareth Bale scored our goals. Thus we beat Chelsea for the third time in 4 years.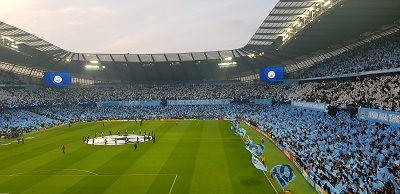 Also never to be forgotten - on this day last year we beat Manchester City in an unforgettable Champions League quarter-final away goals drama! I personally enjoyed watching the Spurs Official site re-run of the game, even with no commentary. Mind you, I had no commentary when I was at the game either!
18th April
April 2016. We sang "Leicester City – We're coming for you!" as we beat Stoke 4-0 away. Two apiece for Harry Kane and Dele Alli. Sadly, things only got worse over the last four games.
19th April
Finally, here are three submissions for your consideration:-
On this day in 2000 David Ginola scored his last Spurs goal enabling us to beat Leicester 1-0 at Filbert Street.
April 2014. The Spurs Odyssey headline was "Sherwood has alienated most of "Spurs World" now". We beat Fulham 3-1.
One year later we beat Newcastle away by the same scoreline and I wrote - "Kane's record goal seals win."
Harry Kane hit the Spurs record books with his added time goal, as that made 30 for the season, and his 20th Premier League goal of the season. It was the first time since Gary Lineker that a Spurs player had hit so many goals in a season.
That's all for this week. Follow the individual links to read the full stories behind the headlines, and look out for more daily memories on Spurs Odyssey in the weeks ahead. Stay safe and keep well!
· On this day - week ending 22nd March
· On this day - week ending 29th March
· On this day - week ending 5th April
· On this day - week ending 12th April
· On this day - week ending 26th April
· On this day - week ending 3rd May
· On this day - week ending 10th May
· On this day - week ending 17th May
· On this day - week ending 24th May
· On this day - week ending 31st May