On this day this week (w/e 26th April)
Article published 26/04/2020
This week the news was announced that the Dutch League (Eredivisie) has been abandoned for the season with no title winners and no teams relegated. The move comes after the national government banned major events until 1 September because of coronavirus. Dutch football's governing body the KNVB said "it has become impossible to play out the 2019-20 season".
We still await news of the destiny of this season's Premier League games, and indeed next season too. In the meantime, here is a summary of items we chose for our glimpse into the Spurs Odyssey archive on this day this week:-
20th April
A new week begins with a reflection on another great London Derby match. This was a 3-3 home draw against Arsenal in 2011. Spurs came back from 3-1 down and Rafa van der Vaart scored two goals - one from the penalty spot.
The report began - "Everyone is agreed. It was a great game of football, and one of the best Premier League games seen this season. Spurs made a great come back from another two goal deficit against their near rivals, and although they looked the more likely team to win in the second half, they had to settle for the draw."
21st April
Her Majesty The Queen was 94 today. I was hoping to find a memorable Spurs game that took place on the Queen's date of birth in 1926, but before Princess Elizabeth became our sovereign, on her 25th birthday in 1951 Arthur Rowe's Spurs drew 1-1 away to Middlesbrough. A week later they secured the Football league Championship with a 1-0 home win against Sheffield Wednesday. Bill Nicholson was a member of our team that day. I hope to run a series on the 1950-51 Championship winning season later this year.
10 years later (1961), by which time the Queen had been on the throne for 9 years, Spurs had already secured the league title by the time of Her Majesty's birthday. That title was also secured with a win over Sheffield Wednesday.
Happy Birthday Ma'am!
These are less memorable matches on this day from the Spurs Odyssey archive.
Ledley King played his last game for Spurs on this day 2012 at QPR. It was not an auspicious occasion.
This 3-1 win at home to Manchester City was a happy day!
... and two years ago Jose Mourinho's Manchester United side gave us an eighth consecutive FA Cup semi-final defeat. It is a sad fact that Spurs Odyssey has reported on our last six FA Cup semi-final defeats.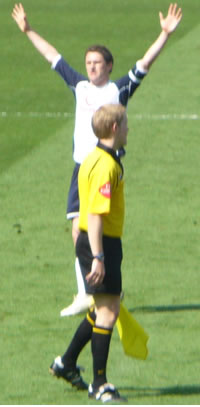 22nd April
Martin Jol and Arsene Wenger went (literally) head-to-head on this day 2006 at Highbury. This was the last meeting of the two teams at the "Woolwich Wanderers'" venue. You might find the preview of interest too.
23rd April
It's St Georges Day (have a happy one to those who celebrate the patron Saint of England - and other countries and institutions). On this date in 1921, Spurs won their second FA Cup Final and on a rain-sodden day were presented with the cup by King George V. You can read all about the day and the scorer of our winning goal in this recent Norman Giller article.
Spurs played 5 more league games and a Charity Shield game against League Champions Burnley before the end of the 1920-21 season. That Charity Shield game was played at White Hart Lane on Monday 16th May, 1921 in front of only 18,000. We won 2-0 with goals by Bert Bliss and Jimmy Cantrell
Jermain Defoe scored his 100th club goal for Spurs on this day 2011, but our chances of securing a Champions League place were fading with 5 games to play
24th April
On this day 10 years ago, Spurs lost 3-1 at Old Trafford, but would still go on to claim a precious top four place for the first time in the Premier League.
On the same day a Spurs U-18 side drew 2-2 away to Arsenal at London Colney. Arsenal are often reluctant to offer team sheets for such games and reporter Ray Lo found a humorous way around this dilemma.
25th April
There are several examples of matches played on this day in the Spurs Odyssey archive, including a sad failure to beat West Brom at home in 2016, but I've dug deep for a report on a win. This was a game in 1998 when Jurgen Klinsmann and Les Ferdinand scored to give us a precious 2-0 win over Newcastle. I am sure the same two players will feature in next week's episode of this series!
26th April
Danny Rose scored his first Premier League goal since that magnificent debut goal against Arsenal in 2010 on this day in 2014. The goal won us the game at Stoke.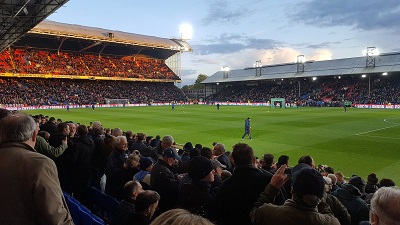 Another solitary goal won us this game at Selhurst Park three years ago. It was scored by Christian Eriksen.
· On this day - week ending 22nd March
· On this day - week ending 29th March
· On this day - week ending 5th April
· On this day - week ending 12th April
· On this day - week ending 19th April
· On this day - week ending 3rd May
· On this day - week ending 10th May
· On this day - week ending 17th May
· On this day - week ending 24th May
· On this day - week ending 31st May