FA BARCLAYS PREMIERSHIP
SATURDAY 22ND APRIL, 2006
ARSENAL 1 (0) TOTTENHAM HOTSPUR 1 (0)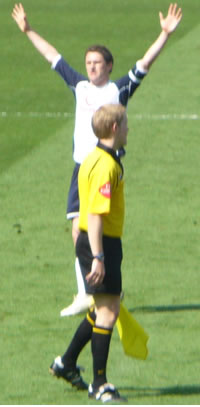 Arsenal scorer:-
Henry, 84
Spurs scorer:-
Keane, 66
Attendance: - 38,326
Referee: - Steve Bennett
Assistants: - Mr. T. Massey, Mr. G. Ward
4th Official: - Rob Styles
Teams:-
Arsenal (4-4-2):- Lehmann; Djourou, Toure, Senderos (sub Eboue, 53), Flamini; Pires, Diaby (sub Fabregas, 61), Gilberto (Capt.), Reyes; Van Persie (sub Henry, 61), Adebayor
Subs not used: - Almunia; Song
Booked: - Pires
Spurs (4-4-2):- Robinson; Stalteri, Dawson, Gardner, Lee; Lennon (sub Murphy, 76), Tainio, Carrick, Davids; Defoe, Keane (Capt.)
Subs not used: - Cerny; Naybet, Kelly; Barnard
Booked: - Davids
Sent off (2nd Yellow):- Davids
Spurs made European Football a 100% certainty with a great result today. The remaining issue now is whether or not Spurs can win their final two games and make sure of fourth place. The fact is that the result could, and should have been even better, as for most of the game, we were easily the better side. Both goals had more than a touch of controversy, with the Spurs goal scored whilst Arsenal had a man down on the half-way line, and Henry's equaliser scored after Adebayor laid on the pass following what looked like a foul on Paul Stalteri.
The match will live long in North London Derby folklore, after a bitter Arsene Wenger accused the Spurs bench of being "liars", after Martin Jol said "he did not see the incident". Whilst it would be nice to say that Jol's statement was made with irony, I think his remarks were totally devoid of that intention. You could see him mouthing those exact words though as he and Wenger went head to head on the touchline after Robbie Keane's goal.
Wenger of course was forced to make changes in order to give some key players a rest before the gooners' vital second leg Champions' League semi-final on Tuesday. Henry and Fabregas were left on the bench, but that still left Arsenal with plenty of goal-scoring potential on the park with Adebayor and Van Persie up front, and Pires and Reyes on the flanks. There was not an Englishman, or even a Brit in sight for the home side, but these days of course, that's not unusual.
Spurs too were missing key players such as skipper Ledley King, Jermaine Jenas, whose late injured shin kept him out of contention, and Mido still not fit. However, Jol's men played with the same spirit, pace and endeavour that they have displayed consistently in recent games. It's almost as if the players have been totally filled with belief in their ability to make the Champions' League. Certainly they have started playing like such a team in the tail-end of the season.
Lennon was a foil for Spurs, beating Flamini consistently. Aaron saw plenty of the ball, and got into some great positions. Unfortunately, most of the time, either he, or his colleagues lacked the killer touch. Jermain Defoe had two or three good chances. One was saved at point blank range by Lehmann, another was a poor effort.
Arsenal won a dodgy corner after 7 minutes, with Van Persie and Reyes involved. It looked like a goal-kick, but Spurs had to deal with brief pressure. It was one of Arsenal's few threats in the first half. Spurs had their first attempt on target after 12 minutes, following a good build up that started on the right, then switched to the left via Davids and Lee. Lee's cross was headed by Tainio (who managed 90 minutes today), but held by the keeper. It was interesting to see Tainio in the middle for Spurs today, where he competed thoroughly, whilst Davids played towards the left.
Spurs had to endure a nervous free kick, given for a foul by Gardner on Adebayor, before Keane sent Lennon away on a run into the box. Lennon had a good chance her, but fired wide across the keeper. Lennon was provider for Defoe five minutes later, but Defoe's shot was fodder for Lehmann on this occasion. Jermain's next effort was worthy of a goal though, as he collected a lovely chip from Carrick, and hit the ball with full strength, which Lehmann blocked without knowing too much about it. Stalteri chipped a ball for Robbie Keane who might have been fouled as he went for goal, but the referee waved away any thought of appeals. Steve Bennett let the game flow, and also let a lot of physical stuff go unpunished, so the circumstances of both the goals were consistent with his overall style, as he encouraged players to get on their feet, and get on with the game.
Several times, Arsenal showed that they were dangerous on the break, and a Spurs attack broke down, with Reyes carrying the ball, passing to Van Persie, whose shot was easily held by Robbo. Robinson was also wise to a Gilberto chip for Van Persie. Defoe took a 38th minute corner for Spurs which was turned back by Gardner to Tainio, who tried to chip the keeper, but Lehmann was able to stretch up and catch the ball. Then just before the break, Michael Carrick went on a great run, in and out of opponents and into the box on the left-hand side. Carrick rounded Lehmann, as he fell to his feet. Now he was taken to a sharp angle and two gooner defenders were on the line. Carrick had to try and hit the ball high into the net, but sadly it fell on the wrong side of the side netting.
Thus we felt in good spirits at the interval, but as always we wondered if it was going to be yet another day for us to rue missed chances. Spurs carried on where they had left off, with good possession and corners, before Senderos was replaced by Eboue. The Djourou moved across to centre-back, and Eboue took over at right back. Gilberto made a run down the right, and cut the ball back for Van Persie, who was again thwarted by England's Number One!
Spurs had a great chance when Lee got to the bye line and crossed deep, beating the keeper. Lennon had the goal beckoning but sadly missed the target. On came Henry and Fabregas, and suddenly the Library crowd were alive and welcoming their saviour! It wasn't long before they had it in for their opponents in a big way, as Gilberto and Eboue collided in the middle. The ball reached Carrick, near the technical area. Gilberto was getting up, and it looked like Eboue was recovering too. Certainly Mr. Bennett was satisfied there was no "health and safety issue". Carrick had seemed to hesitate, but passed to Davids who was ahead of the play and possibly unaware of any incident behind him. Edgar continued his run, and crossed for an easy tap-in for top scorer Robbie Keane in front of an elated away support. Lehmann made a bee-line for Davids, who showed restraint under intimidation, and Wenger and Jol were brow to brow on the sidelines. It was unbounded joy for Spurs, who were roundly accused of being cheats by the home crowd. Worse would come later when Mr Wenger was interviewed.
Henry was soon to be influential, beating Lee and Gardner on the right, before setting up Reyes, whose shot was brilliantly saved by Robinson, with a full palm. Lennon was replaced by Murphy, and in my view Spurs made a tactical mistake in trying to sit back on the slender lead, rather than continuing to play with their previous verve. They paid for that big-time, as Stalteri was brushed aside by Adebayor, who cut in and passed low to Henry. Replays show that Anthony Gardner might have got a foot in to block Henry's effort, but the fact is that the Arsenal star made yet another world-class finish with a flick across Robinson into the far corner.
Spurs had to finish with ten men, as Davids saw yellow for the second time, but they did hold out for a well-deserved point that was greeted with "We're all going on a European Tour". And so we are. Things could get better too for Spurs, who have two winnable games against Bolton and West Ham, whilst Arsenal will have to play their last three games in the space of 6 days. They play the first of these (at Sunderland) on May 1st. Hopefully, Spurs will have beaten Bolton, and have a seven point lead, putting the pressure well and truly upon the other half of North London. Let's hope they are out of the Champions League by then too, although I am happy to put my trust in Barcelona as a last resort!
· Squad numbers,appearances,bookings & goalscorers
· Read the preview for this game.