On this day this week (w/e 12th April)
Article published 12/04/2020
We in the UK have now endured the third week of lockdown due to the Cornavirus Covid-19 pandemic. Many lives have been lost (Over 100,000 around the world, and approaching 10,000 in the UK). It is now a whole month since we saw our team in action. Football remains low down in our personal lists of priorities at this time. However, Spurs Odyssey continues to explore our archive every day.
6th April
We started the week with one of the more obscure reports in our archive which stretches back to 1997 (and beyond when you consider our many feature articles).
This is a report from April 2005 when Spurs Reserves played Derby County. We had reserve teams until 2009 when I recall Harry Redknapp chose to end our participation in a competition which would ultimately be replaced by Premier League Two.
In this match we beat Derby 5-2 with goals by El Hamdaoui, Lee Barnard (3), and Hallfredsson. Our team was captained by Goran Bunjevcevic.
I wrote an extended article on a few of the participants in this game here - On this day - 6th April

7th April
1. Harry Kane scored the first of his 136 Premier League goals for Spurs as we beat Sunderland 5-1 at White Hart Lane.
2. Four years later on this day Harry claimed the winning goal at Stoke when he was adjudged upon review by the Premier League to have got a whisker of a touch on Eriksen's free kick. Harry was in a race for the Golden Boot, but was finally beaten by Mo Salah who ended the season with 32 goals against Harry's final tally of 30 Premier League goals.
8th April
1. Firstly, here's a pre Sheikh Mansour win over Manchester City from 2006. Spurs' chase for a Champions League place that season was to be thwarted on the last day of the season by "Lasagne-Gate".
2. I liked the headline for this report on a 2017 4-0 win over Watford. We finished that season as runners-up.
Remarkably I can find no record of Jimmy Greaves scoring for Spurs on 8th April, despite playing three games on that date during his Spurs career. Jimmy was admitted to hospital on 7th April and we are hoping and praying for his release asap.
9th April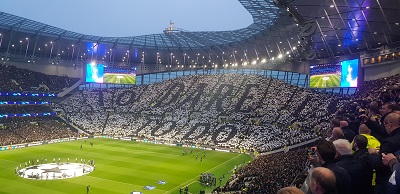 "We dared and we did"! on this day last year!
Jimmy Greaves first played for Tottenham on 16th December, 1961, scoring a hat-trick on his debut in a 5-2 win over Blackpool. Jimmy played in 31 games in his first (part) season and failed to score in only 10 of those games. The little maestro scored in 8 of the last games that season (including the FA Cup Final), and he did score on April 9th 1962 in a 3-3 home draw against Sheffield United.
10th April
I have to choose this 3-0 win over Manchester United in 2016! the official site chose this game for one of their "as live" streams on Good Friday. I very much enjoyed watching the game, which was played in a great atmosphere. The new stadium has yet to reach such a pinnacle of sound, in my opinion.
11th April
I have struggled to find a happy memory on this day in the Spurs Odyssey archives. See how many familiar names you can spot in this report of a reserves' match against Nottingham Forest from 2001, courtesy of our own Ray Lo. 18-year-old Jermaine Jenas was in the Forest side!
12th April
This is not a happy memory, but it was a significant game and aggregate result as Spurs were knocked out of the UEFA Cup quarter-final by Sevilla. Former Spur Fredi Kanoute delivered one of the hammer blows to a Spurs side that had lost 2-1 in Spain a week earlier. Kanoute had scored in that game too - from the penalty spot. Jermaine Jenas, who was mentioned in yesterday's entry, was in the Spurs team in both games. Dani Alves, who would have one more season at Sevilla before moving to Barcelona for 8 seasons, was in the Spanish side for both games in this tie.
There will be more updates in the coming weeks via the Spurs Odyssey social media pages. Why not follow some of the links offered on every page of the website for more Spurs archive material, both recent and historic?
· On this day - week ending 22nd March
· On this day - week ending 29th March
· On this day - week ending 5th April
· On this day - week ending 19th April
· On this day - week ending 26th April
· On this day - week ending 3rd May
· On this day - week ending 10th May
· On this day - week ending 17th May
· On this day - week ending 24th May
· On this day - week ending 31st May