On this day this week (w/e 3rd May)
Article published 03/05/2020
This is the seventh of this series of articles published since Premier League football was postponed with effect from the 14th March. The Premier League has not yet been curtailed and the next conference (no doubt via "ZOOM") is scheduled for 18th May by which time Lockdown conditions may have been eased in some respects. However, despite intentions, the whole concept of finishing the 2019-20 season during the summer (behind closed doors) remains in doubt. This week the Premier League did announce the curtailment of the Academy Season, so we can say that U-23 and U-18 teams will not play before next season, whenever that starts.
Here is the latest selection of items chosen from the Spurs Odyssey archive relating to events "On this day":-
27th April
We've beaten Liverpool 12 times in 28 home meetings in the Premier League. Gus Poyet scored the winner on this day in 2002.
28th April
Spurs were unbeaten in their last 6 games of the 2006-07 season and won three of their last four games to claim fifth place and to be "Best of the Rest", as manager Martin Jol put it. This was the first of the three wins at Middlesbrough on this day 2007. Robbie Keane scored two. Dimitar Berbatov also scored. Berbatov's last Spurs appearance would be in August 2008, as a substitute at Middlesbrough, before departing for Manchester United.
29th April
Spurs Odyssey captured Jamie Redknapp's first appearance in a Spurs shirt at the end of the 2001-02 season. Jamie impressed in a reserve match against Ipswich. He didn't make his first team debut until the following August.
Also on this day in 2012, Harry Redknapp's Spurs commenced a 10 point four-game run-in with a 2-0 win over Blackburn. Rafa van der Vaart and Kyle Walker scored against former Spur Paul Robinson. Sadly, finishing fourth that season did us no good.
30th April
This is the report on the last North London Derby held at White Hart Lane. The match was streamed (as live) on the official site last weekend, when Arsenal had been due to visit the new stadium for the first time. One wonders when that first visit will now take place? Dele Alli and Harry Kane (penalty) scored our goals.
One year later, the same two players scored at Wembley in a 2-0 win over Watford....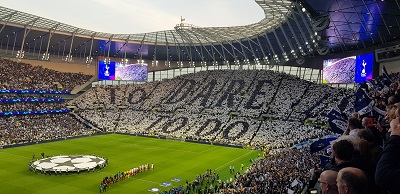 .... and last year on this day we lost 1-0 at home to Ajax. Little did we know what would happen in that momentous second leg in Amsterdam!
1st May
Ledley King made his Spurs debut. on this day in 1999. It wasn't a winning debut though, despite Jamie Carragher scoring one of his own goals! One-time Spurs-List administrator and webmaster-supreme Bruce Lewis gave his unique insight into his day out at Anfield.
On this day in 2005, three Spurs players with surnames beginning with K (Kanoute, King and Kelly) scored. Andy Reid added another. It was Reid's first Spurs goal. Spurs pulverised Aston Villa 5-1
2nd May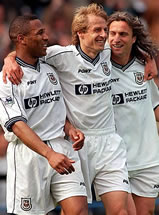 There's only one place to start on this date. Here's the original Spurs Odyssey report on a magnificent day at Selhurst Park when Jurgen Klinsmann scored 4 of our 6 goals in a smashing 6-2 win.
This was another memorable win - 4-1 at Bolton's Reebock Stadium. It was our last meeting (at the time of writing) with Bolton. The day was most memorable though because of the first appearance at his home stadium of Fabrice Muamba, who had collapsed and very nearly died on the pitch at White Hart Lane on 17th March, 2012. (THAT story is told here - http://www.spursodyssey.com/1112/prevpackfac6_2.html)
Finally today, here is the tale of the "Battle of Stamford Bridge", when Spurs' hold on history was snatched away.
3rd May
I remember this day at Reading, as the game came less than two months after I had moved to Chesterfield. I did the whole journey on a train via Birmingham. On my return journey, I was joined by a whole (train) coachload of Derby fans on their way home from Blackburn where they had lost. Derby were relegated with a meagre total of only 11 points, and would be beaten 4-0 by Reading on the last day of that season. That didn't save Reading either, who went down with the "Rams".
I do hope you are enjoying this series. there is so much to read by following the links on this page, and I also recommend following the links from each story to interesting previews of each senior game referenced here. Look out for more archive material every day via the Spurs Odyssey Twitter and Facebook pages, and another article next week!
STAY SAFE!
· On this day - week ending 22nd March
· On this day - week ending 29th March
· On this day - week ending 5th April
· On this day - week ending 12th April
· On this day - week ending 19th April
· On this day - week ending 26th April
· On this day - week ending 10th May
· On this day - week ending 17th May
· On this day - week ending 24th May
· On this day - week ending 31st May