On this day this week (w/e 31st May)
Article published 31/05/2020
Here is the latest selection of items chosen from the Spurs Odyssey archive relating to events "On this day":-
25th - 26th - 27th May
Ray Lo has often travelled far and wide to watch and report upon the progress of Spurs' young players. Here is his account of a trip to the Terborg Tournament (in 2018) which usually takes place every year in The Netherlands. A few of the players listed have already been seen in the first team. Others may yet make their name for Spurs!
26th May
Ray Lo travelled to Europe for another Youth tournament - the 2012 Volksbank Cup. Our team won both the games they played on Saturday 26th May.
1. Spurs 3 Hannover 0
2. Spurs 1 Mallorca 0

27th May
Today is the anniversary of Spurs' retention of the FA Cup in 1982 when they beat QPR thanks to a 6th minute penalty converted by Glenn Hoddle.
Spurs suffered an incredible backlog of fixtures in April and May that year having competed and contended in 4 competitions. In March they led Liverpool in the League Cup Final until Ronnie Whelan equalised in the 87th minute. Whelan scored again in extra time and Ian Rush completed the win for the Anfield side with one minute of the 120 remaining. Steve Archibald had given us the lead after 11 minutes.
In April and May we played no less than 14 league games (losing the last three) and finished fourth. We also lost a two-legged Cup-Winners' Cup semi-final to Barcelona, drawing 1-1 at home (goal scored by Graham Roberts), and losing the away game 1-0.
Our victims in the FA Cup Final were a Division Two side who had beaten two first division sides on their way to the final, including West Brom in their semi-final. Spurs had beaten Arsenal, Leeds, Aston Villa and Chelsea on the way to the semi-final when they beat second division Leicester 2-0.
Brian Judson briefly tells the story of both the first game and the replay in this article about "The Burkinshaw Years".
31st May 2011
17 year old Harry Kane scored for England U-19s against Montenegro. Harry played 4 games in all that season (some of which he spent on loan at Leyton Orient) for the England U-19s. In October he had played in a 6-1 win against Albania, when he scored twice. Harry also played in a 2-1 defeat by Belgium. On 5th June, Harry scored again in a 1-1 draw with Spain.
Addendum - 1st June
Champions League Final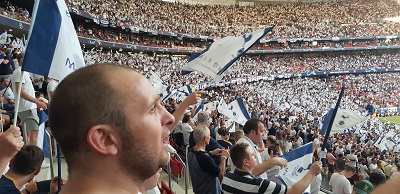 1st June 2019 was ultimately a disappointing day for 16,500 Spurs fans who had travelled to Madrid in their droves and by various routes. However, the date and the occasion does have to be marked as a historic day for our club, as our team was playing in the elite European Club Final for the very first time. Taking the game and the result out of the equation, our party of 6 had a memorable trip to and from Madrid.
My son Greg is in the foreground of the above picture which focuses upon the Spurs army before the game which was reported here - http://www.spursodyssey.com/1819/li010619.html.
This will be the last episode of "On this day" memories until the 2020-21 season begins, but it does look as if we will have the completion of this season's Premier League programme to look forward to, starting on 17th June. Spurs Odyssey intends to report remotely on our last 9 games.
I do hope you have been enjoying this series. There is so much to read by following the links on this page, and I also recommend following the links from each story to interesting previews of each senior game referenced here.
STAY SAFE!
· On this day - week ending 22nd March
· On this day - week ending 29th March
· On this day - week ending 5th April
· On this day - week ending 12th April
· On this day - week ending 19th April
· On this day - week ending 26th April
· On this day - week ending 3rd May
· On this day - week ending 10th May
· On this day - week ending 17th May
· On this day - week ending 24th May