On this day this week (w/e 17th May)
Article published 17/05/2020
This day (Sunday 17th May, 2020) should have seen the last games of the 2019-20 Premier League season. Now we wait with bated breath for this week's Premier League conference (via Zoom or similar means) to find out whether or not we will see a played finish to our season.
In Germany the Bundesliga has re-started (behind closed doors of course), and this is the best we can hope for here. EFL League Two has already been declared closed. Bottom club Stevenage could be saved from relegation, whilst National League Champions Barrow could return to the Football League to replace Bury, whose tenure ceased early in the season.
Here is the latest selection of items chosen from the Spurs Odyssey archive relating to events "On this day":-
11th May
Here is a report on an unremarkable game played in 2014. We won 3-0. All the goals came in the first half. There would be no Champions League football in 2014-15 for Spurs, as we finished sixth.
12th May
Clint Dempsey and Emmanuel Adebayor scored the goals that gave us a crucial 2-1 win away to Stoke in our penultimate game. Arsenal would play and win a game in hand against Wigan before a last day shoot-out with Spurs for fourth place. We'll reflect on that next week.
Incidentally, Adebayor, who was 36 in February, transferred from Turkish club Kayserispor to Paraguayan club Olimpia early this year and last appeared in a Copa Libertadores game two months ago on 12th March. He was sent off.
Clint Dempsey retired in 2018 after 5 seasons with Seattle Sounders for whom he scored 47 Major League goals in 115 appearances. His goal at Stoke was the last of 10 for Spurs in all competitions in that 2012-13 season - his only one with Spurs.
We secured Champions league football on the last day of last season with a 2-2 home draw against Everton
13th May
This was a satisfying last day win in 2007 against Manchester City. Yours truly took part in the post-match presentations!
In 2012 the headline was "Spurs do their job, now let Bayern Munich do theirs!" The Germans failed to beat Chelsea in the Champions League Final, and we were deprived of a place in the Champions League despite finishing fourth. Adebayor was one of the scorers in a 2-0 win against Fulham.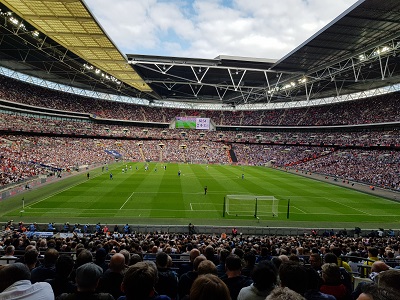 This is also the second anniversary of a crazy 5-4 win against Leicester. We thought it might be our last league game at Wembley, but that was not to be.
14th May
This is the 39th anniversary of 1981 FA Cup Final replay "Still Ricky Villa!" and I found this article with some nice pictures of me and Ricky (we were born on the same day you know!)
A special goal for Stephen Carr and a special report for Ginola's last Spurs game on this day 2000 against Sunderland.
This is also the third anniversary of "The Finale" against Manchester United.
15th May
On this day 100 years ago, (15th May) as Division two Champions, Spurs played the Division One Champions in the Charity Shield. The game was played at White Hart Lane. Our opponents were West Bromwich Albion who had just won the league title for the first (and last) time in their history.
West Brom were one of the founder members of the Football league when it was created in 1888. West Brom won this game 2-0 with both goals scored by Alfred Smith. The "Throstles" were managed by Fred Everiss

The Charity Shield was played at the end of the season the following year after promoted Spurs had won the FA Cup. That game was played on 16th May 1921 and we beat league champions Burnley 2-0 with goals by Bert Bliss and Jimmy Cantrell. Burnley had also won the league title for the first time in their history, but that would not be their last title win. Burnley also won the title in 1959-60, the year before Spurs' famous double. That 1921 Charity Shield was the first time that the League Champions and FA Cup Winners fought for the trophy.

It is also the anniversary of our historic European Cup-Winners Cup Final win in 1963!

Here is a report of a rare as hen's teeth win at Anfield from 2011. It was 2-0 and our goals were scored by Rafa van der Vaart and Luka Modric (penalty)

16th May

Here's another end of season win over Man City for you. This one was in 2009. Defoe and Keane were our scorers. Both scored 91 Premier league goals for Spurs, and both had two spells at the club. City's scorer was Bulgarian Valeri Bojinov. I have to say I don't remember him. Bojinov is still playing (for Pescara in Italy's Serie B). He was on City's books for two seasons, but only appeared in 11 Premier league games and scored his only City goal against Spurs.

17th May

This is one of the countless Ray Lo reports to be found in the Spurs Odyssey archives over most of the years of the existence of the website. It wasn't a win, but it was an important under-18s play-off game against our near rivals. There are a number of familiar names, including Harry Kane, who was an unused substitute on this occasion. He was only 15 at the time, after all!

I do hope you are enjoying this series. there is so much to read by following the links on this page, and I also recommend following the links from each story to interesting previews of each senior game referenced here. Look out for more archive material every day via the Spurs Odyssey Twitter and Facebook pages, and another article next week!

STAY SAFE!

· On this day - week ending 22nd March
· On this day - week ending 29th March
· On this day - week ending 5th April
· On this day - week ending 12th April
· On this day - week ending 19th April
· On this day - week ending 26th April
· On this day - week ending 3rd May
· On this day - week ending 10th May
· On this day - week ending 24th May
· On this day - week ending 31st May