PREMIER LEAGUE
SUNDAY 13th MAY, 2018
(3pm - at Wembley Stadium)
TOTTENHAM HOTSPUR 5(1) LEICESTER CITY 4(2)
Spurs scorers:-
Kane, 7, 76
Lamela, 49, 60
Fuchs (o.g.), 53
Leicester scorers:-
Vardy, 4, 73
Mahrez, 16
Iheanacho, 47
Attendance:- 77, 841
Referee:- Craig Pawson
Assistants:- Stuart Burt & Simon Beck
Fourth official:- David Coote
Teams:-
Spurs (4-2-3-1):- Lloris (Capt.); Walker-Peters, Alderweireld, Dier, Rose; Sissoko (sub Son, 84), Wanyama; Lamela (sub Sanchez, 78), Eriksen, Lucas Moura (sub Dele, 74)
Subs not used:- Vorm; Foyth, Davies; Llorente
Booked:- Wanyama (foul on Iheanacho)
Leicester (4-2-3-1):- Jakupovic; Simpson (sub Choudhury, 56), Morgan (Capt.), Maguire, Fuchs; Iborra, Adrien Silva; Mahrez, Iheanacho (sub Barnes, 85), Gray (sub Diabate, 61); Vardy
Subs not used:- Hamer; Benalouane, Ndukwu, Hughes
Booked:- Choudhury (foul on Rose), Adrien Silva (dissent after foul on Rose)
Spurs win a game of crazy football, and finish third!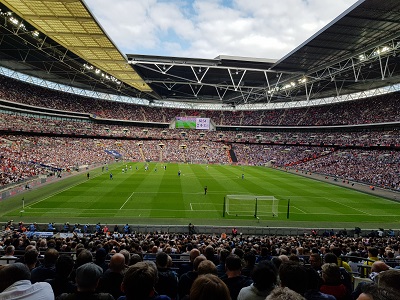 You've heard of crazy golf. Well this end of season fiesta was crazy football! With little riding on the game after Champions League football was secured on Wednesday, Mauricio Pochettino made wholesale changes to his team, plus one late unscheduled change due to Jan Vertonghen pulling out at short notice. Presumably because Davinson Sanchez was not announced in the original 18 man squad, he was not allowed to replace Vertonghen, so Eric Dier played beside Toby Alderweireld. Kyle Walker-Peters got his first Premier League start since the first game of the season (and played very well) but the Spurs defence was easily unsettled against a Leicester side that had even less than Spurs to play for. At least Spurs were in the hunt for third place.
Leicester's bench was looking threadbare, but they did have Vardy, Mahrez and former Man City starlet Iheanacho in attack.
A bumper crowd of over 77,000 was in attendance, including a full quota of Leicester fans. It wasn't long before Leicester had a goal, and it was Vardy who claimed it from a Mahrez free kick taken on the left. I didn't see the touch and it looked reminiscent of Harry Kane's claim of a goal recently at Stoke! The Leicester fans started chanting "It's happening again", although quite what that was I don't know.
Spurs were on level terms within three minutes. Lucas Moura intercepted Simpson's midfield ball and it rebounded favourably for Harry Kane to chase it down the left channel, before beating goalkeeper Jakupovic with a low left footer. That put Harry on 29 Premier League goals and in the hunt for Salah's Golden Boot.
Lamela fielded a headed ball by Eriksen in the middle and pushed it out to Lucas on the left. Lucas crossed and Toby Alderweireld had a shot on goal which was held. Alderweireld was hitting many trademark diagonal passes, consistently finding his man. Apparently, he and Pochettino will have talks this week, and it is to be hoped that there is a future for the player at Tottenham.
Lucas Moura seemed to make an audacious adjustment to his footwear whilst in possession on the left in the Spurs half, which made me think of Alfie Conn versus Leeds in the seventies. It wasn't Lucas's fault, but the Spurs play did break down and after Leicester worked the ball from their right to the back of the Spurs goal, Mahrez beat Lloris with a right foot shot inside Lloris's right post. 2-1 to Leicester, and with Liverpool in the lead at home to Brighton, third place looked at risk.
Wanyama pulled a right foot effort just wide of the goal at the other end. Five minutes later after a Spurs corner taken by Eriksen, Eric Dier had a header parried by the Leicester keeper. In the follow up play Lucas Moura had a chance close in, but a goal kick ensued. Eriksen had been the provider again.
Hugo Lloris made a great left hand diving save from Gray, who had been set up by a prodded pass by Vardy. Hugo was in action soon after, grabbing a Danny Simpson cross from the right. Leicester fans and non-partisans might have been happy at this stage, but Spurs were slipshod and being caught out too easily.
Spurs were on the back foot again after 35 minutes when Lucas lost the ball in the middle and the ball was fed to Vardy, who fired wide.
Spurs won a corner after an Eriksen cross and a battle for the ball involving Kane and Lamela. Eriksen gave Sissoko a run, and he advanced deep into the Leicester box on the right, but the defence managed to clear for a throw. Just before half-time Lucas had a shot blocked after another Eriksen pass.
At half-time Spurs legend Paul Gascoigne was introduced by Gary Mabbutt and interviewed by Paul Coyte. The acoustics were not good enough for me to relay to you what was being said, but "Gazza" looked well, and also looked as if he was "in a good place". Needless to say he received rousing cheers and applause. Leicester fans applauded him too.
Two minutes into the second half Spurs were 3-1 down . I think Wanyama had slipped up and Iheanacho advanced before hitting an unbeatable shot that beat Lloris inside his left post.
It didn't take Spurs long to respond with a ball across goal to the right, assisted by Harry Kane, but returned inside by Kyle Walker-Peters. Erik Lamela did the honours with a decisive low finish for his first Premier League goal since August 2016. 3-2 down.
Hugo Lloris had to race out to the edge of his box to meet Vardy's advance and somehow managed to clear the ball for a throw.
Was this football or table tennis? The game could not have been more end to end. Spurs levelled the scores after a move from the left send a shot by Lamela, which was deflected in by Fuchs. It was announced as Lamela's goal, but he doesn't get that one. 3-3.
At the other end following a free kick awarded after Wanyama was booked for a foul Fuchs headed the ball on and Harry Maguire hit a shot off target.
Spurs incredibly went 4-3 up after Kyle Walker-Peters took advantage of Gray's mistake, advancing down the right before passing inside to Lamela, who might have thought he had a hat-trick, but it was only his second goal. Spurs had come back from 3-1 down to have a 4-3 lead. Leicester fans had quietened down somewhat!
Hugo made a great save from Iheanacho's shot towards his left post, after a ball from Mahrez. At the other end, Toby Alderweireld had two attempts on goal following an Eriksen free kick. The second attempt hit the side netting.
Lloris was sharp again to hold Mahrez's shot. At the other end, and following a Spurs corner on the right, Lamela passed inside for Eriksen, whose left foot shot was just wide. Eriksen and Lucas Moura exchanged passes before Danny Rose advanced into the area and seemed to be a genuine victim of a foul, but referee Craig Pawson was not interested. We got little change out of him all day.
Harry Kane also seemed to be the victim of rough treatment in the Leicester area, but as play was waved on Leicester countered rapidly, and Vardy hit a rasping rising shot from the left of goal into the roof of the net. 4-4!
Spurs had the lead yet again in the 76th minute. Danny Rose was Kane's provider and Harry hit a lovely right footed shot inside the keeper's right post. That made it 30 Premier League goals for Harry, and whilst the team seems to be trying to increase his tally it would not be enough for this year's Golden Boot. Harry has now hit 41 club goals this season and 20 or more Premier League goals for the fourth consecutive season.
Now all I wanted was for Pochettino to get Sanchez on and for Spurs to defend that lead to hold third place. There was a goalmouth scramble first for Lloris to save from before Davinson did indeed come on for Lamela. Spurs went three at the back.
Leicester substitute Choudhury (who has a mass of hair ) was booked for a foul on Danny Rose just outside the box. Son replaced Sissoko before the free kick was taken, but it was Harry who took it, hitting the ball well over the goal.
Spurs did manage to hold their lead and third place, despite a full five minutes of added time.
The usual post-match awards were made in front of a respectable proportion of the original Spurs crowd. Victor Wanyama's goal against Liverpool at Anfield had been voted our goal of the season. Eriksen won the Junior members' player of the season vote, but it was Jan Vertonghen who deservedly won the player of the season vote. He will also win the Spurs Odyssey poll which is calculated on accumulated survey votes over the course of the season. That's consistency for you!
Thank you for reading this and other Spurs Odyssey reports. Apparently, even the club uses this site now and again! Ray Lo has another youth tour planned in the next few weeks, and all being well, we will be back next season.
"We're going home! We're going home! Tottenham's going home!"
· See the exclusive "Spursometer" and have your say regarding the performances of the team, individual players, manager and officials.
· Squad numbers,appearances,bookings & goalscorers
· Read the preview for this game.
· All the Spurs Stats you could hope for here! THFC6061 Sports Stats