PREMIER LEAGUE
WEDNESDAY 3rd APRIL, 2019
(7.45pm - at The Tottenham Hotspur Stadium!)
TOTTENHAM HOTSPUR 2(0) CRYSTAL PALACE 0(0)
Spurs scorers:-
Son, 55
Eriksen, 80
Attendance:- 59,215
Referee:- Andre Marriner
Assistants:- Scott Ledger & Simon Long
Fourth official:- David Coote
Teams:-
Spurs (4-3-3):- Lloris (Capt.); Trippier, Alderweireld, Vertonghen, Davies; Sissoko, Dele (sub Lucas Moura, 82), Rose (sub Winks, 69); Eriksen, Kane, Son (sub Wanyama, 90+2)
Subs not used:- Gazzaniga; Sanchez, Walker-Peters, Foyth
Booked:- Dele (foul on Milivojevic)
Palace (4-3-3):- Guaita; Wan-Bissaka, Kelly, Tomkins, Van Aanholt; Kouyate (sub Townsend, 79), Milivojevic (Capt.), McArthur; Zaha, Batshuayi (sub Benteke, 81), Schlupp
Subs not used:- Hennessy; Ward, Dann; Meyer; Ayew
No bookings
Son carves his name in history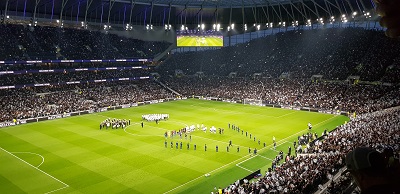 Spurs ensured a happy opening night at "New White Hart Lane", and it was Son Heung-min who carved his name in the history of this new stadium with the very first Premier League goal. 120 years ago in the first game at the old White Hart Lane stadium a member of one of the Football League founder member sides Notts County – Tommy McCairns – scored the first goal. The fact that tonight's goal was scored by a South Korean nicely demonstrates the international flavour of the modern day game. The Tottenham Hotspur Stadium is a landmark creation and sets a high standard for all future Sports Arenas.
It was, of course, an emotional night. It was not quite a full house, but over 59,000 flag waving individuals filled a stadium which looks glorious at any time, but which certainly looked terrific under lights. Many fans were taking full advantage of the opportunity to enter the stadium a full three hours before kick-off. Spurs had said that an opening ceremony would start at 7.15pm but that was in fact restricted to 10 minutes by the Premier League. For a good deal of that the players and officials who had entered the arena were lined up while the ceremony was completed. That must have been difficult for all the players to maintain their composure and focus.
The ceremony featured local singers and musicians who played and sang Spurs anthems and "Everybody Dreams", which was written in the year after the 2011 Tottenham riots which had delayed Spurs first game that season. Operatic tenor Wynne Evans sang "Glory, Glory Tottenham Hotspur". He had been the singer who closed the "Finale" nearly two years ago. The roof and the golden cockerel was finally enveloped in fireworks to complete the opening, and I can report that "Can't Smile Without You" was played literally just before kick-off.
I would also like to mention the full contingent of Palace fans who joined in with the opening ceremony. I even saw some flag waving from that section. The theme for the night was "Welcome Home", as depicted on our flags.
It was Palace who kicked off, and they played towards the 17,500 South Stand, which is the direction that Spurs will choose to play towards in the second half of all games, if possible. Both sides were set up in a 4-3-3. Ben Davies was out left back with Danny Rose being deployed on the left side of midfield. Dele played deep next to Moussa Sissoko who had another excellent powerhouse game. Palace were set up in the same way, but until Spurs scored were intent upon defence with the hope of a breakaway goal. Andros Townsend did not start and Wilfried Zaha was by and large kept quiet, at least until the latter stages.
Spurs had a good start and won a corner on the left through Son. This was taken by Rose and cleared as far as Eriksen towards the left of the area. He crossed and Dele had a header held by goalkeeper Guaita. Spurs fans were in full voice, encouraged by the familiar songs of that opening ceremony, and of course that fact that were back in our true home!
There was a scare though for that south stand as Schlupp advanced despite the attentions of Toby Alderweireld and hit a shot over the target. Kieran Trippier needed early treatment. Then the noise dipped somewhat and a point arose when the waggish Palace fans sang "We forgot you were here!"
Spurs generally lacked a killer touch in the first half, and were frustrated by the defensive banks of Palace men. Son always looked the one most likely to break the deadlock, and so it eventually proved. Danny Rose made a good advance down the left flank after 9 minutes and fed the ball to Son who worked his way across the edge of the area, thinking about but not getting in a shot, before passing to Eriksen. Eriksen tried to place a shot, but hit it weakly wide of Guaita's right post. Eriksen had another shot blocked after a pass by Kane. After 16 minutes Kane pushed the ball out to Trippier on the right. Trippier passed inside to Eriksen, whose shot was parried by Guaita. Son tried to follow-up at close quarters, but Palace cleared.
Kane tried a half-volley from another Trippier ball, but this went over the target. Kane received another Trippier ball and ran into the box going down under a challenge, but referee Andre Marriner saw no offence, and there was no protest either. After a foul on Dele Alli, Harry Kane took the free kick with his right foot, but this was deflected out for a corner by the Palace wall. Dele subsequently got the only yellow card of the night for a foul on Palace captain Milivojevic as the Spurs player over-stretched and lunged into his challenge.
After 34 minutes, Eriksen crossed from deep on the left and Harry Kane headed goalward, but straight at the keeper. Kane then got just into the Palace area and passed to Eriksen, who passed right to Son, but his shot as saved at the expense of a Spurs corner. Spurs had a shot for a Palace handball in their area after Eriksen tried to convert Dele's pass, but that was a no-go appeal.
Palace threatened at the other end with Batshuayi offering Van Aanholt a chance, but the left back fired just wide across Lloris's goal. Sissoko battled for the ball around the halfway mark on his right flank and sent Son away. Son gave Rose a chance, but Danny failed with his shot. Following a Rose corner taken on the left, Eriksen returned the ball from the other side, and Alderweireld challenged for a header with another corner resulting. Rose took it again, and ultimately Harry Kane headed wide.
Paul Coyte's half-time guest was Robbie Keane who had scored a goal in last Saturday's "Legends" match, which he celebrated with a trademark cartwheel.
Early in the second half Son tried a shot from 25 yards, but he was off target. Batshuayi picked up a stray ball, but hit his right footed shot wide. Eriksen, Son and Trippier combined to get the ball to Kane, but his shot was blocked. The deadlock was broken in the 55th minute. Eriksen passed from the left to Son who was towards the right of the Palace area. Son came inside towards his left before hitting a left foot shot which took a deflection off Milivojevic and beat Guaita inside his left post. Son had the historic first (senior) goal in our new home and ran towards the south-west corner in a sliding celebration on his knees in front of a delighted home section.
Harry Kane had a good chance to score his first goal in the new stadium when he was out clear after 65 minutes and advanced down the left channel. Harry put his shot wide. Danny Rose was replaced by Winks, making his first appearance since the Dortmund game a month ago. This released Dele to a more advanced position, and Spurs' balance looked improved. After a move by Eriksen and Trippier on the right and a cross to Son, our scorer hit a right footed shot which was held by Guaita.
Andros Townsend had not started the game, but was cheered on by his former fans when he replaced Kouyate. Spurs though immediately went two up. Kane advanced into the area on the left hand side and went down with home fans screaming for a penalty. In the confusion, Andre Marriner had waved play-on and Eriksen hooked the loose ball into the net with his left foot.
Palace became more adventurous and carried some threat too. Benteke had replaced Batshuayi and Dele had been replaced by Lucas Moura. Ben Davies hit a shot over the target after a move involving Lucas Moura, Son and Eriksen (twice). Lloris was required to make an excellent diving save to his left from Van Aanholt. McArthur then crossed from the left for Benteke who headed wide of the back post in front of his fans. Zaha finally had some impact despite the attentions of Trippier and Alderweireld, using skill and strength to break through towards the left of the area hitting a shot which was again well saved by Lloris.
With two minutes remaining Eriksen passed to Son on the right, who hit a good cross giving Kane a chance which Guaita saved. Spurs were now closing out the game, and after Victor Wanyama replaced Son in added time, Lucas Moura did force another save from the Palace keeper. Many Spurs fans had already begun their exodus in the face of a massively increased crowd all seeking as quick a route home as possible.
Spurs had successfully negotiated this landmark game, and returned to third place, but will no doubt be playing catch up by the time they next play a Premier League game. That will be a week on Saturday, but first there is the tasty prospect of a Champions League quarter-final against Manchester City. I'll be there!
· See the exclusive "Spursometer" and have your say regarding the performances of the team, individual players, manager and officials.
· Spurs' record in recent London Derby matches
· Squad numbers,appearances,bookings & goalscorers
· Read the preview for this game.
· All the Spurs Stats you could hope for here! THFC6061 Sports Stats