· Last season's game - Spurs 1 Crystal Palace 0 - 05.11.17
· This season's away game - Crystal Palace 0 Spurs 1, 10.11.18
· This week - last year
· What happened in the Premier League on Matchday 2017-18
· See the current injury list for all Premier League Teams
· All the Spurs Stats you could hope for here! THFC6061 Sports Stats


Full Record of Spurs -v- Crystal Palace

Prem         Pl  W   D   L  For-Ag  Pts
Home         9   4   4   1   8 - 4   16
Away        10   7   1   2  15 - 9   22
=======================================
Total(Prem) 19  11   5   3  23 -13   38
=======================================
Football Lge
Home(Div 1)  9   5   2   2   14 -6   12
Away(Div 1)  9   5   3   1   16 -9   14
=======================================
Total(Div 1)18  10   5   3   30 -15  26
=======================================
Football Lge  
Home(Div 2)  1   0   1   0    2 -2    1
Away(Div 2)  1   1   0   0    2 -1    2
=======================================
Total(Div 2) 2   1   1   0    4 -3    3
=======================================
Total(Prem) 19  11   5   3   23 -13  38
Total(Div 1)18  10   5   3   30 -15  26
Total(Div 2) 2   1   1   0    4 -3    3
=======================================
Grand Total 39  22  11   6   57 -31  67
======================================= 

Last Six Premier League results:-

Spurs      -    WLLDLL
           
Spurs      3-1    Leicester
Burnley    2-1    Spurs
Chelsea    2-0    Spurs
Spurs      1-1    Arsenal
S'hampton  2-1    Spurs
Liverpool  2-1    Spurs

C. Palace  -    DWLWLW

C. Palace  1-1    West Ham
Leicester  1-4    C. Palace
C. Palace  1-2    Man Utd
Burnley    1-3    C. Palace
C. Palace  1-2    Brighton
C. Palace  2-0    Hds'field

Pos            P  W  D  L   F-A   GD  Pts
 4. Spurs     31 20  1 10  58-34  24   61
13. C. Palace 31 10  6 15  38-41  -3   36

Home at last!
The two test events have been successfully held at "New White Hart Lane". The safety certificate has officially been signed, and at long last we are ready to stage the first Premier League game at our prestigious stadium after nearly two years of waiting!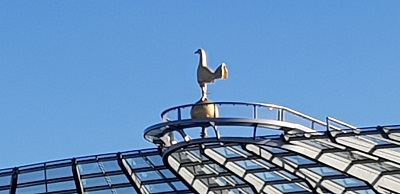 It is almost a full 23 months since the famous White Hart Lane stadium staged its very last game - The Finale against Manchester United. Harry Kane scored the last Spurs goal on that emotional day when legends such as Alan Gilzean and Glenn Hoddle graced the pitch in the post match ceremony which featured sunshine, rain and appropriately a rainbow. Sadly since then we have lost the wonderful "Gilly" and so nearly lost Glenn too. Other former players on that parade such as Dimitar Berbatov and Robbie Keane took part in last Saturday's "Legends" game, but wouldn't it be wonderful to see Glenn walk onto the new hallowed ground in the opening ceremony which will precede tomorrow's game?
It has been such a long wait for this day. Since the start of last season we have played 46 home games at Wembley and one League Cup game at Milton Keynes. The clamour for tickets for tomorrow's game has been incredible, and whilst so many fans became totally fed up with the thought of travelling across London to Wembley, they all want to be back home!
This game was originally scheduled for Sky TV coverage, but they have decided to show the Manchester City v Cardiff game which will be played at the same time. The opening ceremony will be televised, but a worldwide audience (or perhaps only the UK viewers) will be denied the opportunity to view this prestigious and historic game. The result of our game is surely less certain than the match being played at The Etihad.
We are grateful to Crystal Palace for agreeing to play this game on this date. When the date was agreed, they still had an interest in the FA Cup, and might have been playing a semi-final this weekend. Roy Hodgson's side lost their quarter-final to Watford, and now play their scheduled league game at Newcastle on Saturday. After Saturday's win against doomed Huddersfield, Palace are not fully out of the relegation woods yet and with three of their remaining seven games against us, Man City and Arsenal they will be keen to pick up points against Spurs. They will of course also be keen to put up a good show at the new stadium.
History and statistics suggest that "The Eagles" have a chance of spoiling our landmark game. Check out online betting offers if you fancy your chances of predicting the result or even the score. Firstly Palace knocked us out of this year's FA Cup in a 2-0 Fourth Round win at Selhurst Park in January. Secondly we need to recognise that our home record against this opposition in Premier league games is worse than our away record. So far we have won 4 out of 9 such games. On the plus side, we have won our last three home league games against Palace, and indeed our last six league games in all. The last five such wins have all been by a 1-0 margin.
Our last home game against Crystal Palace was at Wembley on Guy Fawkes' Day 2017. The match followed a sensational midweek Champions League win over Real Madrid, and over 65,000 came back to Wembley to see Son Heung-min's precious winning goal. They also witnessed a fine debut in goal by Paulo Gazzaniga. That was Gazzaniga's only appearance of the 2017/18 season, but this season he has played 10 club games and has only experienced defeat in that last week of January when we were knocked out of both the League and FA cups. That was depressing.
Harry Winks has just returned to training, but we will have to see if he considered fit enough to start this game. There are four confirmed absenteees for Spurs - Aurier (hamstring), Dier (hip), Lamela (hamstring sustained pre-Liverpool game, and Llorente (concussion). The team will be similar to that which played at Anfield - perhaps with a back four - but I imagine Son will start this one. My prediction is for a 3-1 win in our new home. Let the Cockerel crow again!
According to my records, this will be referee Andre Marriner's 41st game in charge of Spurs. His first such game was Sunderland v Spurs in February, 2006, when Martin Atkinson was his fourth official. These two referees have been around for ages, and they are our last two "men in the middle", as we saw Mr. Atkinson at Anfield on Sunday.
· Spurs' record in recent London Derby matches
· "It was Twenty Years ago today!" - Having won the Worthington Cup against Leicester on March 21st 1999, Spurs lost their next game - at home to Leicester!