PREMIER LEAGUE
WEDNESDAY 27TH FEBRUARY, 2019
(8pm)
CHELSEA 2(0) TOTTENHAM HOTSPUR 0(0)
Scorers:-
Pedro, 57
Trippier (o.g.), 84
Attendance:- 40,542
Referee:- Andre Marriner
Assistants:- Scott Ledger, Simon Long
Fourth official: Kevin Friend (Mike Dean switched to Man City v West Ham)
Teams:-
Chelsea (4-3-3):- Caballero; Azpilicueta (Capt.), Rudiger, David Luiz, Alonso; Kante, Jorginho, Kovacic (sub Loftus-Cheek, 77); Pedro, Higuain (sub Giroud, 84), Hazard (sub Willian, 60)
Subs not used:- Arrizabalaga; Christensen; Barkley, Hudson-Odoi
Booked:- David Luiz (unsporting conduct)
Spurs (4-2-3-1):- Lloris (Capt.); Trippier, Sanchez, Alderweireld, Davies; Sissoko (sub Rose, 85), Winks; Lamela (sub Llorente, 70), Eriksen, Son (sub Lucas Moura, 80); Kane
Subs not used:- Gazzaniga; Foyth, Aurier; Wanyama
Booked:- Kane (unsporting conduct)
Twitchy Spurs falling backwards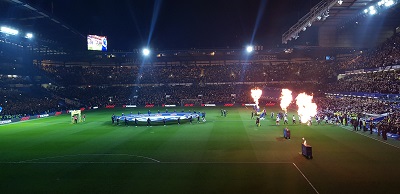 Spursí title challenge was surely finally ended last night at Stamford Bridge with a second consecutive defeat in just five days against a team and its fans which just loves to beat their London rivals, and which, after all, has usually managed that at home over the last 30 years. If Arsenal win at Wembley on Saturday the gap between third-placed Spurs and its pursuers will be down to just one point. With away games against Liverpool and Man City yet to come, Spurs can start feeling twitchy again about their chances of holding onto a top four place. This performance and result certainly means they are heading backwards.
Backwards is certainly the key word at Spurs, because under Pochettino it is the default direction for our passing. Regular readers will know of my hatred of our sometimes too slow, too pedantic and too tentative approach to getting forward. The default direction is backwards for Spurs. Itís in their psyche and in that sense I blame Pochettino as much as I blame the hapless Kieran Trippier and Hugo Lloris for the most pathetic own goal I have seen from Spurs in years. That goal after 84 minutes sealed our defeat, and I understand Chelsea did a lap of honour at the end of the game, but I was already on my way to Fulham Broadway tube station with my tail firmly between my legs and head cast downward.
Chelsea manager Maurizio Sarri exerted his authority by dropping Kepa Arrizabalaga after hi-s shenanigans in Sundayís League Cup Final. His replacement Willy Caballero didnít have a shot of note to save. In fact, Spurs officially didnít have a shot on target, although Harry Winks did hit the bar. Chelsea responded with an aggressive performance and a bright start too. My view is that the team in blue were quicker in transition from defence to attack. They always seemed to have men behind the ball when we moved forward, and they closed us down very, very well. Going forward, Chelsea were allowed too much space and were allowed to cause Spurs too much of a problem in their half.
Chelsea started the brighter and referee Andre Marriner was helping them with his award of most early decisions. They had a couple of free kicks in dangerous positions which Spurs defended well, having conceded badly. A poor Sissoko attempted clearance fell to Higuain whose shot rebounded off the post. The early signs were not looking good although Harry Kane did have a shot blocked. A good move forward down thee left flank through Davies and Eriksen gave Harry another opportunity but his cross was also blocked and cleared.
As usual, Hugo Llorisís default strategy at the back was a short goal kick to a player being marked just outside his area and one such clearance fell disastrously to Pedro, with the ball going via Hazard to Higuain whose shot was soft and straight back to the Spurs keeper. The Spurs fans behind the goal were again urging their keeper to hit long. The Chelsea fans were laughing at our expense, as they would at the end of the game, and before, of course. Hugo did anticipate a through ball for Higuain and rushed out to reach the ball before the Chelsea loanee striker could do anything with it.
Son Heung-min lacked the physical strength to either successfully hold up or control the ball which was often sent in his direction and often to his feet. Son was fouled out on the right by David Luiz, but Trippierís free kick was easily cleared. Spurs did go on the attack and Sissoko had a shot half blocked with the ball running to Son on the left of goal, but the offside flag had been raised. Kante had a shot from 25 yards go over the target after he received a good ball by Kovacic.
Kane was fouled in the Chelsea half and took a quick free kick having a shot deflected for a corner. The corner was taken by Trippier an d sent to Davies, whose shot passed well off the target. Harry Kane became the provider for Winks who hit a dipping shot with his right foot from outside the area, beating Caballero, but not the Chelsea bar. That was the closest we came to scoring. Spurs finished the half brightly, and Sonís low cross passed across the area, reaching Davies, whose cross was caught by Caballero.
Chelsea started the second half as brightly as they had the first, with Alonso hitting crosses from the left. One ball reached Pedro who turned it in to Higuain, but his shot was high and wide. It wasnít too long though before Pedro gave Chelsea the lead. He got forward on the right inside the area, beating both Davies and Alderweireld before hitting a low shot which went through Llorisís legs and into the net at the near post.
Spurs nearly responded quickly, with Lamela feeding Kane, who passed to Eriksen, but his shot didnít test Caballero. Chelseaís first substitution was Willian for Hazard, who had been kept pretty quiet, probably by Sissoko and Sanchez. Sissoko had made that first half mistake, but on the whole he was one of the few Spurs players I give credit to for his effort, and strength on the ball.
Son passed to Eriksen who was inside the Chelsea area on the left, but he just couldnít quite get a shot on goal, as Chelsea defended the situation well. Son fed Davies on the left and his crossed reached Kane, but Harry was off target with a good chance. Toby Alderweireld met a Trippier corner, but headed wide across the goalmouth. Now Lamela went off and was replaced by Fernando Llorente. Llorente picked up a ball from Trippier, but he was not able to get a shot on goal. Spursí next substitution was Lucas Moura for Son, Spurs fans had been baying for Rose, but to be honest, Davies was not the problem for Spurs, who were consistently conceding space on the other flank.
Sissoko went forward on a powerful run. Alderweireld took the ball on but hit his shot over the goal. Chelsea replaced Higuain with Giroud and within a minute the former Arsenal man had been instrumental in their second goal as he headed on a long pass. This led to the disastrous own goal by Trippier as Lloris had come out too far and the back pass eluded him, rolling agonisingly over the line with Willian in gleeful pursuit and Chelsea fansí cheers mixed with laughter at our expense. It really was the worst way to lose an game at the worst place to lose in the worst circumstances.
I didnít stay for the last rites, but I understand that Harry Kane had a spat with David Luiz with both players getting booked. I will be at Wembley for the Arsenal game filled with trepidation. Despite the fact we still hold third place, it is currently not good for this fan to be a Spur.
∑ See the exclusive "Spursometer" and have your say regarding the performances of the team, individual players, manager and officials.
∑ Spurs' record in recent London Derby matches
∑ Squad numbers,appearances,bookings & goalscorers
∑ Read the preview for this game.
∑ All the Spurs Stats you could hope for here! THFC6061 Sports Stats