THE EMIRATES FA CUP FOURTH ROUND
SUNDAY 27th JANUARY, 2019
(4pm)
CRYSTAL PALACE 2(2) TOTTENHAM HOTSPUR 0(0)
Scorers:-
Wickham, 9
Townsend, 34 (pen)
Attendance:- 19,491
Referee:- Kevin Friend
Assistants:- Adam Nunn & Matthew Wilkes
Fourth official:- Roger East
VAR:- Lee Mason
Assistant VAR:- Adrian Holmes
Teams:-
Crystal Palace (4-2-3-1):- Speroni; Ward, Kelly, Dann (Capt.), van Aanholt; Kouyate, Schlupp; Townsend (sub Ayew, 88), Meyer (sub Milivojevic, 79), Zaha; Wickham (sub Benteke, 70)
Subs not used:- Tupper:- Wan-Bissaka, Sakho; Riedewald
Booked:- Benteke (foul on Wanyama), Zaha (foul on Lamela)
Spurs (3-4-3/4-2-3-1):- Gazzaniga; Foyth, Sanchez, Vertonghen (Capt.) (sub Lamela, 46); Trippier, Skipp, Dier (sub Wanyama, 63), Walker-Peters; Lucas Moura (sub Sterling, 81), Llorente, Nkoudou
(Armband passed to Dier when Vertonghen was replaced by Lamela, then Trippier when Wanyama replaced Dier.)
Subs not used:- Lloris; Rose, Aurier; Winks
Booked:- Sanchez (foul on Townsend), Foyth (foul on Schlupp)
Just a top four place to play for then.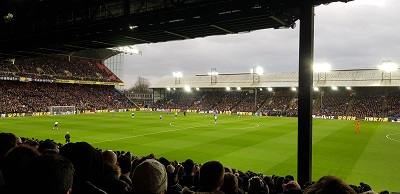 Your webmaster and report writer is always despondent when we exit either of the domestic cup competitions, and was particularly despondent at the end of the first half when we were 2-0 down, and not looking likely to make a comeback. When the official site on its Twitter feed describes the score and performance as "disappointing", you know that things are bad.
Things were indeed bad, probably encapsulated by a stupid, immature and needless flap of the arm by Kyle Walker-Peters allowing former Spurs man Andros Townsend to convert the penalty. Converting a penalty was something beyond so-called England dead ball wonder boy Kieran Trippier, who had a chance to at least put Spurs one goal behind, but didn't even force veteran Palace keeper Julian Speroni to make a save. Trippier pulled his shot wide, and to be frank, his effort at that moment, and his performance during the game was little short of a disgrace.
Trippier was not the only Spurs player tentative on the ball; slow to make a decision; slow to pass, and too often failing to succeed with decent forward play.
Please don't lay blame at the feet of our young players such as Oliver Skipp, and Kyle Walker-Peters (apart from the stupid penalty concession of the latter). After all, despite the known enforced absences of Kane, Dele, Son and Davies - perhaps Sissoko too - Pochettino chose to rest players such as Lloris, Alderweireld, Winks, Eriksen and Lamela. Yes, the manager is tasked with bringing Champions League football to our new stadium, as and when it opens, and his clear priority is to secure another top four place. Let us have no false hopes of winning the league or the Champions League. Top four is achievable, and it is our realistic objective.
One big success I would attribute to Pochettino tactically today was the deployment of Juan Foyth, who pretty much neutralised the threat of Zaha. Foyth was on the right of a first half back three, and then right of Davinson Sanchez in the second half. I hope that Jan Vertonghen was being rested and that his second half absence was not enforced.
As a right wing-back, Trippier offered little threat, and Spurs generally telegraphed their moves which enabled Palace to defend en masse. Mind you, they had an early lead to defend too.
Lucas Moura was cynically fouled near the half way line as he threatened to break clear by Kouyate after 6 minutes, but despite the nature of the foul, referee Kevin Friend chose not to card the offender. Kyle Walker-Peters had a degree of success working down the left (he is right footed) and offered an early pass to Skipp, whose shot was woefully wide.
Palace scored with their first attack, in the ninth minute. The ball came from the right, and Schlupp got the better of Davinson Sanchez before hitting a cross/shot across Gazzaniga's goal. The Spurs keeper might have got a touch, but Wickham was lurking to finish off at short range.
Andros Townsend gave Walker-Peters a stern test, but only got a corner from his 12th minute advance down the right. Lucas Moura had a very good rising shot from some 28 yards which passed just over Speroni's bar.
Gazzaniga was required to get down to his right to save and hold a 25 yard shot by Palace left back Van Aanholt. Walker-Peters was fouled in the Palace half and Trippier offered a short ball to Nkoudou (this was a regular strategy) but Nkoudou lost the ball too easily.
Walker-Peters' handball came following a cross from the left, with Wickham behind him, but not in a critically threatening position. The penalty decision was easy for Mr. Friend, and Townsend beat Gazzaniga to his right with an assured kick. In fairness, Andros was subdued in his celebration against his old team - the team he so loved.
Van Aanholt seemed to be clearly offside as he raced onto a ball down the left side and passed inside to Townsend, whose shot was well saved by Gazzaniga. Lucas Moura was fouled right on the edge of the Palace area, and a free kick outside was the decision. This was taken by Trippier, and sent to Nkoudou on the left of the area. Nkoudou forced a double save from Speroni, but really should have scored from at least one of his efforts.
After another Trippier free kick and a touch or two within the Palace area, Juan Foyth was caught and the referee awarded Spurs a penalty. VAR was in operation, so we must assume that all such critical decisions were reviewed. No matter, because after a delay, and some nervous ball twiddling by Trippier, our World Cup star hooked his shot wide. Presumably, neither Dier or Lucas Moura wanted the job after their shoot-out failures at Stamford Bridge.
So, Erik Lamela started the second half, replacing Vertonghen, and Spurs reverted to 4-2-3-1. In fairness, Spurs did have Palace on the back foot for most of the half, but they were rarely penetrating the well organised defence.
Eric Dier crossed from the right and both Llorente and Lucas Moura tried desperately to reach the ball. A corner was the result, but nothing came of it.
Perhaps Spurs' best chance was forged by Llorente, receiving from Trippier, before turning cleverly and hitting a well placed left foot shot which Speroni saved well, stretching to his right.
Davinson Sanchez was shown the first of two yellow cards for Spurs players when he was adjudged to have unfairly hindered Townsend on the break.
Lamela fed a ball to Nkoudou, but he was well blocked out, before Dier sent a ball to Lucas Moura, who seemed to have been fouled inside the box. It looked as if Mr. Friend had "bottled" his decision, awarding a free kick, but I assume VAR was used to review the incident. Lamela took the kick which was blocked.
Lamela hit a shot wide after good work by the advancing Foyth, and a final pass by Lucas Moura. Foyth then got booked for a foul on Schlupp in the Spurs half.
With half an hour left, Dier passed to Trippier on the right and cut inside for the return pass, before sending the ball to Llorente, whose shot (at less than full strength) was saved. Now Dier came off, replaced by Victor Wanyama, who carried the captain's armband to Trippier.
Spurs were attacking in waves, and both Lamela and Wanyama had shots blocked, before Trippier hit a cross/shot which passed wide across the goalmouth. In truth, it was neither a good enough shot or cross. Lucas Moura headed over a corner from the left taken by Nkoudou. Lamela then had a shot held comfortably by Speroni after Trippier's pass.
Time was eking away, and you sense that Pochettino realised the game was up when he replaced Lucas Moura with Kazaiah Sterling for only his second appearance off the bench for Spurs.
Zaha did escape Foyth's clutches when receiving the ball from substitute Benteke, hitting a shot low to Gazzaniga's right, but the keeper saved inside his post. That was the biggest threat Palace had offered in the second half, and really they had not offered much outside their goals,
If Kyle Walker-Peters had not flapped his arm, and if Trippier had scored his penalty, we would at least be taking the "Eagles" back to Wembley. It's no use crying over spilt milk though, and we can look forward to a free weekend when fifth round matches are played. Spurs can look forward to a full 10 days rest after the Borussia Dortmund home game on February 13th. Perhaps that's what Pochettino wanted.
Spurs have now failed to even score, let alone beat Palace in the only three away games they have played against them in this competition. The last such meeting was the 1970 game which was Jimmy Greaves' last first team game. I had hoped for that memory to be exorcised today, but as they say "It's the hope that kills you".
Now we have to knuckle down and justify the weak selection for this match and get maximum points from our next three Premier League games, all of which are at "home".
· See the exclusive "Spursometer" and have your say regarding the performances of the team, individual players, manager and officials.
· Spurs' record in recent London Derby matches
· Squad numbers,appearances,bookings & goalscorers
· Read the preview for this game.
· All the Spurs Stats you could hope for here! THFC6061 Sports Stats