And now, the end is near....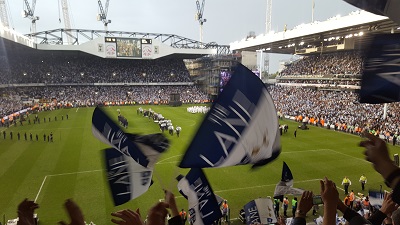 Before we face the final curtain of what has been a fantastic season for Tottenham Hotspur, it is time to round up some of the figures from our two games this week, before a last day trip to relegated Hull.
Had Riyad Mahrez not taken a double touch on his penalty kick for Leicester at The Etihad on Saturday, Spurs would have secured the runners-up slot without kicking a ball. As Man City did win the game 2-1, we were required to get at least a point against Manchester United, if we wanted to achieve that landmark in our very last game at the old White Hart Lane Stadium
We did that in style with a win. Victor Wanyama scored our first goal, and that meant he had scored his first and last goals of the season in his first and last games at this stadium. Harry Kane scored his 22nd Premier League goal of the season, which was his 49th goal scored at The Lane. This was Harry's first goal against United, and the last by a Spurs player at this stadium. Harry has now scored against 24 of the 25 Premier League opponents he has faced, the only absent team from the list being Cardiff. There is not much chance of Harry getting another pop at them in the near future!
It is a shame that Harry doesn't go down as the last player to score in our old stadium. That accolade goes to Wayne Rooney, who first scored goals at White Hart Lane in April 2002, a full 15 years ago, in a Youth Cup semi-final, when playing for Everton. David Pleat told us then that Mr. Ferguson had his eyes on Rooney, and it wouldn't be long before he made his move to Old Trafford.
That unbeaten home record of ours in the Premier League reads Played 19 Won 17 Drew 2 Lost 0, scoring 47 goals and conceding just 9, winning 53 of the 83 points we have to our names with one game to play. We won our last 14 home league games, and 17 in all competitions, being unbeaten in 23 games in all competitions at The Lane.
My good friend Declan Mulcahy sent me a list of the "Spurs Legends" who were introduced in Sunday's moving post-match ceremony. For the record the players were (in the order they entered):- Clive Allen, Les Allen, Paul Allen, Darren Anderton, Steve Archibald, Ossie Ardiles, Phil Beal, Dimitar Berbatov, Stephen Carr, Martin Chivers, Ray Clemence, Garth Crooks, Peter Crouch, Edgar Davids, Simon Davies, Terry Dyson, Justin Edinburgh, Mike England, Mark Falco, Tony Galvin, Alan Gilzean, David Ginola, Micky Hazard, Glenn Hoddle, David Howells, Pat Jennings, Cliff Jones, Robbie Keane, Ledley King, Joe Kinnear, Gary Mabbutt, Terry Medwin, Paul Miller, Terry Naylor, Allan Nielsen, John Pratt, Graham Roberts, Jimmy Robertson, Paul Robinson, Vinny Samways, Teddy Sheringham, Paul Stewart, Erik Thorstvedt, Ricky Villa and Chris Waddle.
Steve Perryman was busy with Exeter in a play-off match at Carlisle, and Chris Hughton was with Brighton for their own celebratory parade. Paul Gascoigne's name was chanted loudly, but he had chosen not to attend for his well known personal reasons.
Victor Wanyama won the Spurs Odyssey man of the match vote for the United game and the full spursometer for that game can be seen here.
The votes are still being counted regarding last night's tremendous win at Leicester, but Harry Kane is clearly winning that man of the match vote. Harry's four goals took him into a two goal lead for the Golden Boot for what would be a second successive year. Harry has already reached 75 Premier League goals in a little over three years and he is currently only 16 behind Robbie Keane and Jermain Defoe on 91 with Teddy Sheringham on 97. Harry has the best strike rate of the Premier League era for Spurs with those 75 goals coming in 112 appearances.
The full spursometer for the Leicester game will be finalised tomorrow (20.05.17).
Look at that +54 goal difference for Spurs! It's the best in the Premier League, and indeed in the top four divisions! Look at that 11 point gap over Arsenal. Watch on Sunday as Arsenal hope for Liverpool to slip up (at home to Middlesbrough), to stand a chance of Champions League football next season! Relax in the knowledge that Spurs are not just runners-up, but convincing runners-up, while Man City and Liverpool fight for the third place spot that would give them access to Champions League Group phase football.
Enjoy the game at Hull on Sunday, and let's see Harry win the Golden Boot again!

Premier League Results 12-18.05.17

Everton     1-0   Watford
West Brom   0-1   Chelsea
Man City    2-1   Leicester
B'mouth     2-1   Burnley
M'brough    1-2   S'hampton
S'derland   0-2   Swansea
Stoke       1-4   Arsenal
C. Palace   4-0   Hull
West Ham    0-4   Liverpool
Spurs       2-1   Man Utd
Chelsea     4-3   Watford
Arsenal     2-0   S'derland
Man City    3-1   West Brom
S'hampton   0-0   Man Utd
Leicester   1-6   Spurs

            Premier League Table

               P  W  D  L   F-A   GD   Pts

 1. Chelsea   37 29  3  5  80-32  48   90 C
 2. Spurs     37 25  8  4  79-25  54   83
 3. Man City  37 22  9  6  75-39  36   75 
 4. Liverpool 37 21 10  6  75-42  33   73  
========================================= 
 5. Arsenal   37 22  6  9  74-43  31   72
=========================================
 6. Man Utd   37 17 15  5  52-29  23   66
 7. Everton   37 17 10 10  61-41  20   61
 8. S'hampton 37 12 10 15  41-47  -6   46
 9. West Brom 37 12  9 16  42-49  -7   45
10. B'mouth   37 12  9 16  54-66 -12   45
11. Leicester 37 12  7 18  47-62 -15   43
12. West Ham  37 11  9 17  45-63 -18   42
13. C. Palace 37 12  5 20  50-61 -11   41
14. Stoke     37 10 11 16  40-57 -17   41
15. Burnley   37 11  7 19  38-53 -15   40
16. Watford   37 11  7 19  40-63 -23   40
17. Swansea   37 11  5 21  43-69 -26   38
=========================================
18. Hull      37  9  7 21  36-73 -37   34 R
19. M'brough  37  5 13 19  27-50 -23   28 R
20. S'derland 37  6  6 25  28-64 -36   24 R

· All the Spurs Stats you could hope for here! THFC6061 Sports Stats