PREMIER LEAGUE
THURSDAY 18TH MAY, 2017
(7.45 pm)
LEICESTER CITY 1 (0) TOTTENHAM HOTSPUR 6 (2)
Leicester scorer:-
Chilwell, 59
Spurs scorers:-
Kane, 25, 63, 88, 90 (+2)
Son, 36, 71
Attendance:- 31,351
Referee:- Michael Oliver
Assistants:- J Collin, C Hatzidakis
Fourth official:- N Swarbrick
Teams:-
Leicester (4-4-2):- Schmeichel (Capt.); Simpson, Benalouane (sub Gray, 66), Fuchs, Chilwell; Mahrez, Ndidi, Amartey, Albrighton; Okazaki (sub Slimani, 46), Vardy (sub Musa, 78)
Subs not used:- Zieler; Wasilewski, Moore, Kapustka
Booked:- Albrighton (foul on Alli), Gray (foul on Vertonghen), Simpson (foul on Alli)
Spurs (3-4-1-2):- Lloris (Capt.); Alderweireld, Dier, Vertonghen; Sissoko (sub Nkoudou, 90), Dembele (sub Lesniak, 86), Wanyama, Davies; Alli; Son (sub Janssen, 78), Kane
Subs not used:- Vorm; Wimmer; Eriksen, Shashoua
Booked:- Sissoko (foul on Chilwell)
Last year's Premier League Champions embarrassed by Tottenham Hotspur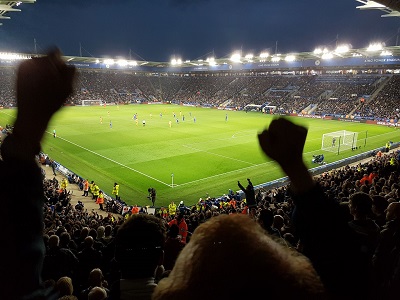 In my match preview, I said that Spurs went into this game with things to play for. Those objectives included gaining a win to give them more points than Leicester had managed last season when winning the Premier League (81), and for Harry Kane to score in his quest to catch up with the Premier League's leading scorer Romelu Lukaku, and Alexis Sanchez, who were two and one ahead of Kane respectively. I wasn't over-optimistic and in fact predicted a draw. Little did I know that we would be treated to a supreme performance by those wearing the Tottenham Hotspur shirt tonight. Spurs played scintillating exhibition football at times from back to front, with so many wonderful individual performances. There was no sign of any lack of desire on the part of Mauricio Pochettino's men, and they were clearly fired up by the manager with a point to prove to last season's Premier League Champions. Spurs did that in style, simply thrashing and embarrassing "The Foxes" 6-1, whose heads probably went down midway through the second half, when Harry Kane scored his second goal and made it 3-1.
So much more was to come from Spurs, and from two behind Lukaku, Harry Kane has moved two ahead with his first four goal haul for Spurs. I will offer more stats at the end of the report (some courtesy of Declan Mulcahy), but we can all relish this report for posterity.
We knew that Kieran Trippier would miss this game, along with Kyle Walker. Pochettino reverted to a 3-4-1-2 formation, utilising Moussa Sissoko as right wing back, and leaving Christian Eriksen (Supporters Club player of the season) on the bench. Toby Alderweireld played on the right of the back three, with Dier in the middle. Dele Alli played behind Son and Kane.
As I queued up for the slow security process outside the away end, a Leicester wag passed us and shouted "Search 'em for bottles". I responded "Search 'em for access to the Champions League", and Leicester's one-off title, and one-off participation in the Champions League would become a theme for chants in the stadium.
It should be mentioned that Leicester were missing their first choice defenders Huth and Morgan, along with midfielder Danny Drinkwater. Shakespeare set his side up in a 4-4-2, with Mahrez on the right of midfield, Albrighton on the left and Okazaki up front with Vardy. Spurs were missing players, of course, including two right backs. Mauricio Pochettino took the opportunity to include two youngsters on the bench – 21 year old Slovakian holding midfielder Filip Lesniak and the exciting winger Samuel Shashoua, who is just 18.
Son Heung-min had at least three golden opportunities to score before Spurs got their first goal. His first chance came after just four minutes, but he fired wide across Schmeichel's goal. His second came minutes later after good work by Vertonghen in the Leicester half, stretching and sliding to a)win the ball, before b) passing to Ben Davies on the left. Davies passed inside to Son, who again missed the target. Spurs spent most of the game in the Leicester half, taking their high pressing game to exquisite extremes, challenging and winning the ball everywhere.
Hugo Lloris was called into action after 8 minutes though and it was the old Mahrez-Vardy combination. Mahrez was central and threaded a ball to Vardy, who got to a shooting position towards the right of the area, before bringing a save from Hugo. Spurs responded with a nice move starting through Son, and involving Dembele, and Dele Alli before Son had the ball again, but Leicester managed to clear.
Following a Leicester free kick, Amartey tested Lloris again with a shot being deflected towards goal. Hugo saved with a dive to the left. Dele Alli was one of those spurs players in superb form and he battled for and won the ball about 30 yards out, passing to Son for yet another great chance which Son skied. Dele was not over-happy with his team-mate's profligacy. Neither were we! All would be well. Wanyama battled in the Leicester half and won a free kick taken by Kane. The ball reached Sissoko who hit a shot just over the corner of goal.
The Spurs crowd was magnificent, drowning out the sound of the home fans by this time. Bear in mind that fans had booked and flocked to this game when it might have been part of the title chase, but they still came in their droves, and boy did we enjoy ourselves tonight! There was banter about Jamie Vardy. Leicester called Harry Kane "A s**t Jamie Vardy", as the game progressed and the goals mounted, Spurs would repeat that about Harry Kane, along with chants of "One season wonder". We also chanted "Champions League – never again", and indeed, Leicester have had their dream time, which has been well and truly broken. They will crow about having been Champions for a while yet mind, and in fairness, they are entitled to do that.
Harry Kane was giving Benalouane a torrid time. After 20 minutes, he and Dele battled together up front before Harry tried a curler from the left side which passed just wide of the far post. Shades of his Arsenal goal last year, I think. At last the breakthrough came. Toby Alderweireld sent a glorious long ball from deep on the right, and Son collected it and carried it towards the bye-line. Harry was chasing, and in one flowing piece of poetic action, Son cut the ball back, and Harry fired into the net right of the keeper. Not for the first, and not for the last time, cries of "He's one of our own" rang around the stadium from the Spurs support.
Dele Alli brought a save from Schmeichel a minute later after Davies' cross was deflected and Dele's header was saved by the Leicester guardian and captain. Dele next received a deflected cross from the other side, from Sissoko, and this time his shot was saved. The former Walkers' Stadium goal was getting peppered, not salted! Vardy gave us another scare, and wanted a penalty when he went down under Alderweireld's close attention, but referee Michael Oliver correctly deemed it was a shoulder to shoulder challenge, and waved play-on. Mr Oliver has seen some Spurs goals this season. This was his seventh game in charge of us in 2016-17, and previous games include the annihilation of Watford away and Bournemouth at home.
After a weakish headed clearance by Ben Davies, Dembele completed the clearance from the Spurs area, sending it down the left flank where Harry simply bullied Benalouane off the ball, crossing into the danger zone. Spurs' second goal came in the 36th minute. The ball had been fed from the right and Wanyama was prominent delivering a short pass to Alli, who chipped the ball beautifully over the Leicester defence, where Son was first to the ball, hitting the net at last to the right of Schmeichel. Son became the third Spurs player to hit 20 goals in all competitions this season. This is another first for Spurs.
Kane and Dembele combined to work the ball to Sissoko on the right, whose shot was blocked leading to a Spurs corner, taken on the right by Ben Davies, who was the corner kicker in the absence of Eriksen. Davies was still on the right side after the corner when he crossed and Harry Kane's header was saved.
Half-time came when many smiles were shared around the Spurs end. Shakespeare replaced Okazaki with Slimani, and in fairness, Leicester did offer some threat in the early stages, but not before Kane, Son and Alli threatened the Leicester goal. Amartey hit a Leicester shot from 25 yards, but it was well over Hugo's goal. More Leicester pressure gave Mahrez a shot on target, but this was comfortable for Lloris. Spurs offered some nice football in the Leicester half, through Wanyama then Kane, before Son tried an overhead kick which passed just wide.
Vardy chased a long ball deep in the Spurs half, and Hugo came miles out of his area in an effort to win the ball, which he did, but it did run across to the left where left back Chilwell took advantage of space and time to score with Hugo trying to recover his ground and Spurs defenders desperately sprawling for the ball. At 2-1, Leicester and their fans sniffed a chance to get back on terms, but their heads soon went down when Spurs regained their two goal lead in the 63rd minute. This followed more great football by Spurs. Son in the middle passed to Victor Wanyama, who pushed the ball out to Sissoko. Alderweireld over-lapped the wing-back and crossed. Wanyama's header from the back of the area was half blocked and headed home by Harry Kane for his second goal. Harry was now level with Lukaku in the race for the Golden Boot. Benalouane was given respite by his manager, and replaced by Gray.
One of my favourite goals of the night came in the 71st minute. It was started by Sissoko deep in his own half, arrowing a good diagonal ball to Harry Kane, who fed it to Son on his left. Son had Kane as an option, but chose to shoot from outside the area, and scored with a low shot to the left of the keeper. Spurs had hit four goals in a game for 12th time this season, and would go on to hit 6 for the second time!
Mousa Dembele was fouled about 22 yards out and Harry Kane hit the shot over. Now Son was replaced by Vincent Janssen, greeted by Spurs fans with "He scores when he wants"! Eric Dier had a go at free kick duties after 80 minutes but this also went over the goal. Kane and Janssen combined to win and take forward a long Lloris clearance, with Harry hitting a right footed shot wide of the left post. More great ball winning and retention skills by Wanyama gave Janssen a chance, but this too was wide. Dembele was replaced by Lesniak, who won immediate admiration for good defensive work down the Spurs right flank. Kane, Alli and Janssen combined with Janssen hitting the net, but from an offside position. Lesniak can even claim involvement in Spurs' fifth goal (and Harry's hat-trick goal). He and Janssen were central and involved in the build-up, before Harry beat Schmeichel with a low right footer from the edge of the area.
Leicester fans started to leave. Spurs fans chanted "We want six!" Six they got, but not before Kane teed up Alli for a right footer which was saved, before, in added time, Harry collected from Ben Davies, and beat the Leicester keeper with a virtual repeat of his third goal. That was the first time Kane had hit four in a match, and he became the first Spurs player to hit four hat-tricks in a season since Jimmy Greaves. This was a record away win in the Premier league for Spurs, but other memorable away league wins include Stoke 1 Spurs 6 in September 1951, and West Ham 1 Spurs 6 at Upton Park in August 1962. This is also the joint heaviest defeat suffered by reigning Premier League Champions, adding to that of Manchester United against Man City in October 2011.
During the game I tweeted "Oh my. It is so good to be a Spurs. Bless you my Spurs!" It was indeed an astounding, dominating, exhilarating, supreme performance. I can only hope that I have with this report managed to convey the true power of the performance, and the wonder of being at The King Power Stadium last night. Relegated Hull; their fans, and their ex-Spurs contingent will surely be quaking in their boots for Sunday's final curtain. Harry Kane; his team, and their fans can't wait!
· See the exclusive "Spursometer" and have your say regarding the performances of the team, individual players, manager and officials.
· Squad numbers,appearances,bookings & goalscorers
· Read the preview for this game.
· All the Spurs Stats you could hope for here! THFC6061 Sports Stats