The passing of another Spurs Legend - Eddie Baily
The sad news was received today (October 13th 2010) of the passing of Eddie Baily at the age of 85 years.
Eddie Baily was not just a former coach of Tottenham Hotspur FC. For the last 11 years of Bill Nicholson's reign as manager Eddie was Bill's right hand man, as assistant manager and coach of our beloved Spurs.
Eddie Baily was not just the coach and assistant manager but also a former player for Spurs, making 325 Cup and league appearances and scoring 69 goals in those games.
Eddie Baily was not just a former player for Spurs, but he was an integral member of our Championship winning side in 1950-51, managed by Arthur Rowe. Eddie made 40 appearances in our 1950-51 season, missing just two games, and scoring 12 goals. Eddie was an inside forward, or in modern-day terms an attacking midfielder, wearing the number 10 shirt.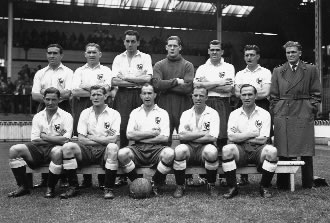 Eddie Baily is pictured here amongst the 1950-51 League Champions. Left to right (back) - Ramsey, Nicholson, Clarke, Ditchburn, Duquemin, Willis, Walters - (front) - Castle, Bennett, Burgess (Capt.), Baily, Medley.
Eddie played as full a part in the season preceding our first ever League Championship, when we won the old Second Division Title.
In his 2004 book entitled Tottenham Hotspur Champions of England 1950-51 & 1960-61 (ISBN 1-874287-84-8 Kevin Palmer described the moment that Spurs scored the goal against Sheffield Wednesday in April 1951 that secured the league title. Captain Ron Burgess passed to Baily, ahead of whom Les Medley and Len Duquemin darted in different directions to leave their markers. Baily spotted the run of his good friend Medley, passed to him, and Medley fed Duquemin, who fired home with power and precision. Incidentally, Spurs also beat Sheffield Wednesday to secure the League Title 10 years later.
In his Championship season, Baily scored a hat-trick in a 5-1 win at home against Portsmouth in front of over 66,000 people. Portsmouth had won the league in the two preceding seasons, but Spurs diminished them to a shadow of their former selves. In those two successive Championship winning seasons, Eddie Baily missed just 4 league games and scored a total of 20 league goals. Some might say that there was something in the water system that year, but it was just the presence of talent and teamwork that led to Spurs having their winning season!
The only time I ever saw Eddie Baily in the flesh was at an open training session in the late sixties at the old Cheshunt training ground. As a somewhat tender-aged and innocent young teenager I was frightened and intimidated by the tone and language of Eddie Baily's exhortations to big name players such as Mackay, Greaves and Jones to name but three!
In his playing days, Eddie was known as "The cheeky Chappy" and has been described as "a gleeful executioner of Arthur Rowe's push and run method" (Player by Player by Ivan Ponting - ISBN - 978-1-84818-301-8).
Eddie Baily was one of our last links with that push and run side, and has passed away within weeks of Bobby Smith, who was of course the top-scoring member of the Double side. Eddie Baily's place in the pantheon of Spurs legends is assured.
P.S - Derek Castle, who appears in the above photograph made his only appearance for the first team in the match before which the picture was taken. This was a public trials game played on August 11th, 1951. "Sonny" Walters, wearing the coat, was the playing member of the Spurs title winning team