"Astounded, but not astounded"
Just to prove I do sign out of social media sometimes, I was taken totally by surprise at 8.19pm last night (Tuesday 19th November, 2019) when Sky Sports News telephoned me to ask for my comment on the news that Mauricio Pochettino had been sacked.
This is my transcript of the interview which followed soon after 8.30pm:-
SKY:-- "Just from a fan's perspective, what do you make of this decision?"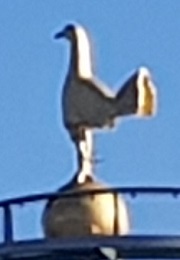 PS:- "Well, I got the call and I was astounded. I was astounded, but not astounded if you know what I mean. Something has been seriously wrong with the state of Tottenham Hotspur for the best part of this season. It does come as a shock that Mauricio has gone, but Daniel Levy is not slow to take action. I think we are in a situation where personally I think that our chances of qualifying for a Champions League place next season are already very, very slim. Mr Levy has obviously decided to act now to try and resolve that situation. Whether that (a resolution) will occur or not, I don't know. There's obviously been some unsettling problems during the course of this season. It's all very sad after reaching the Champions League Final. You think of the sensational win we had in Amsterdam, and Mauricio's emotions on that night. It's all very difficult to come to terms with quite honestly"
SKY:- "You admit something has gone wrong Paul, and as you say, they are 11 points now off of fourth spot - Manchester City. Down in 14th place Tottenham. Is Mauricio Pochettino the fall guy for this season? Is he the man to blame?"
PS:- "Well, I did hear the stats (before this interview) about how much he's spent and so forth, but of course, he's not spent any of that money. He has had to operate in a situation where there have been financial constraints because of the stadium project, but also because of the standard Spurs transfer policy. There's not been enough movement and refreshment in the squad for certain. But, having said all that, Mauricio is the man who dictates the strategy, the tactics and the team selection. We don't know what's gone on behind the scenes. He's made a number of comments near the start of the season to indicate that he's never had such an unsettled time and it's just a bit hard to fathom. Whoever comes in now has to got to turn it round very quickly and get us playing the sort of football that we had until early this year really. It's strange because obviously we got to the Champions League Final, but our league form has been pretty poor most of the calendar year, and in fact it's been relegation form so it's not surprised me in that sense that the Chairman has decided to act."
SKY:- "You mentioned there that the next person to come in. Who do you want as a fan for it to be?"
PS:- "I've not had time to even think about it but I think you've mentioned the most likely names (Allegri/Ancelotti/Mourinho) and I'm sure Mr Levy has already got his appointment in mind if not already sorted and ready to announce tomorrow. The players are going to be coming back from Internationals and are going to be looking for someone to lead them into the next game. Obviously, Mauricio's staff are going to be going with him. I can't think of anybody at the club who's really ready to step up at such short notice. As for who I want, I honestly don't know who I particularly want, but I just wonder about Mr Allegri, who's been taking a sabbatical from Juventus. We all know that Jose Mourinho is in the wings, and has been linked with the club, but I don't think there's too many Spurs fans who would be particularly happy to see him take over. His style is much too defensive for our liking."
SKY:- "Very quickly Paul, I want to ask you as a fan, as a person who sees the team week in, week out – have you noticed a difference in the players on the pitch?"
PS:- "Certain individuals. Christian Eriksen is the one that comes to mind. There's a player that made comments during the summer, where he was clearly looking for somewhere else, some other project. Sadly, his attitude when he has been selected and when he has been seen on the pitch has very rarely been up to the standard that we got from him in his first few seasons. He's got fantastic statistics in terms of assists, and not a bad number of goals for a midfielder but recently his form has been, well, diabolical for Spurs. I wouldn't quote any other players, but there is obviously this unsettling business about players coming to the end of their contracts and maybe not putting 110% into Tottenham Hotspur, which is what we want to see from all the players."
SKY:- "Paul, thank you very much for joining us this evening on Sky Sports News"
---
At 6.30am today (Wednesday 20th November, 2019) Spurs announced Jose Mourinho as the new head coach, which was just what I didn't want!
"The quality in both the squad and the academy excites me," said Mourinho after his appointment. "Working with these players is what has attracted me."
Spurs chairman Daniel Levy said: "In Jose we have one of the most successful managers in football."
Mourinho does of course bring with him a history of trophies at every club he has managed in the last 15 years even with Manchester United who dispensed with his services this time last year.
He's never been my cup of tea, to say the least, with his often cryptic comments expressed in sometimes weird press conferences. His previous successes have usually entailed plenty of money being spent by the clubs who have employed him.
Mourinho has a contract to take him to the end of the 2022-23 season. Just how this big-spending manager will get along with a frugal boss remains to be seen. The proof will be in the pudding, starting of course in The London Stadium on Saturday lunchtime.
We can look forward to consistently being in the sports headlines. Let's hope they are all for positive reasons.
· Five Years - an essay about THFC 2014-19