Ivan Cohen wrote this report:-
It has been several years since the righteous Spurs' supporters occupied what was once their second home at Wembley. This weekend, saw the beginning of putting the world of football back to rights. With a team that only a year ago was hovering perilously close to the relegation zone, George Graham managed to find entry into European competition by winning the Worthington League Cup.
The atmosphere at Wembley for a domestic cup final has to be savoured in person. There is no way that words or radio or television can do justice to the resounding cacophony of sound, sights and smells. Nor can anything but first-hand experience convey the unique passion and quality of the day out as an event in its own right. Unlike those with whom I travelled (six others!), I felt no nerves going into the match. Indeed, I have been fortunate enough to see Spurs play a number of finals at Wembley (always successfully I might add!), and so my only pre-match emotion was unbridled pleasure, heightened by having been denied by the lack of quality at Spurs (especially managerially) for so long.
The weather had been a real mixed bag, with torrential rain interspersed with bouts of sunshine. And the rain left its mark, with a hugely greasy surface, which came later to haunt Ian Walker (especially) on one occasion. My only qualm all day was wandering between turnstiles K and L asking people if they were Les Wilson, with whom I singularly managed not to meet up.
All-in-all, the final, like so many others, was hardly a footballing classic. The first-half was mainly a sterile battle in midfield, with Leicester being the more convincing partly due to their more mobile midfielders. Indeed, Spurs' play first-half (andf much of the second) can best be characterised as consisting of too little off-the-ball running, leading to some pretty poor passing throughout, and almost no service of note to the two forwards. If there is anything else to be said about the first half, it is about as substantial as the number of golascoring opportunities that arose (none).
At half-time I was confident that Spurs would win, as I felt Leicester City were playing up to their potential while Spurs seemed to still be cruising. Leicester had given all that they had, and yet had no real cutting edge, while Spurs seemed a tad effete and still in only second gear. As the game started and Heskey beat Sol only for Vega to block his shot, I told my good friend Harry Goodrich not to worry; this was a George Graham team. Patient, and always likely to snatch a goal a minute from the end. Little did I realise then just how prophetic those words would turn out ;-)
The second half saw Leicester City step up the pace of the game, and if anything they looked the more likely, although goal chances remained few and far between. Personally by half-time I was convinced that the referee was less than a boy being sent in to do a man's job, and it was ultimately his failure to control the game that led to Rob Savage (by name, and by nature) being involved in a series of nasty, petty incidents. It was Savage whose clumsy body check on Justin Edinburgh just after the hour mark led to a retaliation that saw the dismissal of the thirty year old Spurs' defender. While no-one can condone violence, Justin's reaction was perfectly understandable, and for him to be sent off while the perpetrator of a diabolical foul remained on the pitch remains one of football's great miscarriage of justices. GG reorganised, getting Shaggy to play from the left-back position (although playing more as a wing-back), with Iversen adopting a left-mid/forward role. This turned out to give both of them more room than they had had all afternoon.
However, it was the sending off which was the game's turning point, as it spurred on the men in white to play at a higher level altogether. For the last twenty or so minutes the play was almost entirely Spurs. With ninety minutes showing on the clock, Iversen finally found some space on the right to run at the Leicester defence. His low shot could only be parried by 'keeper Keller, for Nielsen--whose runs into the box had been a feature of Spurs' play throughout--to head the ball home. One-nil to the Tottenham!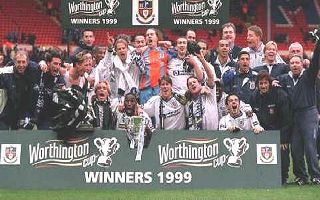 It was nice to see the reception the supporters gave the players. Indeed, even those morons behind me who had been slagging off Nielsen and Ferdinand all afternoon (mostly without justification) gave them a huge applause at the goal and the final whistle and the well-long (half) lap of honour. It was nice that George Graham's masterminding of this victory was recognised by the crowd also. Never can a manager have had to do so much to win over so many supporters!
It has to be said that Leicester managed to stifle Ginola for the most part, and limit our ability to create. But ultimately that was their undoing, as it prevented them from playing much creatively themselves. It would be difficult to nominate a player of the match, as everyone worked hard without starring. In short, it was a strong team performance against a hard-working well- organised battling Leicester side. Spurs can take credit for the way they went about the task, especially following Justin's dismissal, and the silverware back at WHL serves as a reminder of what can be achieved with the right personnel. Now to find a George Graham to run the ticket office.... time to book those seats at Old Trafford, and for those without season tickets to get one for next season. As long as we have a manager of the calibre of Mr Graham, we will win trophies.
Ecstatically yours
Ivan "Doctor Hotspur" Cohen
Read the further accounts from:-
Paul Smith
Brian Judson
Dave Gallagher
Les Wilson