With thanks to correspondent John Farrell
HE WAS MY IDOL IN THE SIXTIES
I remember those long-ago days of the early nineteen sixties and the black and white pictures in the sports pages of the Sunday Press and Independent. I was over-enthusiastic when it came to our national games as well as having a wide-ranging interest in quite a few sports. In those years we had to depend on the radio and especially newspapers because television was only a contemporary innovation and very few rural dwellers had sets.
A film in a school cinema showing the nineteen sixty European Cup Final between the talented Real Madrid and Eintracht Frankfurt generated added interest in Association Football, and I was enthralled with the skills of stalwarts such as: Santamaria, Del Sol, Di Stefano, Puskas and Gento, whose brilliance gained a fifth title in a row for the mighty Spanish club.
The magnetism of the Hampden Park spectacle spurred on my support for the great Tottenham Hotspur team of the time; though not under estimating its title victories on home soil became the first British Isles' side to win a European trophy. Soccer Journals at the time depicted them as a team resplendent with players of exceptional ability and, while it took eleven members plus replacements and the managerial adroitness of Nicholson to gel a successful squad, some members of exceptional ability come readily to mind: the cat-like-agility of Brown, ball-winning forcefulness of Mackay, composed captaincy of Blanchflower, silken-passing talent of White, wing-wizardry of Jones and potent shooting-power of Smith.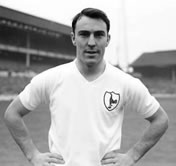 But harking back to those old photographs, also the soccer reports in the newspapers and magazines of the early sixties, one player above all drew my attention; my football idol at the time and a player I have unquestionably regarded along with probably a majority of soccer aficionados as one of the very best goal-poachers, the one and only Jimmy Greaves. A dark haired player of average height dressed in the navy and white of Spurs, and in a similar England kit, prowling in the vicinity of the penalty area ready to pounce at any given moment and score a goal. His instant ball control, awareness of the play around him, availability to accept a pass, and unhurried accuracy in finding the net made him an exceptional player.
An ill-timed tackle by defender Joseph Bonnel in the preliminary French game required fourteen stitches in his left shin and ended his aspiration to play for the victorious England in the 1966 World Cup Final at Wembley.
According to the record books, his career spanned fourteen years from nineteen fifty-seven to nineteen seventy-one and produced four hundred and sixty-five goals scored for Chelsea, A C Milan, Spurs and West Ham United, and of course England. He was his clubs leading goal scorer in twelve of the fourteen seasons in which he played 1st Division football, now known as the Premiership; as well as top scorer in the same division on six occasions during the nineteen sixties. He had scored a hundred league goals by the age of twenty-one years, and scored on his debut for every senior team he played for.
My mind wanders back over forty years to the days spend reading the sports pages and I stir up memories of the grey photographs of him scoring into one of the goals at White Hart Lane with the two-tiered stand in the background. I now recall a quotation from "Greavsie", his very informative and riveting autobiography: - "I don't know why, but I found it easy. Scoring goals came naturally to me. I never felt tension, nerves, any sort of pressure and I never lacked confidence. I'd been scoring goals regularly since I was a boy and I had it in my head that it was something I had been born to do".
John James Farrell (Sean O'Fearghail)
County Mayo. Ireland
June 2005
· Read Brian Judson's original Spurs Odyssey article