NB:- This article was first published during the 2005-06 season
Spurs Odyssey Message Board member – "Huk" – had a very privileged upbringing near White Hart Lane –in Creighton Road. "Huk" was not and is not a rich man. He was not born with a silver spoon in his mouth. So what was so special about his life so near to Tottenham Hotspur Football Club? Well, our man "Huk" used to live next door but one to THE Spurs Legend, the late, great "Sir" Bill Nicholson.
"Huk" made it known to me that he had some personal photographs, and that he had a story to tell about a side of Bill Nick that most of us have not known. In fact, I felt the photographs were so personal, that I was not happy to publish without the approval of Bill's widow – Darkie. I am pleased to report that Darkie, and her family, gave their permission for the pictures you see on this page to be published by Spurs Odyssey.
The pictures are not spectacular, or dramatic, and "Huk's" story may read as if it is a little ordinary in places. But look deeper. The pictures and some of "Huk's" memories tell of a man who clearly held Spurs close to his heart throughout his life, and had some very special values about loyalty, discipline and the colour red!
So, dear reader, enjoy the article and the pictures, for which I thank "Huk" and the family of Bill and Darkie Nicholson very deeply:-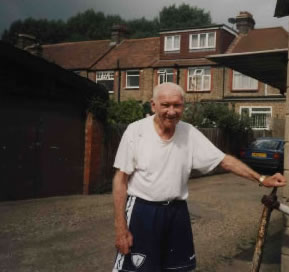 Living near a legend - Bill Nicholson
Unfortunately I am not old enough to have witnessed Bill playing, nor am I old enough to have grown up in his managerial days. (Ed:"Huk" is 34 years old, which will help you to put some perspective on some of the story he tells)
However I write this knowing, because I was constantly told of the greatest days of a Spurs side to date which achieved so much, thanks to one dedicated, determined, passionate and loved man, "Sir" Bill Nicholson.
I personally know Bill loved Tottenham. Bill lived for Tottenham. Bill breathed Tottenham. Bill also refused to move away from Tottenham, until the house became too much for he and his beloved wife - Darkie.
Bill was, still is, and always will be "Mr Tottenham".
I remember thinking back then, if you had cut Bill open, he would have had Lilywhite and Blue running through him.
I am not going to write about Bill as a the true football legend that he was, but I would like to give you an insight into a private side of this man we all loved, and still worship, despite the fact he has gone to another place. I am writing this to let you all know what a respectable, considerate, pleasant, caring and kind man Bill was.
Well where do I start, probably as far back as I can remember I suppose!!
Casting my memory back to the good old days of being a snotty nosed little kid (maybe not the good old days) , my parents moved to Tottenham long before I was born, and as it so happened they moved into the house two doors away from Bill and Darkie. (Sorry to keep referring to both Bill and Darkie as I am only used to mentioning both their names in the same context.)
Growing up two doors away from Bill, I am ashamed to say back then as a kid I really did not fully understand and appreciate what Bill did for Spurs many years before I came into this world. I only knew Bill as a neighbour and nothing more, however I now know how lucky I was to know Bill personally, I am certain there are many people out there who would have given their right arm to have lived as close as I did to Bill, only to be able to have a chat with the great man himself. I just wished I had sat down with Bill far more than I did and discuss nothing but Spurs, something I know he cherished and loved.
However the great things that I do remember about Bill are as follows: –
Behind my parents and Bill's old home is a driveway to all the garages at the back of every house, directly beyond this is an allotment area. Bill and Darkie had an allotment. Bill's small patch of land was directly behind my parents' home. Whenever Bill was not at the ground watching his beloved Spurs play, or out scouting as he used to do for Spurs, he would have his sleeves rolled up, and depending on the weather, be wearing either his Spurs shorts or a pair of trousers, frantically digging and pulling at any weeds that dared to grow in his well-cultivated patch.
This is a man who created the history of Spurs as we now know it today, however here he was like any other ordinary man weeding and planting in his plot of land. Other than growing flowers or vegetables, if memory serves me correct Bill also often grew fruit, and being a young little kid back then I found it humorous to climb over the small rickety fence to pick an apple or two for myself, constantly looking over my shoulder for the whereabouts of Bill, knowing full well what would happen if I were to get caught.
Bill also managed to grow a huge blackberry bush directly behind his garage. This blackberry bush produced the finest berries I had ever tasted (albeit they were the only blackberries I had ever tasted). As scared as I was of Bill's wrath, the temptation was far too great to resist. Don't forget I was only a young boy. How could I possibly resist!! Anyway at that stage I obviously could not outrun Bill when he caught me pinching some of his precious blackberries. Let me put it this way. I can only imagine what kind of tongue lashing the players received when they did not perform to Bill's standards. Back then I'm sure if Bill could (who's to say he didn't) he would have given me a clip around the ear. Let's be honest I would have probably deserved it. I now know why Bill had Spurs playing so well in his managerial days, if he was half as passionate about his allotment and blackberry bush as he was about Spurs, it's no wonder why he used to have a go at me.
Other than Bill having a go at me for being noisy at the back of the garages and playing out late at night, (don't get me wrong Bill was in no way a person to moan at us easily, he just wasn't afraid to tell those when they were in the wrong or being a complete pest), he was a quiet man who didn't go out of his way to offend or deliberately annoy anyone, and was more than happy to help anyone.
I can remember Bill always washing his car at weekends whilst wearing his Spurs shorts, he would reverse it out of his garage near to my parents garage and spend hours cleaning it thoroughly in and out, as if he had been ordered to drive the Queen somewhere. As he cleaned I would hang around playing football or doing what ever it was I did whilst talking to him. Truth be known I was probably disturbing his peace, but so long as I didn't take any blackberries Bill was always pleasant to me and replied to any questions I had, he didn't seem to mind me gibbering away at him at all, or so he lead me to believe.
Considering what Bill had achieved with Spurs and what presence he had at the club, Bill and Darkie never had any airs and graces. They treated everyone the same and demanded to be treated equally the same. I mean how many top managers' wives nowadays or even back then, would dream of riding their little bike (with a basket on the handle bars) to the shops to collect the shopping. This is what Darkie did for many years.
Many years ago I remember once my mother telling me a very funny story. For some reason Bill left it very late to learn to ride a bike, so much so that he asked Darkie to try and teach him. Rather than taking him out on the roads or a flat surface, Darkie attempted to teach Bill how to ride the bike behind the garages, where the surface was not flat in fact it was more like a dirt track with many holes and bumps. On one side it had the garages and the other it had a very small grass verge before the fencing to the allotments. On the grass verge there were many areas covered in stinging nettle bushes. You know what's coming - right! Well Bill started off well, up and down the bumpy dirt track, trying to avoid the holes and bumps going well, until he lost control as we all do when learning to ride a bike, and the only place he managed to land was bang in the middle of the nettles bush…. I'm still not sure if he ever learned to ride a bike after that!!!
When I was 16 years of age my mother bought her very first car. I remember it well (especially when I turned 17 and could drive it myself). It was a mark 3 Escort, and unfortunately very red in colour. I remember one cold day I was sent out to wash the car, and as I was washing it Bill and Darkie were off out. Bill looked over at me and called my name, with a certain look of disappointment on his face (I still remember it clearly). He said "You are washing a red car". All I could say was "Yes I know, sorry Bill it's my mother's car not mine", to which he gave me a little smile, nod of his head and a wink.
Many years later, when my partner and I had our first child (a girl), Bill and Darkie kindly gave us a present which was a tiny Spurs dress. I am glad to say I still have it, I also assured Bill not to worry as my daughter will always wear the colours, which brought a smile to his face.
As my parents are both from Northern Cyprus therefore making them both Turkish Cypriot's, they do enjoy a good old BBQ now and then, which would not consist of plain old chicken leg, sausage or burgers, but much more and all the trimmings/starters to go with it. My mother would always take a very large plate round to Bill and Darkie, knowing full well how much they both loved it, so much so that when ever Bill smelled a BBQ being cooked by my parents he would simply come knocking at the door as he was always welcome. He also did like a little tipple whilst enjoying the BBQ especially a traditional Turkish drink by the name of Raki. For those of you who do not know, it is transparent but when mixed with water turns white, and tastes like liquorish. It's a very acquired taste, and something I have never managed to grasp.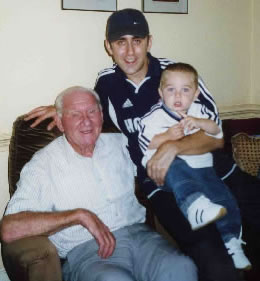 In 2001 not long after my son turned 1, and just after a certain centre-half left for "them down the road", Bill kindly agreed to have some photos taken with my partner, our children, and I in his home. One of the pictures has been included. I am sat on the arm of his armchair with my son on my lap sitting very proudly next to Bill. Just after that picture was taken, I leant down closer to Bill to ask quietly what he thought of that centre-half, and the way he left. I won't repeat what he muttered to himself whilst shaking his head. However I did manage to catch what was said, making him aware that I totally agreed with him, he looked up at me and patted me on the knee. On the same afternoon he also signed one of my old Spurs shirts.
No matter the occasion; no matter the weather; no matter how much of a hurry Bill was in; he would always acknowledge you when he was leaving or entering his home or driving in his car, with a simple "Hello", a raise of the hand, and a smile.
Unlike the memories many of you have of Bill mine are completely different, if I were given the chance to choose between which memories of Bill I could have, I would always choose my current memories. To me he was and still is a great man, with or without Spurs.
When Bill passed away my mother called to tell me. I must admit the feeling I felt inside was no different from hearing of a relative dying. It was a gut-wrenching feeling. I like many thousands attended his service at Tottenham, and I now fully understand how many hearts Bill had touched in his early days. Whilst I watched grown men sitting around and crying for their beloved "Mr Tottenham", I had different feelings. These were feelings for a great neighbour; someone who watched me grow up from the first day I was born; to then buy a dress for my daughter when she was born.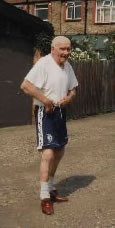 God bless you Bill, my family and I dearly miss having you around in Tottenham.
Oh I almost forgot to mention the blackberry bush, which is still growing strong. It still produces the finest berries. Last summer, when I was round the back as we called it, I helped myself to a few of Bill's precious blackberries, without having to worry for once about looking over my shoulder waiting for Bill to come out of his garage and give me a mouthful. I thought about the great man we lost just over a year ago, and wished he was there to give me a piece of his mind.
Ed:- On Monday 30th July, 2007, we heard the sad news that Bill's widow, Darkie had passed on to join her beloved husband in Heaven. Huk wrote the following words, when he heard the news:-
I had no idea whatsoever, what terrible news.
Darkie was much loved by Bill, as was he by Darkie. They never went anywhere without the other (Ed:- Except when there was a game on!), other than when Darkie went to the shops for their shopping. What a sight that was! Darkie had one of those very old push-bikes with the basket attached to the handle bars. Just typing this has bought a smile to my face.
Whenever Bill and Darkie nipped out, she looked proud as punch to be sat next to Bill in their car, but truth be known Bill was probably honoured to be sat next to his beloved wife.
I can recall the look on her face now whilst sat in the passenger seat, just as the Queen Mother used to, waving to her fans as she drove by.
I am sure it was Darkie who introduced Bill to Warren Mitchell. Many years ago, loads used to park their cars on my parents road on match days. Bill and Darkie's home was an end-of-terrace. At the side of their home was a drive-way leading to the garages at the back of each house. Well many used to park their cars along this driveway also, and I am sure that one day as Darkie came out to have a right old go at someone who had parked across the gate to their home, it was only Warren Mitchell who I think was going to a Spurs v West Ham game. As they say the rest is history.
What can I say about Darkie? Well, she was a caring, fun, happy-go-lucky lady. With her dark blue eye liner, Darkie never had a bad word to say about me and my family. Darkie made me feel welcome when taking pictures in her home with both Bill and herself.
Darkie will be sadly missed. However she and Bill are back together again - he washing his car, while she nips out to the shops on her bike.
As they say there is a better woman behind a good man.
Rest in peace Darkie.