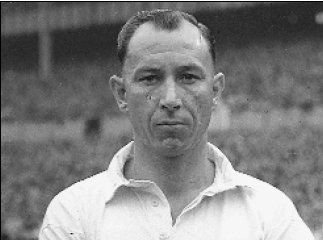 Spurs Odyssey was saddened to hear of the passing of another Spurs Legend - Ron Burgess - yesterday on February 14th 2005. On this date in 1958, Spurs signed the great Cliff Jones from Swansea, when Ron Burgess was the manager. Ron Burgess died at the great age of 87 years, and Captained the great Championship winning sides from 1949-51, when Spurs won the old Second and First Divisions in successive seasons. He can also claim the credit for discovering Pat Jennings, as regular correspondent Brian Judson writes:-
Ronnie Burgess was one of the greatest players that Spurs have ever had the good fortune to have on their books. Unfortunately, I never had the pleasure of seeing Burgess play as he retired three seasons before I started to attend Spurs games. And Tottenham so very nearly discarded him before his career had even begun.
Burgess was born in Cwm, South Wales, on 9th April 1917. He was first spotted playing for Cwm Villa by Cardiff City but nothing ever came of their promises to give him a trial. He took a job as a pit boy in the local colliery, one of many that dominated the South Wales sky line.
In May 1936, Spurs offered him a twelve month trial and he signed amateur forms for them. But after twelve months, Tottenham decided that he had not made the grade and handed him his train fare back to South Wales, but, before leaving Tottenham, Burgess decided to make one last visit to the ground to watch the 'A' Team play. He discovered they were a player short and that he was required to make up the team. He never looked back after that. He was quickly packed off to Northfleet to learn his trade.
By the time he returned to Tottenham, Peter McWilliam had been re-instated as manager since resigning from that position in February 1927. He had decided to overhaul the team and to bring in the youngsters. Burgess made his first team debut on 4th February 1939 in an away match at Norwich City. Burgess was rarely absent after that until the time came for him to retire.
Like most footballers of his generation, his best years were lost to the war. He won many representative honours during the war and turned out for Tottenham when he could do so.
On the resumption of peace, Burgess found that Peter McWilliam had retired and Joe Hulme was now manager. Gradually the bits and pieces of the team that was to sweep to the Second and First Division championships was created and all that Arthur Rowe had to do when he succeeded Hulme as manager was to sign Alf Ramsey.
Once Rowe had convinced Burgess that push and run could work, Burgess was its most enthusiastic supporter. It was Burgess' drive as captain that spurred Tottenham on to successive championships and narrowly missed a third in season 1951-52. But thereafter Tottenham declined in power and thrust and the team began to break up.
Between 1946 and 1954, Burgess won 32 caps for Wales, many as captain. He only missed two international matches in that period. Shortly after stepping down from international duty in May 1954, Burgess left Tottenham to take up a post as player-coach with Swansea Town. It was while Burgess was with Swansea Town that Spurs purchased Terry Medwin and Cliff Jones. Later in his managerial career, Burgess signed the great Pat Jennings from Newry Town in the summer of 1963 for Watford. That surely proves he had a keen eye for spotting future players!
R.I.P Ron Burgess - Spurs Legend
Spurs Odyssey correspondent Ivan "Dr. Hotspur" Cohen adds the following poignant comments regarding the loss of Ron Burgess:-
This is indeed a sad day. I myself never got to see Ronnie Burgess play in the Lilywhite shirt, but know from talking to earlier generations that he was considered one of the finest midfielders to have ever graced a football pitch. I have heard him described on several occasions as a player and captain who was even better than Blanchflower and Mackay combined, an accolade that sounds beyond belief, but remains with more than a grain of truth to it.
I had the distinct pleasure of getting to know Ronnie Burgess during the mid-1970s. I spent a year in London between completing my Master's degree and going on to start my PhD, during which time a friend of mine invited me to play for his club side, Kenton, who played in the AJY league (now the Maccabi). The coach was Ronnie Burgess, who never attended matches yet coached once a week in the Kenton area. Despite living in Hackney at the time, each week I made the lengthy journey to Kenton to learn about football from this legend, who made the game seem simple and accessible. I would have to say that much of my coaching philosophy stems directly from this experience. I found Ron to be a gentleman and a scholar in both his own area of expertise and beyond. His kind is from a different era, when football was played in mud-strewn quagmires in winter, with a heavy leather ball with dangerous laces, and football boots the weight of JCBs, yet still able to produce fluent, fluid football of a graceful nature. Indeed, it would not be an exaggeration to make the case that the so-called "Tottenham style" begins with the 1950s push-and-run team, which won the old Second Division and First Division in consecutive seasons!
R I P Ron. You gave so much for so long; now enjoy your rest.
Ivan "Dr Hotspur" Cohen
See also this piece written in July 2015 by Norman Giller
Spurs Odyssey has the material to run a series on the Burgess era at Tottenham. Let me know if you would be interested in such items