Mark Metcalf (@markmetcalf07 on Twitter) is an independent working class journalist & author. Mark is a football fanatic, and also the man who 'found' the first ever League goal scorer in 1888. Mark has kindly provided material for previous Spurs Odyssey features on two of Spurs' greatest goalscorers - Jimmy Greaves and Bobby Smith.
Mark is also the co-author of a highly successful book on Victorian football legend Fred Spiksley, whose many feats include scoring the first goal from the half way line at WHL. There are plans to make Spiksley's story the basis for a new film on the birth of football and you can help. Please take a look at the trailer above, which is presented by Tom Watt, (it's still good!)_ and consider buying some great football products and/or donating towards the production costs. (https://www.birthoffootball.com.)
Mark has also previously provided us with details of classic football prints such as the Spurs-related prints which can be found here:-
· http://thedribblinggame.com/1940s/spurs-v-sheffield-united-1949/
· http://thedribblinggame.com/1930s/spurs/
Now Mark has kindly sent Spurs Odyssey a detailed biography of Gary Lineker, who will be gracing our TV screens this summer, as he does most weeks during the football season on Match of the Day. The article is taken from an e-book on Gary Lineker costing £1.19 at https://www.amazon.co.uk/Gary-Lineker-England-Mark-Metcalf-ebook/dp/B00FA46YXI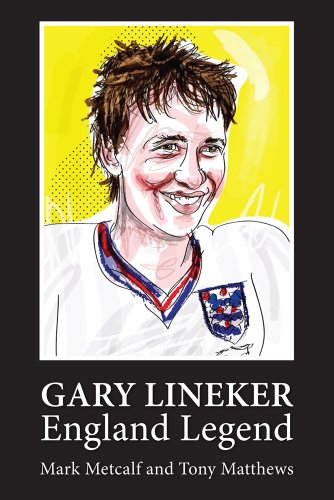 GARY LINEKER - Spurs 1989 - 1992
Gary Lineker was a professional footballer from December 1978 until his retirement in November 1994.
A prolific goalscorer, he served with five different clubs - Leicester City, Everton, Barcelona, Tottenham Hotspur and Nagoya Grampus Eight - and in an excellent career, he appeared in a total of 568 competitive club games and scored 284 goals (almost one every two games). He also added another 48 international goals to his tally in 80 games for England, winning his first cap in 1984 and his last in 1992.
He gained his first major medals with Spanish giants Barcelona, with whom he won the Copa del Rey in 1988 and the European Cup-winner's Cup the following year. In 1991 he helped Spurs lift the FA Cup, having earlier in his career starred in Leicester's team which clinched the Second Division championship in 1980 and in the Everton side that won the annual FA Charity Shield in 1985. He was also a member of the England team that won the now defunct Rous Cup three times in the late 1980s.
He is the country's third highest scorer behind Wayne Rooney (53) and Bobby Charlton (49), Gary's goals-per-games ratio remains one of the best at international level and he finished up as top scorer in the 1986 World Cup, receiving the Golden Boot for his efforts - making him the first and so far only Englishman to achieve this award.
He is also the only player to have won the English 'Golden Boot' equivalent with three different clubs - Leicester, Everton and Spurs. He was the Second Division's leading scorer with Leicester in 1982-83 and topped the First Division charts with the Foxes in 1984-85. He then finished top scorer in the top flight with Everton in 1985-86 and was top of the pile with Spurs in 1989-90.
After retiring as a player, Gary moved into broadcasting.
Returning to Britain from Barcelona in 1989
Mark Hughes had already returned to Manchester United and his boss, Alex Ferguson, was keen to sign Lineker until Barca boss Johan Cryuff telephoned him after someone from Barcelona had already approached the former Aberdeen boss. An angered Ferguson withdrew from the bidding. Everton were also keen on a return to Goodison Park.
Lineker instead signed for Tottenham Hotspur in June 1989 for a fee of just £1.2 million. He was recruited by Terry Venables, who following David Pleat's resignation, after his involvement with prostitutes was revealed in the press, had taken over as manager at White Hart Lane in November 1987.
After the Cockerels had tied up his signature Lineker said: " Spurs were always my first choice because I needed a big club in England to further my World Cup plans", which just weeks earlier had been boosted when England had beaten Poland 3-0 at Wembley to stand top of their group in the race to qualify for Italy the following summer.
Gary had assembled a pretty good record of 55 goals in 141 appearances for the Spanish club and over the next three seasons, he would score 67 times in 105 games for Spurs, collecting an FA Cup winner's medal in 1991.
Following his move to White Hart Lane, Lineker quickly bedded in alongside fellow forwards Paul Walsh, Paul Stewart and Paul Allen with Paul Gascoigne pulling the strings behind him in midfield.
The Spurs midfield had though been dealt a major blow not long after Lineker signed for the club. Gascoigne had been signed from Newcastle United in the previous season for £2 million and having bought Lineker the Londoners were in financial difficulties. The result was that when Marseille offered £4.25 million for another former Newcastle man, Chris Waddle, Spurs were forced to sell the midfielder/winger. Spurs were not going to struggle but a team containing Gascoigne, Waddle and Lineker would have been a mouth-watering prospect.
Venables was also refused backing to strengthen the defence and it was even reported that the Tottenham manager later considered offering Lineker to Derby in exchange for Mark Wright and Dean Saunders. However the deal never had a chance of being sealed, as Spurs did not have the cash adjustment needed.
Lineker's agent Jon Holmes, who did much to help build the tremendous affection the public feel for the Leicester lad, later said: "Spurs hadn't developed in the way Gary wanted. Chairman Irving Scholar had misled him, because he didn't know about the Waddle deal.....the promise that all the money would be re-invested proved not to be the case. Gary had wanted to win medals with Spurs, but it didn't work out."
Surprisingly Lineker didn't start off too well with Spurs, failing to score in any of the first five League games. But after a smart strike in the 2-2 draw at Norwich in late September, he fired home a hat-trick a week later to beat Queen's Park Rangers 3-2 and, as they say '...there was no stopping him after that.'
Gary notched a double in a 3-0 win over Sheffield Wednesday in October; found the net in a convincing 3-0 League Cup win over Manchester United at Old Trafford and contributed to the 3-2 London derby win at Crystal Palace in mid-November.
He then weighed in with five goals in December - his first against Everton, followed by the only one of the game at Manchester United, a home strike versus Millwall and a brace in the 3-2 home reverse by Nottingham Forest.
The winner at Old Trafford was an uncharacteristic Lineker effort, United keeper Jim Leighton being left helpless by a long-range screamer. Defeat put additional pressure on Manchester United manager Alex Ferguson. With Terry Venables considering his future after Barcelona lost the 1986 European Cup final, the Scot had been interviewed for the job at the Nou Camp during the summer of 1986. Venables subsequently stayed in his post and in November 1986, Ferguson moved south from his post at Aberdeen to become manager at Old Trafford.
A week before Lineker netted in December 1989, a United fan unveiled a banner during the home defeat to Crystal Palace which read '3 years of excuses and it's still crap…Ta ra Fergie'. Success in the 1990 FA Cup was to keep Ferguson in his post.
After a quiet January when he bagged only one goal in six outings, Gary recorded his second Spurs treble in a 4-0 home League romp over Norwich City in early February. (Ed: Gary also famously scored an 89th minute winner at Stamford Bridge, which would be Spurs' last win away to Chelsea for a full 28 years!) He then netted twice more in the return fixture with Sheffield Wednesday (won 4-2) and struck two goals in a narrow 3-2 home win over Coventry City in mid-April. He also poached the winner at Millwall (1-0) and netted once against Manchester United in a 2-1 home win. In between times, he also struck the woodwork four times and had three efforts cleared off the line, two in a surprise defeat at Wimbledon.
By helping his side to win seven of their last nine matches, Spurs thus rose from ninth in the table to finish third. Having claimed 24 goals Lineker became the first player to finish as the First Division's top scorer with three different clubs. Paul Stewart finished second to him at Spurs with eight.
In 1990-91, despite some useful performances at home and away during the first half of the season, Spurs surprisingly slipped down to tenth in the table after winning only two of their last 20 League games. Gary himself was certainly out of sorts for long periods, scoring only twice in six starts in December. In fact, he netted only five times in the League after Christmas, finishing up with a seasonal tally of 15 goals which included a crucial strike in a hard-earned 4-2 FA Cup 4th round victory over plucky Oxford United and a couple of fine efforts in the North London semi-final show-down with arch-rivals Arsenal at Wembley when Spurs shot down the Gunners 3-1 to book a place in their ninth final.
Manager Terry Venables had opted to play Paul Gascoigne just 35 days after the player's double hernia operation and the irrepressible and cheeky talents of England's 1990 World Cup hero ripped the Gunners apart. First he lashed home an unstoppable free-kick from almost forty yards before creating a second for Lineker, who reacted to the ball coming back off the chest off his former Leicester colleague Alan Smith to nudge home. Then at 2-1, and with Gascoigne having been replaced after sixty minutes, Lineker's pace took him away from England colleague Tony Adams before his angled drive had just sufficient pace on it to beat England keeper David Seaman. If Gascoigne had been the inspiration it was Lineker who was the cutting edge on a famous day.
Gascoigne found it "great playing with Lineker. He really was the model professional. We got on well and developed a brilliant partnership on the pitch. We had a secret sign we used when we were playing together, which told me whether Gary was going to spin off his defender, in which case I would know exactly where to play the ball, or stay with his back to the goal, ready for a one-two. I guess we were lucky no one ever spotted what we were up to. We'd have been screwed if they had."
Despite their poor League form - they had gone six League games without a win before the final - Spurs were the bookies' favourites to win the FA Cup and, although it wasn't a great final, they just about deserved their 2-1 extra-time victory over Brian Clough's resilient Nottingham Forest team.
Although he tired late on (as did several other players on both sides) Gary played exceptionally well, giving the Forest defenders plenty to think about with his 'inside the penalty area awareness.' He had a perfectly 'good' goal controversially disallowed for offside on 25 minutes and saw his 30th minute penalty kick saved by goalkeeper Mark Crossley - making him only the second player ever to miss from the spot in a Wembley final; the first was John Aldridge of Liverpool against Wimbledon's Dave Beasant in 1988.
Paul Gascoigne had committed two reckless challenges early on, the second of which (on full-back Gary Charles) resulted in him receiving a serious leg injury that was to keep him out of football for a year, and it also led to Forest taking the lead, Stuart Pearce banging home the 16th minute free-kick as referee Roger Milford failed to spot the Spurs' wall being 'pulled apart.'
Recalled Gary later: " Gazza was lucky, very lucky, to remain on the pitch after his first foul on Gary Parker who he caught in the chest with a high challenge. The referee was most lenient."
Substitute Nayim had a fine match and after the half time interval he cushioned a Erik Thorsvedt kick into the path of Paul Allen who put in man-of-the-match Paul Stewart to drive a low shot beyond Mark Crossley to make it 1-1. Spurs' winner came five minutes into extra time when Stewart met Nayim's corner kick at the near post and in his desperate lunge to prevent Gary Mabbutt heading home, Forest defender Des Walker diverted the ball into the net.
1991 FA Cup final
Nottingham Forest: Crossley, Charles, Pearce, Walker, Chettle, Keane, Crosby, Parker, Clough, Glover (Laws), Woan (Hodge)
Tottenham Hotspur: Thorstvedt, Edinburgh, Van den Hauwe, Sedgeley, Howells, Mabbutt, Stew-art, Gascoigne (Nayim), Samways (Walsh), Lineker, Allen
The game was to be Gascoigne's last game for Tottenham Hotspur, who in their desperation to sell him had been negotiating with Italian side Lazio in the days before the Cup final. His injury, and a scrap later in a Newcastle club, saw him missing for 17 months but the £5.5 million signing made his debut for Lazio against Genoa on September 27 1992.
Courage
With Peter Shreeves replacing Venables, who moved upstairs into the position of Spurs Chief Executive after the former Barcelona boss and entrepreneur Alan Sugar engineered a partnership to take control of the club, Lineker returned to form in the 1991-92 season as this time round he weighed in with a total of 35 goals. He finished as the First Division's second-highest goalscorer with 28 from 35 League games, behind Ian Wright, who struck 29 times in 42 games for Crystal Palace and Arsenal. Wright's final three came in the last game of the season and last two were actually in the last minute.
If Lineker had finished as top scorer in the League he would have joined Steve Bloomer as the only player to finish top on four occasions - Thierry Henry later joined the Derby player. Jimmy Greaves heads everyone with six times at the top, four for Spurs and two with Chelsea. Alan Shearer and Sunderland's John Campbell are level with Lineker.
What was remarkable about Lineker's efforts in 1991-92 was that he achieved them despite a horrendous time off the pitch. It had been one of the player's happiest times ever when his wife gave birth to their first child, George on 2 October 1991. A month later the infant was diagnosed as suffering from acute myeloid leukaemia, a rare form of the disease. For weeks afterwards, Lineker found it difficult to sleep and more often than not he was alone in the house as his wife, Michelle, slept at the Great Ormond Street Hospital for Sick Children.
The worry was to last over six months, with Lineker visiting the hospital every day, but eventually George was able to go home and the trio could enjoy each other's company.
Remarkably, Lineker missed only four matches, returning to a hero's welcome against Liverpool just before Christmas. As he had always looked after himself, kept his diet right, his weight down and was always trim then the striker was quick and fit enough to play on. Any rebounds off a defender, a poor back pass, a goalkeeping mistake and or an early cross could be exploited.
Despite Gary's gallant efforts in attack, Spurs ended this final pre-Premier League campaign in 15th place, their lowest place in the top flight since 1976-77 when they were relegated.
After Spurs had started the season by drawing 0-0 at Wembley against Arsenal in the Charity Shield, Gary started the competitive season off like a house on fire, finding the back of the net in seven of the first nine League games. His tally of 11 goals included a brace in a 3-2 win at Southampton, two more in a the 2-0 home triumph over Queen's Park Rangers, a four timer in a 5-3 victory at Wimbledon and the only goal at Norwich.
The arrival of Gordon Durie for a record fee of £2.2 million from Chelsea at the start of the season meant Lineker was no longer playing up front on his own, as had been the case under Venables. "Now I've got someone to take the pressure off me" said Lineker after victory at Plough Lane where he met Durie's long throw to volley the ball perfectly past Dave Beasant and later scored his fourth from a tight angle.
Wimbledon boss Ray Harford admitted: "I wish I had him in my side. He's world class. It was world class finishing to score with a half chance for his first goal and his last was from such an acute angle it was untrue." Shreeves was also full of praise: 'He has to be top of the pops as far as I'm concerned and I've worked with some of the out-standing finishers at Spurs."
Lineker followed up by notching five goals in the month of October, but then suffered a lean spell, notching only two (not for the want of trying) in both November and December before scoring in successive 2-1 wins at Coventry City (League) and Norwich City (League Cup) in January, following up with single strikes in two League Cup games against Nottingham Forest in February and knocking in a poacher's effort in a 4-3 home win over Coventry. Despite his efforts against Forest, Spurs lost 3-2 on aggregate in the semi-final of the League Cup and there was also disappointment in the Cup Winners' Cup when Feyenoord put out Spurs in the quarter-finals.
As the season started to draw to a close, Gary once again burst into life and on the 1st of April, he made the West Ham United defence look like fools with an impressive hat-trick in a 3-0 victory at White Hart Lane, the three points gained proving most welcome as Spurs edged themselves clear of the relegation zone. His first was a typical piece of predatory finishing after a neat move involving Paul Stewart and Paul Allen. His second came from a Nayim free kick, headed out by Steve Foster under pressure from Stewart, Lineker volleying home from just inside the area. His third was a penalty after Durie was fouled.
Lineker also netted against Aston Villa, Notts County (twice) and Wimbledon (twice) before making his 139th and final appearance for Spurs on the 2nd May 1992.
Prior to the game England colleague and Manchester United skipper Bryan Robson presented him with a special farewell trophy to go with the Football Writers' Player of the Year award and an OBE collected in the 1992 New Year's Honours List.
With just four minutes to go it looked like he would be leaving English football without a goal. He had hardly had a touch of the ball but when Gordon Durie directed a cross towards him he threw himself to direct a header over keeper Peter Schmeichel and reduce the arrears to 3-1. Spontaneously the entire Old Trafford crowd erupted into song with: "Oh Gary, Gary, Gary, Gary Lineker" that sent a shiver down his spine and he admitted afterwards it: "was something I'll never forget as long as I live. There was a huge lump in my throat the size of a football."
Lucrative final hurrah
Gary had initially agreed to join the Japanese J-League club Nagoya Grampus Eight in November 1991 for a fee of £946,000. With his agent, he had negotiated a highly lucrative two-year contract, which would start in June 1992. But, in fact, shortly before Spurs officially accepted the offer from, and had agreed to transfer Gary to Nagoya, the board at White Hart Lane rejected a substantial bid for Gary's services from ambitious Second Division club Blackburn Rovers, who had recently been taken over by steel baron and multi-millionaire Jack Walker.
Gary duly moved to Japan, learnt Japanese, and eventually made his first team debut for Grampus Eight against Kashima Antlers on 16 May 1992. Unfortunately it wasn't a happy day all round for Gary or his teammates as the Antlers won 5-0.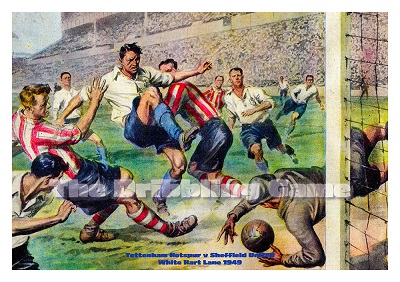 · Read all about this and other vintage football prints and The Dribbling Game