Spurs Odyssey has heard the sad news of the passing of yet another legend of the 1950-51 Championship-winning side. The goalkeeper from that era, Ted Ditchburn, passed away yesterday (26th December, 2005) at the great age of 84, and joins the likes of Ramsey, Nicholson, Duquemin and Burgess in the great stadium in the sky.
Ted Ditchburn made his debut for Spurs on 25 May 1940 in a Wartime League match against Chelsea, which we won 3-2. His official Football League debut was on 31 August 1946 when Spurs lost 2-1 at Birmingham. Over the next eight years, Ditchburn missed only two games (at Nottingham Forest in April 1947 and at home to Nottingham Forest in April 1948 - "Archie" Hughes deputised for the only two matches he played for Tottenham.) (William Arthur Hughes was known as Archie).
Ditchburn then played 247 consecutive League matches before he was injured in March 1954. He only made 6 international appearances for England because of the consistency of other goalkeepers such as the late, great Frank Swift. Ditchburn's final game was at Chelsea in August 1958 when he broke a finger.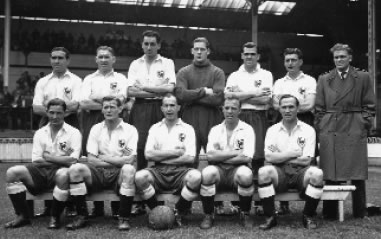 Ted Ditchburn is easily recognised in the keeper's jersey, in the middle of the back row of the Spurs 1951 Championship winning side, pictured at the start of the following season. The players from left to right were (back row) - Ramsey, Nicholson, Clarke, Ditchburn, Duquemin, Willis, Walters (front row) - Castle, Bennett, Burgess, Baily, Medley
Perhaps the greatest tribute I can pay to Ted, is to say that there are plenty of older Spurs fans who put him above even Pat Jennings as the greatest ever Spurs goalkeeper. Ted Ditchburn was certainly very much admired by older members of my family, who enjoyed his athleticism between the sticks, and his full participation in the "push and run" era, where moves often started with a telling throw from this goalkeeper.
Ted Ditchburn left a great legacy of goalkeeping skill, and his example lived on through Bill Brown and Pat Jennings. Paul Robinson has a lot to live up to, but he's doing a great job so far!
My thanks are due to Brian Judson for some of the notes that have been used to compile this article.