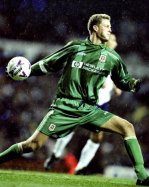 One time Spurs goalkeeper, Espen Baardsen made his last diary entry on his Icons website on 15th July, 2003.
In this article, Espen declared that his heart was not in the game any more and he had decided to spend a year travelling the globe, looking for the kind of experience that students often seek in their gap year. According to that article, Espen is not due back inthis country before June this year, but I understand that he may be making a brief visit soon.
By kind permission of Espen himself, and the author of the article that follows (Robert Papier), Spurs Odyssey is proud to present a feature on a character who made a great impact when he was given the chance to play, but eventually left the club, after Mr. Graham's initial preference for Ian Walker.
I don't intend to make any claims about who was the better keeper, nor do I wish to open up any old arguments. I also do not seek to put Espen on a pedestal as such, because he has been just one of many faces to pass in and out of the portals at Tottenham.
I do hope, however, that the article will be of interest, and I think you will find that even now, some of the content gives an insight into the character of one or two individuals at the club, such as Pat Holland and Pat Jennings.
What I do know is that Espen had a great reception in his last game at The Lane in January, 2003, and that I clearly remember some great saves made at a time when the team was involved in a relegation battle. Whatever Espen does with his future, I wish him well. I thank him (again) for permission to publish. Just follow the links below for the story, written in two parts:-
· The Formative Years - California
· Coming to Tottenham
You may also find some of the below stories of interest, as they relate to a couple of Espen's matches for and against Spurs
· Possibly Espen's finest hour in Spurs colours
· Espen's last appearance at The Lane - for Everton