Spurs Odyssey remembers Cyril Knowles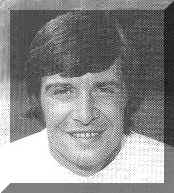 · Thanks to MEHSTG for the picture - see their article here

Cyril Barry KNOWLES was born at Fitzwilliam, Yorkshire, on 13th July 1944. He played for South Emshall Schools and had trials with Manchester United and Blackpool before joining Middlesbrough in October 1962. He joined Spurs in May 1964 and retired as a player in May 1976. His first managerial appointment was with Hertford Town but he later became Spurs Scout in the South Yorkshire region. He was appointed coach at Doncaster Rovers in 1977 and returned to Middlesbrough as coach in 1981, becoming Assistant Manager in February 1982. He was appointed Manager of Darlington in May 1983 and resigned to take up a similar appointment with Torquay United in June 1987. He then left for Hartlepool in December 1989 and was in their employment when he died at Middlesbrough, Cleveland, on 31st August 1991.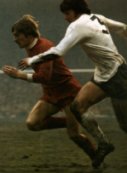 Did you know that Cyril played 401 league games for Spurs, scoring 15 goals? Two of those goals came in the vital 4-2 victory over Leeds at the end of the 74-75 season, when we needed to beat a famous and strong side to stay in Division One. Cyril inspired the hit song "Nice One Cyril" before the 1973 League Cup Final. His brother Peter was a talented Wolves winger, who gave up the game early to become a Jehovah's Witness
Cyril made over 500 competitive appearances for the club between August 1964 and December 1975, the fourth highest behind only Steve Perryman, Gary Mabbutt and Pat Jennings.
· Brian Judson's Preview for the Torquay game can still be read here
· Declan Mulcahy's Last Five Stats for the Torquay game can still be read here
· Check the current team appearances, cards and scorers in all competitions
Top of page | Back to Fixtures and Results