Here is another special article provided by Brian Judson - look out for more of the same ilk!
While you read this article, try out these Video Slots and other betting offers available at match-bonus-code.co.uk
Glenn Hoddle was born at Hayes, Middlesex, on 27th October 1957. The family later moved to Harlow, Essex, where he was spotted by Martin Chivers playing for a team that had reached a local Cup Final. In his teens he sustained a bad knee injury but he overcome that and rapidly worked his way through the school and apprentice levels to sign professional forms for Tottenham.
By this time, of course, Bill Nicholson had resigned as manager of Tottenham after 16 years. Inexplicably the Board had ignored his advice to appoint Danny Blanchflower and Johnny Giles as his successors and had appointed Terry Neill as manager. The shock of his appointment as manager was as great as that of George Graham a generation later. Neill steered Tottenham to safety in his first season and to mid table safety in his second season. But he began what he saw as a long overdue clearout of older players and fell out with both Mike England and Martin Chivers. England tore up his contract and walked out of the club and Chivers signed transfer forms for Servette the day before Terry Neill walked out on Tottenham to go back to Arsenal as their manager.
But Neill gave Hoddle his chance as a 17-year old teenager in August 1975 when he came on as a substitute for Ian Smith against Norwich. His full debut came the following February when Spurs played Stoke City at the Victoria Ground. Typically, Hoddle scored from a long range shot that totally deceived Peter Shilton in the Stoke City goal. It was the first of 110 goals that Hoddle would score for Tottenham. Spurs won 2-1 that day with John Duncan scoring the other goal.
In his younger days, the Tottenham fans were split in two camps over Hoddle's merits. There were those who argued he was gifted and should be allowed to do his own thing and there were those who argued he was the laziest player to wear a Tottenham shirt since Jimmy Greaves. There was some truth in the latter description because Hoddle often disappeared from the action when tackling became too rough for him. He was frequently intimidated in his early days. But he worked hard on this aspect of the game and also on playing a defensive role when called for.
His best season for appearances in a Tottenham shirt came in the promotion season of 1977-78 when he only missed one match. It was Hoddle's vision more than any other player that ensured we gained promotion at the first attempt after being relegated the previous season.
Back in the First Division, Hoddle soon linked up with Ossie Ardiles and Tony Galvin to form one of the finest midfields that Tottenham ever had. Ardiles had been a member of the Argentinean World Cup squad that had won the 1978 competition, wearing strangely the number 2 shirt as Argentina numbered their players alphabetically. Galvin was a late comer to football as he had completed his university studies before signing for Tottenham in January 1978.
Their apotheosis during seasons 1980-81 and 1981-82 saw Tottenham win the FA Cup in successive seasons. It was odd the run began with a tie in the 3rd Round of the Cup against QPR in January 1981 and ended in the 1982 Cup Final against QPR, both ties requiring a replay. Hoddle produced several telling moments in both Cup runs.
One vital moment was against Wolves at Hillsborough where Hoddle scored one of the goals that ensured we grabbed a replay despite Clive Thomas being bamboozled by Kenny Hibbitt's beautiful swallow dive in Tottenham's penalty area. The replay at Highbury, of all places, saw Spurs outnumber the Wolves fans and Hoddle dominate the game creating the chances from which Garth Crooks scored twice and Villa scored a 40-yard cracker.
I don't think there was ever a Final that saw such an enormous scramble for Cup Final tickets. The Post Office lost my application in the post and many fans only secured tickets through the touts who did a roaring trade. I managed to get one from a friend the afternoon before the match.
We were all sure that Tottenham would win. And then Spurs chose that afternoon to produce one of the most disappointing matches. Villa was substituted and trudged off to the dressing room in tears as Manchester City led Spurs 1-0 thanks to a goal by Tommy Hutchinson after 30 minutes. As full time approached, it looked all over for Tottenham. But Spurs won a free-kick on the edge of the penalty area and Corrigan lined the wall up to his satisfaction to cover the near post whilst he covered the far post. Ardiles took the free-kick, Perryman killed the ball and Hoddle bent the ball around the Manchester City defence. Hutchinson saw what was going to happen and raced to the other end of the wall as Hoddle kicked the ball but could only deflect the ball into the unguarded corner of Corrigan's goal. As Hoddle flung his arms in the air and slid to his knees in front of the jubilant Tottenham fans, Corrigan consoled the distraught Hutchinson.
The replay was totally different. Villa grabbed an early goal with Mackenzie grabbing an equaliser with a stunning goal that is largely forgotten today. Reeves put Manchester City ahead with a penalty early in the second half and it looked all over for Tottenham. Then Hoddle chipped a ball ahead of Archibald and Crooks and Crooks stuck a lanky black leg out to push the ball wide of Corrigan for the equaliser. And then a truly magnificent goal. Galvin ran the length of the wing, on and on and on. He steadied himself and rolled the ball to Villa. Villa ran with the ball, dipping his shoulders one way, sending Caton the other, then slipped past Ranson and drew Corrigan, then fell over Corrigan as the ball trickled into the net. Villa streaked towards Burkinshaw who sat impassively on the bench as pandemonium broke out all around him. On the terraces and in the seats, the victorious "GLORY! GLORY! HALLELUJAH!" anthem wafted around the Stadium. And then it was all over as Perryman thrust the Cup in the air.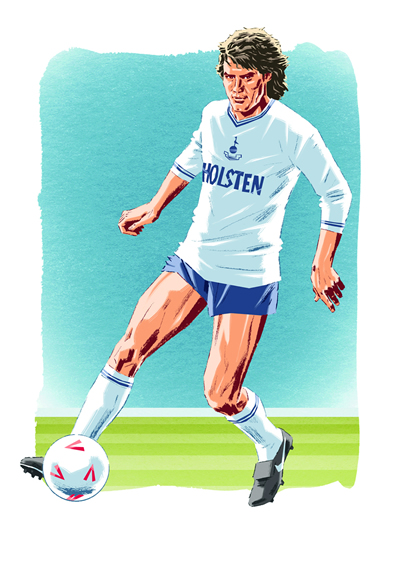 Postcard images (not full size) courtesy of The Football Artist/The Spurs Postcard Collection
A year later, exhausted by a terrible pile-up of fixtures, Spurs were back at Wembley. They had had to play 17 matches in 5 weeks to complete their season. They were tired and certainly for long moments of both matches, QPR looked the better side. Hoddle had put Spurs ahead in extra time and Spurs looked like winning against all the odds when a certain Terry Fenwick headed the equaliser seconds from the end. It was a tired and somewhat dispirited Tottenham that dragged themselves back to Wembley for the replay. It was another dull match but this time justice was done. Roberts picked up a ball on the halfway line and ran on and on and on until he was sent flying in the penalty area. Hucker, in the QPR goal, didn't stand a chance as Hoddle took the penalty. Thereafter, Spurs were ultra cautious. They were tired, very tired, and took no chances. They rarely attacked and drew on their European experiences to contain QPR. Perryman was so tired after the game he almost lost his Cup Winners medal as he tried to hold it and the Cup at the same time.
Spurs were rocked by injuries throughout the last two years of Burkinshaw's reign as Manager. There were also rows in the dressing room as the blunt Yorkshireman fell out with Steve Archibald, who had been just as moody as Chivers had been a decade earlier. But the arguments were papered over as Spurs marched to the Final of the UEFA Cup .... without Hoddle, who had been injured in a League match against Birmingham City and who did not play again that season.
Hoddle, in fact, did not reappear until the second half of the 1984-85 season. Spurs were chasing Everton for the Championship and matching them all the way. Hopes were high that Spurs would win the League for the first time since 1960-61. But in a thrilling game on a Wednesday night in early April 1985, Spurs lost to a side led by Andy Gray. Spurs were found wanting at a crucial moment. They were not going to be as close as that to the Championship for a very long time to come. Indeed, Spurs were about to slide into obscurity.
The following season saw the start of some overdue rebuilding. Waddle was signed from Newcastle but took the entire season to settle down but he was still the second highest scorer.
During the summer of 1986 Shreeve was sacked as manager and David Pleat succeeded him. With the minimum of changes to personnel and a complete change of tactics, Spurs had what was arguably their best season since the 1960s in terms of pure football. Hoddle was the genius behind the team in what was destined to be his final season at Tottenham. I am not going to remind you about the events of that season because even today, thirteen years after the event, I still cannot bring myself to even think about the 1987 Cup Final. I can remember the first three minutes but I have blanked out the remaining 87 minutes of horror. It was Hoddle's last appearance in a Tottenham shirt. When the team returned after the close season Hoddle had left for Monaco, whose manager then was a certain M. Wenger. But in 1990, persistent injuries led Monaco to terminate his contract.
Back in England, Hoddle signed for Chelsea but did not play for them. His contract was terminated to allow him to become player-manager of Swindon in succession to Ossie Ardiles. He spent two years there and steered Swindon to the top flight before walking out on them to become manager of Chelsea. It was Hoddle who signed Ruud Gullit for Chelsea. Hoddle was not manager of Chelsea for long as he was appointed Manager of England after Venables had resigned the position to fight more litigation in the courts. The FA wanted someone squeaky clean after the mess that Venables had dragged around with him. But Hoddle had some eccentric ideas which led him to make some unguarded comments about disabled people on TV which led to his dismissal by the FA. He was out of football for a while before being appointed manager of Southampton.
Hoddle was one of the finest players of his generation. It is something of a mystery why he did not win more than 44 caps. There were those who doubted his application and pointed to the fact he sometimes disappeared from the action, a charge that was later pointed at Matthew Le Tissier, another gifted footballer. Those of us who saw Hoddle play, particularly at his peak, have absolutely no doubts. Not for nothing did the Shelf sing, "BORN IS THE KING OF WHITE HART LANE!" of Hoddle, echoing similar sentiments addressed to Alan Gilzean. One wonders what sort of transfer fee he would command in today's crazy world where Real Madrid paid the equivalent of £50M for Figo. Tottenham fans thought he was priceless and irreplaceable.
Cheers, Brian