On this day (25th November) 2000 the spursometer was created. This was a very rudimentary affair and to be honest usually consisted of the post-match assessments of the webmaster and his equally committed son Greg. The idea came from a conversation with "Wyart Lane" whose MEHSTG website still thrives here - https://mehstg.co.uk/wp/.
In those days, fanzines were available on the streets around White Hart Lane (and most other stadia of course) such as MEHSTG and CADD (Cock-a-Doodle-Doo). The Internet was still in its infancy really as far as fan sites were concerned, but of course the World Wide Web had already started its exponential development. To this day, if you look very closely at the image file for the spursometer you will find embedded images representing both the Spurs Odyssey and MEHSTG site. The sites also still link to each other in the spirit of mutual admiration.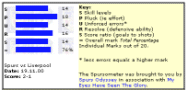 The "spursometer" was related to five stated categories Ė Skill, Pluck (effort), Unforced errors, Resolve (defence) and Score ratio. Those categories remain to this day, although the spursometer has developed to a point where website readers, mailing list members, message board members, Facebook page followers and Twitter followers are invited to offer their assessments of those five core skill areas, each of the participating players, the manager and the referee. The latest edition following the Manchester City game can be seen here. This one happens to be one of the best results and assessments in the history of this post-match routine found popular by many.
Going back to 25th November, 2000 that happened to be a good performance too, as we beat Leicester 3-0 with all goals scored by Les Ferdinand. It was "Sir Les's" first hat-trick in our colours, and one of only two Spurs hat-tricks for the former QPR and Newcastle striker. The other was a first-half triple scored in a 6-0 League Cup quarter-final win against Bolton Wanderers. Bolton were one of four clubs for whom Les played after leaving Tottenham. If you read the match report you will find reference to a certain Robbie Savage, who was never liked by Spurs fans.
Spurs Odyssey match reports began in 1997, so we have just two more years before we reach our quarter-century.
You can follow the development of the spursometer as we look at other games that we have reported on since 2000. In November, 2007 we drew 1-1 at Upton Park. Our goal was scored by Michael Dawson. By this time we were inviting individual player grades and you can see that Michael was one of several players earning a mark of 7 out of 10. I donít think I was surveying too widely at this time, so the system was still quite rudimentary and arbitrary.
We played West Ham on this date again in 2012 when Dawson was our captain. We won 3-1 and Jermain Defoe scored twice . Jermain was our man of the match and by now we were also assessing the manager and the referee. Jermain had missed a penalty in the 2007 meeting, much to the delight of his former fans, of course.
On this day in 2017 we drew against West Brom. The game was played at Wembley and Harry Kane scored our goal. This was deemed a moderate performance by the team and individual players but Harry Kane was voted our man of the match. Harry has been voted our man of the match in six of his last nine games. Long may that trend continue. The success and accuracy of the spursometer relies very much upon your participation, for which I am continually grateful.
Harry Kane will surely be participating in next yearís Euro 2021 and if betting on Euro interests you this site may be of interest.