Special thanks go to Bruce and Elaine Lewis for the photographs reproduced on this and other pages at Spurs Odyssey, that were taken at this event.See the Pick of the Week page for details of Bruce Lewis's Spurs List Page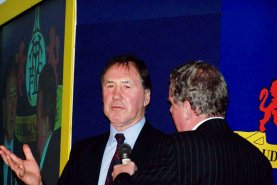 White's Club in Paxton Road, Tottenham was packed again for another very special occasion on the night of Thursday May 13th, 2004.
The occasion was the induction of the second most successful Spurs manager of all time – Keith Burkinshaw – into the Spurs "Hall of Fame", to join the elite names of Bill Nicholson and his Double side that had been installed in March.
Significantly, Chairman Daniel Levy, and Director of Football David Pleat were absent from the proceedings. This may have been a diplomatic gesture to enable a particular guest to attend and enjoy the company of his former manager and contemporaries, but whatever the potential difficulties, surely the Chairman should have been the one to present Keith with his award at the end of the evening. Finance Director Matthew Collecott stood in to perform that duty. Perhaps Mr. Levy was away securing the services of our new manager!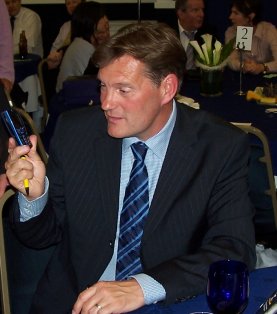 The "particular guest" mentioned above was none other than Glenn Hoddle, who entered the throng of guests to a rapturous reception. Glenn looked relaxed and really happy to be back on Spurs turf, sharing the top table with Keith Burkinshaw.
Burkinshaw's right-hand man, Peter Shreeves was there, as was Pat Jennings, who famously was the "victim" of Keith's biggest managerial error at the start of his reign. Master of Ceremonies, John Motson, who did an admirable and enthusiastic job, tactfully skirted round that particular item of Spurs History, but it really was inevitable, when you remember Keith's "There used to be a Football Club here" quote, that Spurs "politics" would be a central theme of the evening.
Another special guest was the one and only Ricky Villa, joining the likes of Steve Perryman, Chris Hughton, Garth Crooks, Tony Galvin, Mark Falco, Paul Miller, John Lacy, Gary Brookes, Gary O'Reilly, John Duncan, John Pratt, Terry Gibson and Micky Hazard. Apologies were received from Ossie Ardiles – away managing in Japan (again) – who was represented by his son Pablo, who (the last time I heard) plays his football for Hoddesdon Town. Pablo sounded every bit a North London boy, with little hint of that famous Ardiles accent! Garth Crooks conveyed apologies from Steve Archibald, who is working in Barcelona. I spotted Dennis Bond and Dean Austin amongst the paying guests for this event.
All the video footage you would expect to see of this double FA Cup-winning side and UEFA Cup winning team was played during the meal, as well as appearances on "Top of the Pops" for the 81 and 82 Cup Final songs.
Motty interviewed Steve Perryman, Ricky Villa, Paul Miller and Tony Galvin (very briefly), Chris Hughton, Garth Crooks, Glenn Hoddle, then the man himself, Keith Burkinshaw. Their interviews were seamless and great to listen to. It can be rare to see a team or club make the game work that way and was a pleasure to our ears to hear Perryman refer to the family atmosphere at the club from top to bottom, and the fact that everyone concerned seemed to work for each other, whether it was the tea-lady, or those in the boardroom. Steve got great applause (especially from me!), when he said emphatically "We want that club back!"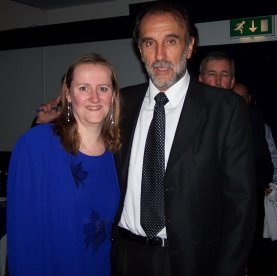 Ricky was charming and modest, saying how proud he was to come back to The Lane, where he was always fondly welcomed, making reference to the fact that he is largely un-recognised at home!
Garth Crooks spoke eloquently, and described how he was mentally kicking the ball for Ricky, as he made his famous dribble into the Man City area in 1981. Glenn Hoddle described the injustice of Keith Burkinshaw's departure saying "I know a bit about injustice", before the Guest of Honour was interviewed at length by John Motson, who clearly displayed his love for Spurs.
Burkinshaw told the tale of how he made the signings of Ossie and Ricky, and also described his sad departure, which he decided upon after the board told him they were going to be making all the footballing decisions for him, such as which players to buy, sell and who to appoint on the playing staff in general.
When asked by Motty for a message to the present day board, Keith said "Get rid of this PLC lark...............and make it a football club again."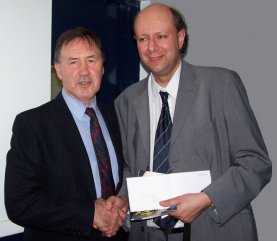 Without a doubt, Ricky Villa and Glenn Hoddle were the two men most in demand by the autograph hunters at the end of the evening, closely followed by Pat Jennings and Steve Perryman. In a quick word with Ricky, I finally confirmed that he does indeed share my precise date of birth - 18th August, 1952.
The next induction will be that of Pat Jennings on October 14th.
· Read Brian Judson's feature article on Keith Burkinshaw's reign at White Hart Lane