Main Page
News and views from Paul Smith, and links to the interactive features of the Spurs Odyssey Site. [more..]
Features
Articles, reports, views, opinions, comments and other features all related to Spurs. [more..]
News
Match Reports
Thanks for visiting Spurs Odyssey!
Spurs' 1950-51 Championship Success
SPURS' FIRST TITLE SUCCESS - THE STORY OF 1950-51
(all articles written by the late Brian Judson - unless otherwise stated)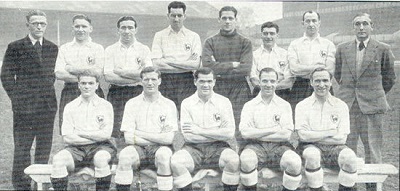 Tottenham Hotspur: First Division Champions 1950-51
Standing, left to right: C. Poynton (trainer), W.E. Nicholson, A.E. Ramsey, H. Clarke, E.G. Ditchburn, A. Willis, R. Burgess (captain), Mr A. Rowe (manager)
Seated left to right: W.E. Walters, L.D. Bennett, L. Duquemin, E.F. Baily, L.D. Medley
All Spurs fans know the significance of "When the year ends in one", and with reference to the season, we could experience that winning feeling again!
Of course, there is a long way to go. Spurs' first successes were FA Cup wins in 1901 and 1921. The club's third major honour was the 1950-51 Division One Title, won in the first season after promotion.
Spurs Odyssey features a great deal of material written by the late Brian Judson, including the story of the famous Double Season. Now, for the first time I am proud to publish Brian's month-by-month account of how that 1950-51 League Title was won. That story can be found here:-
Statistics
Fixtures, appearances, current league table, form guide, reserves fixtures, and Spurs Honours. [more..]
Archives
Find match reports, appearances, goalscorers and features from previous seasons. [more..]
Pick of the Week
Selected Spurs related sites are highlighted in this section. [more..]
Links
View a comprehensive list of links to other Spurs related sites. (With a few extras) [more..]
About this site
· Overview
· History
· Contributors

Contacts
Site Owner
· Paul Smith