SPURS' FIRST TITLE SUCCESS - THE STORY OF 1950-51 - September 1950
(all articles written by the late Brian Judson - unless otherwise stated)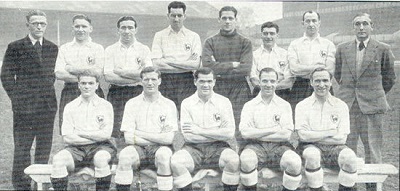 Tottenham Hotspur: First Division Champions 1950-51
Standing, left to right: C. Poynton (trainer), W.E. Nicholson, A.E. Ramsey, H. Clarke, E.G. Ditchburn, A. Willis, R. Burgess (captain), Mr A. Rowe (manager)
Seated left to right: W.E. Walters, L.D. Bennett, L. Duquemin, E.F. Baily, L.D. Medley
On the morning of Saturday, 2nd September 1950, Huddersfield Town were top of the table with Charlton Athletic, Newcastle United and Arsenal in hot pursuit.
Huddersfield made the journey south to Stamford Bridge and beat the Blues 2-1. Charlton clashed with Spurs at the Valley. The match was drawn 1-1, our goal coming from an Alf Ramsey penalty. (Final score:- Charlton 1 Spurs 1. Attendance:- 61,480)
Newcastle made the long trip south to Fratton Park to play the defending champions, Portsmouth. The result was a goal-less draw. Arsenal were hosts to Sheffield Wednesday, who were already struggling at the foot of the table. Unsurprisingly, Arsenal won 3-0 to go top of the table. The biggest win of the day was at Molineux where Wolves thrashed Bolton Wanderers 7-1. Stoke climbed off the bottom of the table by beating Derby County 4-1. Fulham won a tense battle at Roker Park, 1-0 as both teams were struggling at the foot of the table.
Elsewhere, Aston Villa and Liverpool drew 1-1 at Villa Park; Burnley beat Middlesbrough 3-1 at Turf Moor; Everton crashed at home to West Bromwich Albion 0-3 and Manchester United beat Blackpool 1-0.
Two days later, on Monday, September 4th 1950, Aston Villa lost at home to Manchester United 1-3; Blackpool thrashed Fulham 4-0; Bolton Wanderers beat Chelsea 1-0 at Burnden Park; Burnley drew Portsmouth at Turf Moor 1-1 and Sheffield Wednesday drew with Stoke City 1-1.
On Wednesday, September 6th 1950, League leaders Arsenal entertained Everton at Highbury, winning 2-1. Derby County thrashed Charlton Athletic 5-0. Liverpool beat Tottenham Hotspur 2-1 at Anfield, Les Medley scoring our goal. (Final score:- Liverpool 2 Spurs 1. Attendance:- 39,015) Middlesbrough beat West Bromwich Albion, 2-1. Newcastle United were home to one-time League leaders Huddersfield Town and thrashed them 6-0. Wolverhampton Wanderers beat the other North-East team Sunderland, 2-1.
Before the kick-off for the matches to be played on Saturday, September 9th 1950, Arsenal were the Leaders with Middlesbrough, their hosts, in 7th place. Surprisingly, Arsenal lost 2-1 to the Teesiders and were replaced at the top of the table by Newcastle United, who beat Chelsea, at St James' Park, 3-1.
Huddersfield Town climbed back to 3rd place as a result of beating Burnley, 3-1, at Leeds Road whilst Wolves' 1-1 draw at Bloomfield Road away to Blackpool ensured they slipped to 4th place. Liverpool rose to 6th place following their 1-0 home victory over Derby County. Charlton won 2-1 at Hillsborough to ensure Sheffield Wednesday remained in bottom position.
Spurs rose to 8th position following their 1-0 victory over Manchester United at White Hart Lane. Sonny Walters scored the only goal in front of 60,621 spectators. (Final score:- Spurs 1 Manchester Utd 0. Attendance:- 60,621)
Fulham beat Aston Villa 2-1 to ensure Fulham moved up to midtable. West Bromwich Albion also moved closer to the middle of the table after thrashing champions Portsmouth 5-0 at the Hawthorns. Stoke City beat Everton, 2-0, in the Potteries, keeping Everton firmly down with the teams beginning to be apprehensive of a long and difficult battle to avoid relegation. In another desperate match, Sunderland won 2-1 against Bolton Wanderers at Burnden Park to keep Bolton deep in trouble.
On Monday, 11th September 1950, Stoke City and Sheffield Wednesday drew at the Potteries, 1-1. This was enough to lift the Owls off the bottom of the table as Chelsea had no game that week.
Two afternoons later (there being no floodlights then), Everton drew against Arsenal at Goodison Park, 1-1. This caused Arsenal to slip to 3rd place in the championship behind Newcastle and Middlesbrough. Fulham drew Blackpool 2-2 at Craven Cottage to cement both in mid-table positions.
Huddersfield Town and Newcastle United drew 0-0 at Leeds Road in a game that ensured the Toon remained top of the League whilst Huddersfield slipped further off the pace. Manchester United and Aston Villa fought out a goal-less draw at Old Trafford. West Bromwich Albion lost at home to Middlesbrough, 2-3, which was the only match to produce a definite result.
On the Saturday, 16th September 1950, Arsenal thrashed Huddersfield Town, 6-2, to return to the top of the table. Only Bolton Wanderers had conceded more goals than Huddersfield Town at this stage of the season, yet the Tykes were 7th in the table. Burnley and Newcastle United drew 1-1 at Turf Moor, a result that forced Newcastle to drop to second place. Sheffield Wednesday lost to Middlesbrough, 0-1, which meant the Owls dropped back to bottom place and enabled Middlesbrough to remain in contention at the top of the table.
Wolverhampton Wanderers beat Tottenham Hotspur, 2-1, at Molineux. An own goal by Chatham was all we could score. Spurs were not yet playing to their full potential. They produced some very indifferent performances during September 1950. (Final score:- Wolves 2 Spurs 1. Attendance:- 55,364)
The Everton v Liverpool derby saw the Reds win 3-1 at Goodison Park to increase the problems of their rivals at the foot of the table. Manchester United beat Charlton Athletic 3-0 at Old Trafford to make the position at the top of the table very interesting with three points covering the first 8 clubs.
Aston Villa's home defeat against Bolton Wanderers, 0-1, increased Villa's problems at the foot of the table whilst helping Bolton to climb away from the bottom. Chelsea's 1-1 draw against West Bromwich Albion, at Stamford Bridge, lifted them off the bottom of the table. Derby County beat Fulham 3-2 at the Baseball Ground.
The Champions, Portsmouth, thrashed Stoke City 5-1 at Fratton Park but it was clear that Portsmouth had already lost too much ground in the defence of their title. Sunderland lost at home to Blackpool 0-2, which left the Roker side gingerly treading the trapdoor at the bottom of the table. The Roker side had never been relegated from top flight football at that stage so they were keen to preserve a record that went right back to season 1890-91.
On Saturday, 23rd September 1950, the two top of the table teams, Newcastle United and Arsenal clashed at St James' Park. The home side won, 2-1, to return to the top of the table. Middlesbrough were hosts to Manchester United, who lost 2-1, but remained in third place whilst their visitors climbed to 4th place. The Mancunians dislodged Wolves from 4th place as Charlton Athletic beat Wolverhampton Wanderers, 3-2. Blackpool and Aston Villa drew 1-1. Fulham beat Liverpool 2-1 to further cement their place in midtable.
One time leaders, Huddersfield Town continued their slide down the table by losing at home to Sheffield Wednesday, 3-4. Bolton Wanderers won at home to Derby County 3-0 to improve their position at the foot of the table. Everton's awful season continued against Portsmouth, who thrashed "The Toffees", at Goodison Park, 5-1. Stoke City beat Chelsea 2-1 at the Victoria Ground to leave Chelsea deep in trouble at the bottom of the table.
Tottenham Hotspur and Sunderland drew 1-1, our goalscorer being Eddie Baily. Spurs were 13th in the table so there must have been supporters who were worried Spurs might be sucked down into the relegation fight. But all that was about to be changed in spectacular fashion! (Final score:- Spurs 1 Sunderland 1. Attendance:- 59,190)
West Bromwich Albion continued their recent improvement by beating Burnley, 2-1 to move above Spurs in mid-table.
The last Saturday of the month, 30th September 1950, was a significant date for Spurs fans. This was the day they started the long climb up the table. Aston Villa v Tottenham Hotspur was always a good bet for an away banker in those days and it was no different for this one, our first meeting since our Second Division clashes before the war as we won 3-2. Murphy, deputising for the injured Bennett, Duquemin and Medley were the scorers. It was the first of what would be 8 consecutive wins that would lift Spurs from the bottom half of the table to championship contenders. (Final score:- Aston Villa 2 Spurs 3. Attendance:- 36,538)
Elsewhere, Sheffield Wednesday surprisingly held Newcastle United to a 0-0 draw at Hillsborough. Arsenal beat West Bromwich Albion, 3-0, to increase pressure on the Magpies, reducing their lead to one point. A rampant Middlesbrough thrashed one-time leaders Huddersfield Town 8-0 to go second ahead of Arsenal on goal-difference.
Wolverhampton Wanderers and Manchester United fought out a 0-0 draw at Molineux. Derby County moved closer to the middle of the table by surprisingly beating Blackpool, 4-1. Liverpool and Bolton Wanderers fought out a 3-3 draw at Anfield, which helped to improve the Trotters' position at the foot of the table.
Burnley and Stoke City typically drew a middle of the table 1-1 draw. Chelsea beat Everton 2-1 in a classic bottom of the table game that left both clubs propping up the rest of the table. Portsmouth beat Fulham 1-0 at Fratton Park to move up to 7th position. Sunderland beat Charlton Athletic, 4-2, but remained dangerously close to the foot of the table.
Next month, we will see how Spurs climbed further up the table to became championship contenders.

Pos.                 P   W   D   L    F-A   Pts
  1 Newcastle       11   5   6   0   18-7    16
  2 Middlesbrough   11   7   1   3   28-13   15
  3 Arsenal         11   6   3   2   21-9    15
  4 Man. Utd        11   6   2   3   12-6    14
  5 Wolves          10   5   2   3   21-12   12
  6 Liverpool       10   5   2   3   17-12   12
  7 Portsmouth      10   4   3   3   19-14   11
  8 Blackpool       11   3   5   3   16-12   11
  9 Spurs           10   4   3   3   19-17   11
 10 Charlton        10   4   3   3   15-20   11
 11 Huddersfield    11   5   1   5   18-31   11
 12 Derby County    10   5   0   5   21-19   10
 13 Burnley         10   3   4   3   11-11   10
 14 Stoke City      11   3   4   4   15-17   10
 15 Fulham          11   4   2   5   12-17   10
 16 West Brom       11   3   3   5   17-16    9
 17 Bolton          10   4   1   5   17-23    9
 18 Aston Villa     11   2   4   5   16-19    8
 19 Sunderland      10   3   2   5   13-19    8
 20 Sheffield Wed   11   2   3   6   10-21    7
 21 Chelsea         10   2   2   6   10-14    6
 22 Everton         11   2   2   7   12-26    6